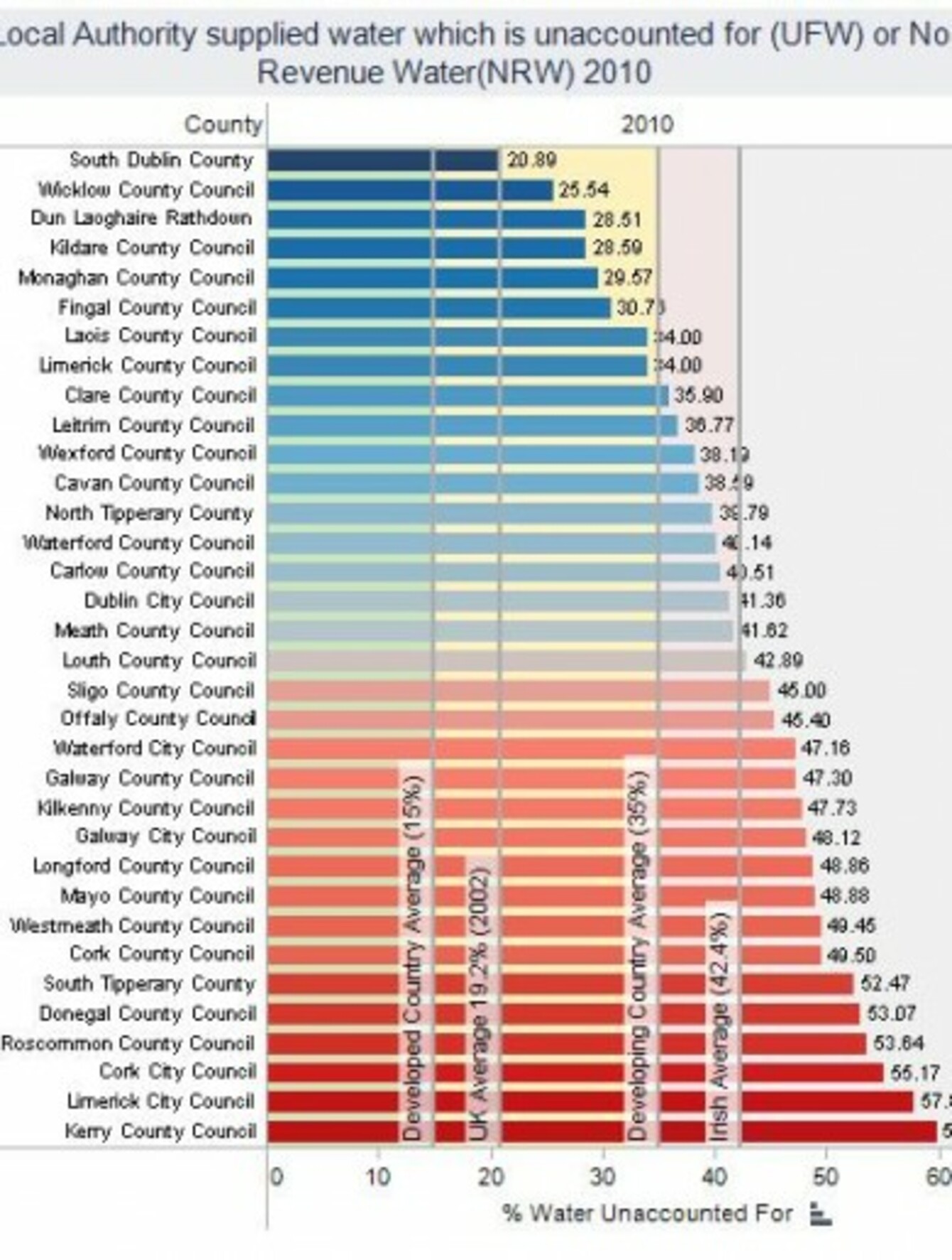 The percentage of local authority supplied water that goes "unaccounted for" in leakages and siphoning to private supplies. But will consumers pay for water they don't actually receive?
The percentage of local authority supplied water that goes "unaccounted for" in leakages and siphoning to private supplies. But will consumers pay for water they don't actually receive?
TAOISEACH ENDA KENNY has said that the Government could not give guarantees that nobody's water supply will be cut off. Such guarantees, he told the Dáil yesterday, would send out a message that people need not pay anything for their water.
Speaking during Leader's Questions yesterday, Kenny was responding to Fianna Fáil leader Micheál Martin, who described the Government's handling of the water charges issue as "diabolical". The Taoiseach reiterated that "there will be no upfront charges, no charges until 2014″ and that further details had yet to be worked out by Bord Gáis and Irish Water. He said:
The Government will make its decision in due course on the amount of free water. Those who are prudent and conserve this precious resource will not find themselves in financial difficulty as a consequence.
However, TheJournal.ie was told by the a spokesperson for Irish Water yesterday that no decision had yet been made on whether the consumer would ultimately end up paying for "lost" water. That is the volume of "unaccounted for" water that is produced through local authority filtration and treatment systems but never makes it to the tap. "Unaccounted for" water can be water that's lost through water leaks, but also through the siphoning off of private water supply from a public scheme to a private property.
The Irish Water spokesperson said that the Government has only decided on the organisational structure of Irish Water, as announced last week. How the organisation will tackle the issue of "unaccounted for" water is one of many issues that has yet to be discussed. This won't happen until a consultation process has taken place between the stakeholders, eg, the Department of the Environment, the local authorities and the NewERA programme.
Who ends up paying for "lost" water?
In relation to who would end up paying for this "lost" water, that too, said the spokesperson, was an issue that had yet to be decided upon. "Any issue in relation to charges is something the regulator will ultimately decide," the spokesperson said, "It will be regulated by the  Commission for Energy Regulation and will be worked through in due course". Work on many issues in relating to the management of the public water system and payment is only "commencing" and "it's premature to comment on that".
The Observatory (AIRO) at NUI Maynooth compiled a table this week which shows how much treated water was "lost" between production and the tap in Ireland in 2010. It makes for stark viewing. (Note: the graphs are interactive – click  here – so you can change the years shown and bring up the results for a specific time. Follow them on Twitter at @AIRO_NUIM)
How much of the water supply doesn't reach our taps?
While a spokesperson at AIRO told TheJournal.ie that the "expected" volume of "unaccounted for" water in any water infrastructure system is 20 per cent, the national average is double that at 42.2 per cent. The following graph puts together stats from the Local Government Management Services Board and compares them with averages from the World Bank collection of international statistics.
(graphs courtesy of Airo.ie)
The average loss varies wildly from local authority to local authority – the graph shows that it goes anywhere from 20.89 per cent "lost" in South Dublin County to a whopping 59.81 per cent in Kerry County Council. Again, it has to be noted that this is not just water lost through leaks from faulty or worn public pipes but also from water that is tapped off into a private supply.
Still, the lack of clarity on when targets will be set for reducing the losses – and whether the consumer will end up paying for some water it never gets through the water meter system – is of concern.
Some measures are already in train to try and stem the leaks and wastage, including the Dublin Region Watermains Rehabilitation Project which is attempting "to assist in reducing leakage by identifying and replacing the old watermains that have outlived their usefulness".
#Open journalism No news is bad news Support The Journal

Your contributions will help us continue to deliver the stories that are important to you

Support us now
Ireland one of least efficient in EU27 water supply table
On the pure level of economic value, this graph – also from AIRO – shows how inefficient the water supply chain is in Ireland when compared to other EU27 countries. It shows the volume of water that has to be extracted from rivers, lakes and other freshwater supplies in order to service the needs of one person in the State. Ireland is fourth from the top with 141 cubic metres extracted for every person:
The question of improving the quality of the water which actually reaches household taps is also one to be tackled. Last February, TheJournal.ie reported that almost half of the waste water treatment plants serving Ireland's urban centres fall short of national and EU standards. At that time, Dara Lynott from the Office of Environmental Enforcement said that we would need "substantial and sustained investment" to reach EU targets and that clean water was essential for both home use and industries such as tourism, food, agricultural and manufacturing.
Last week, photographer Kate Horgan sent the image below to TheJournal.ie. She has a built-in filter attached to the tap in her kitchen in Dublin 6. The ceramic filter is changed every six months – the image below shows a new filter on the left; the filter on the right is the one that was being removed after six months of use. It shows what Horgan and her family would have ingested over that period had they not used the filter:
(Image: Kate Horgan)