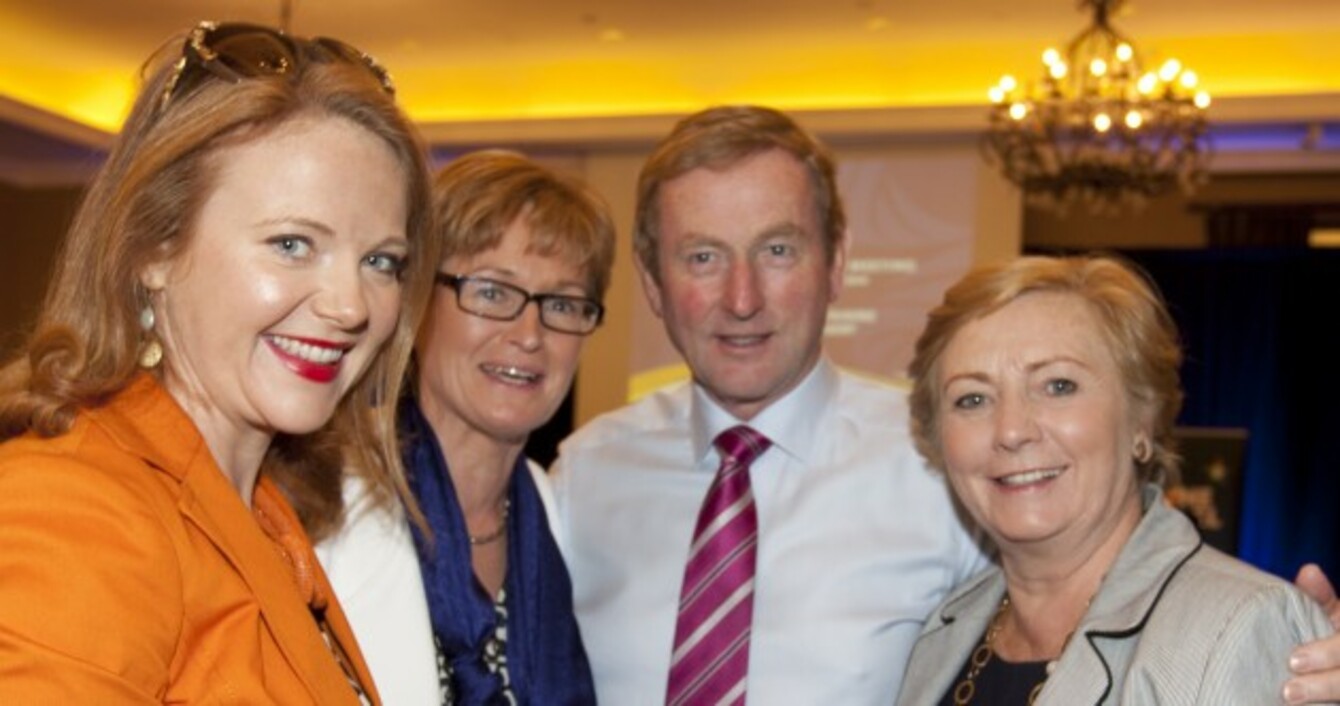 Enda Kenny with Fine Gael's Catherine Noone, Mairead McGuinness and Frances Fitzgerald
Image: Eamonn Farrell/Photocall Ireland
Enda Kenny with Fine Gael's Catherine Noone, Mairead McGuinness and Frances Fitzgerald
Image: Eamonn Farrell/Photocall Ireland
POLITICAL PARTY LEADERS are being urged to ensure that half of the next cabinet is female and make a number of other gender balance commitments ahead of the next election.
Women for Election, the non-partisan organisation that aims to get more women involved in politics, has written to all party leaders urging them to commit to five "practical measures" that it believes are achievable in the next Dáil.
The organisation wants a 50:50 split between men and women in the next government – a commitment the Taoiseach made this time last year if he is re-elected for a historic second term.
"I'd like to think that we could have a situation based on merit, either way now, that you'd have an equal number of men and women in that Cabinet, seven of each, and if I'm elected myself, to be Taoiseach of that," Kenny told reporters last December.
Women for Election said that were Kenny – or whoever the next Taoiseach is – to honour this promise it would send a "powerful message".
Women for Election's director of operations and campaigns Suzanne Collins said:
It would ensure that women's voices are at the centre of policy and political decisions over the course of the next Dáil.
In addition, the organisation is also calling for half of Oireachtas committee chairs and vice-chairs to be female and for half of newly co-opted councillors to be women.
It also wants party leaders to commit to ensuring that half of the next Taoiseach's appointees to the next Seanad are female. Seven of Kenny's 11 appointees in 2011 were female.
With political parties having been mandated to ensure a third of their Dáil candidates are female for next year's election, Women for Election also said this should be extended to the local elections.
To date 134 women have been selected or added to political party tickets for next year's election or around 30% of the total number of candidates. This is 48 more than ran in 2011.
"As the quota for selection legislation has shown, working towards a gender balance in our national politics requires concrete action and practical measures to make any advancement," Collins said.
"The momentum is with us and now is the time to build upon what we have achieved."