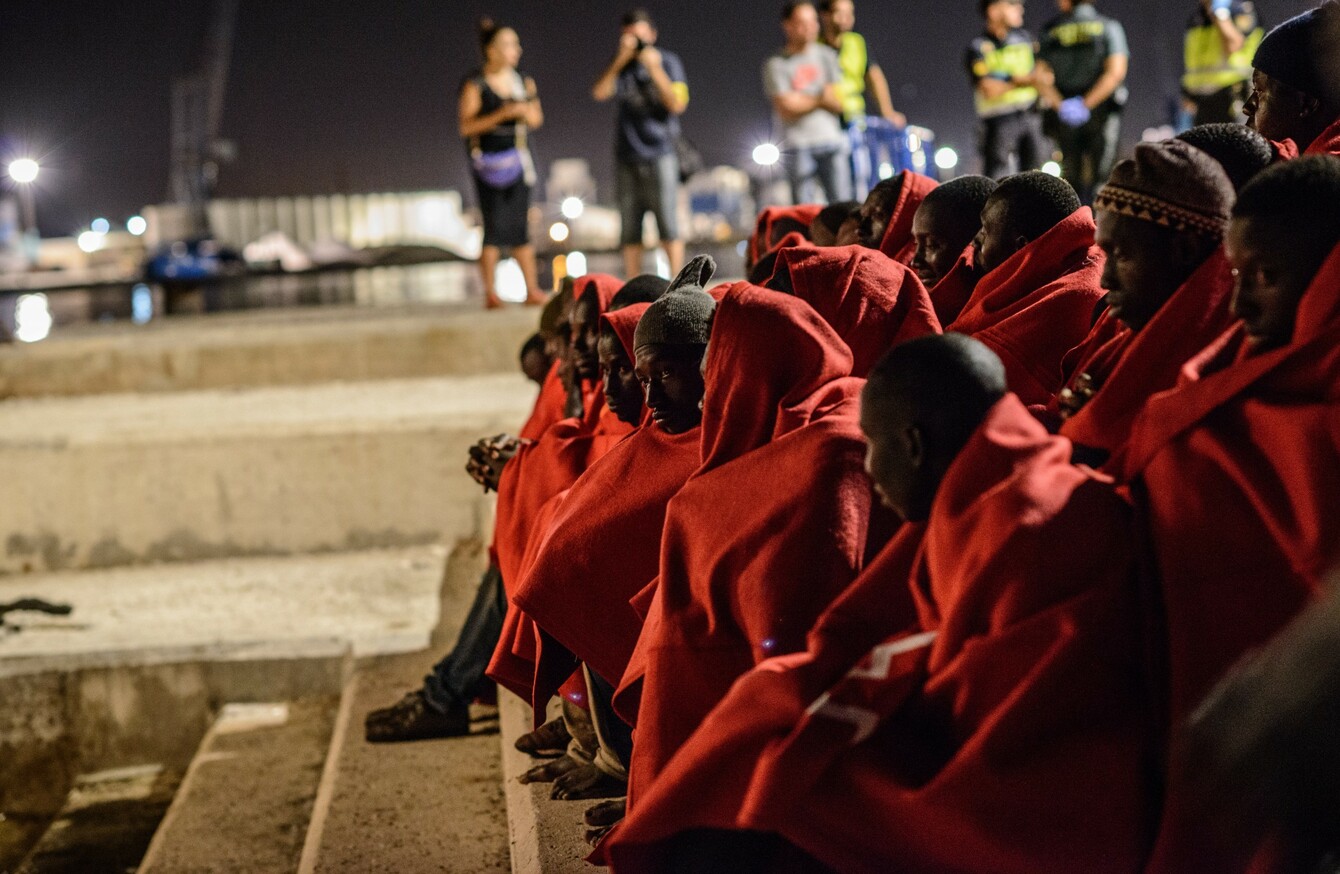 52 migrants, among them a woman and two boys, huddle on shore after being rescued by the Spanish Maritime last month.
Image: Guillaume Pinon via PA Images
52 migrants, among them a woman and two boys, huddle on shore after being rescued by the Spanish Maritime last month.
Image: Guillaume Pinon via PA Images
THE SOARING DEATH toll and abuses faced by thousands of refugees and migrants in Libyan detention centres are "clearly linked to failing EU policies", Amnesty International has said in a report published today.
The not-for-profit groups report, A perfect storm: The failure of European policies in the Central Mediterranean, finds that by giving most of the responsibility for search and rescue operations to NGOs.
Last week, Italy threatened to close its ports to foreign ships in an attempt to encourage the EU to react to the migrant crisis. Italy and Greece, two member states that are already struggling financially, are taking the bulk of the burden.
Since 2014, the Italian coast guard has coordinated the rescue of over 590,000 migrants, while over 14,000 have died or are feared drowned.
"We are facing a tragedy of incredible dimensions… (but) the solution is not at sea," Italian coast guard head Vincenzo Melone said.
"European states have progressively turned their backs on a search and rescue strategy that was reducing mortality at sea in favour of one that has seen thousands drown and left desperate men, women and children trapped in Libya, exposed to horrific abuses," said John Dalhuisen, Amnesty International's Europe Director.
Migrants' accounts
One Nigerian man stranded with 140 others on a boat that was taking on water for nine hours told Amnesty International.
All of us were praying. When I saw the lights [of the rescue boat] I thought: please, please, not the Libyan police.
A Bangladeshi man told Amnesty International what happened after he had been picked up by the Libyan coastguard.
"We were 170, on a rubber boat. We were taken back to prison and we were asked for more money. They told us: 'If you pay, nobody will stop you this time, because we are the coastguard'… Libyan prisons are just hell."
One man from Gambia told Amnesty International:
#Open journalism No news is bad news Support The Journal

Your contributions will help us continue to deliver the stories that are important to you

Support us now
"I spent three months in prison… You sleep like sardines in the cell, on your side, because there is no space. They beat you if you do not lie down in the right way. The water for the toilet was also for drinking… I saw three people being tortured while I was in prison. One boy died during [the] torture."
Dalhuisen is worried that the situation is only going to get worse if something doesn't change.
"If the second half of this year continues as the first and urgent action is not taken, 2017 looks set to become the deadliest year for the deadliest migration route in the world.
"The EU must rethink its cooperation with Libya's woefully dysfunctional coastguard and deploy more vessels where they are desperately needed," he said.
- With reporting from AFP.