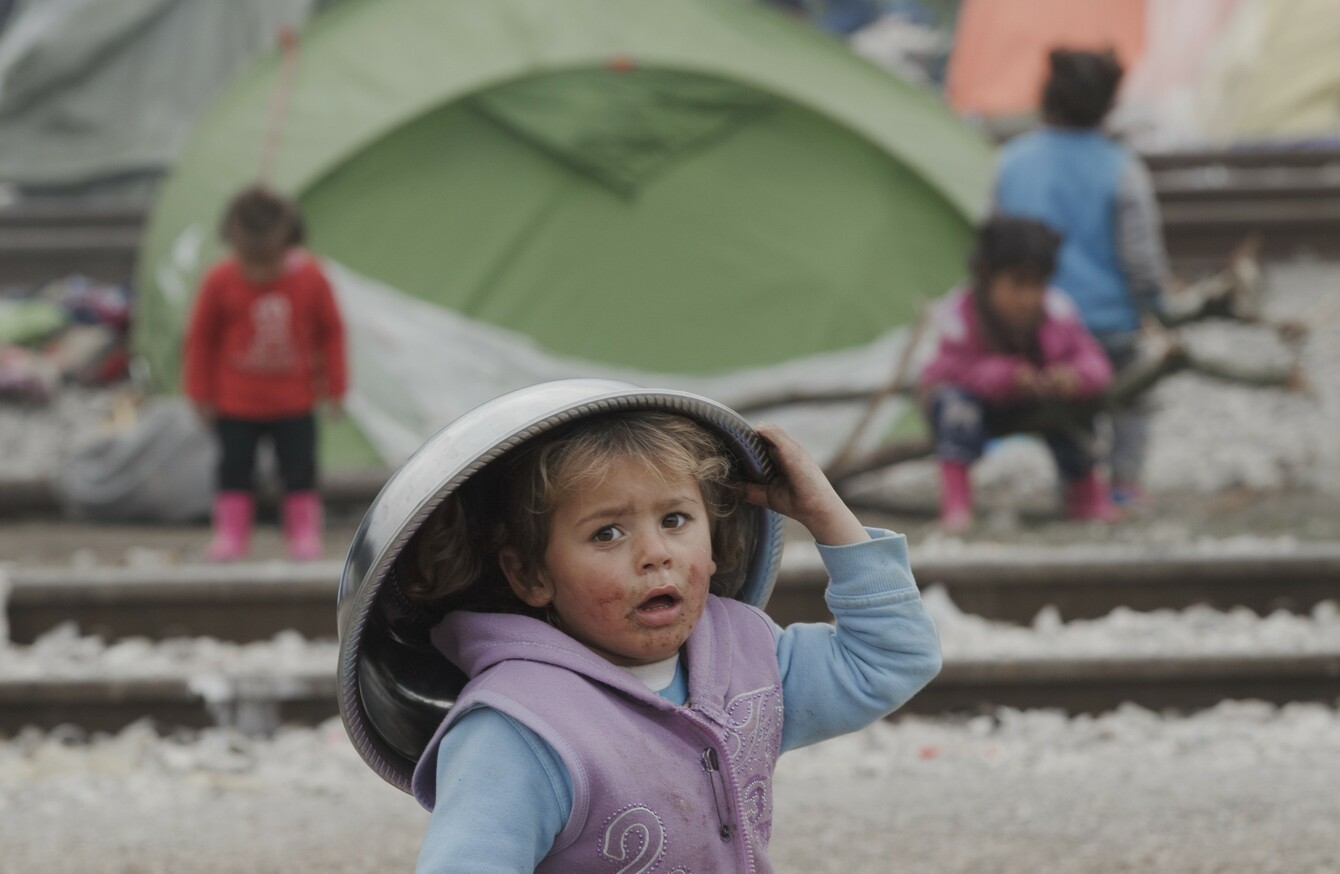 A girl from a migrant family in Idomeni, Greece, yesterday.
Image: Associated Press
A girl from a migrant family in Idomeni, Greece, yesterday.
Image: Associated Press
Updated 6.48pm
AMNESTY INTERNATIONAL HAS strongly criticised a migrant crisis deal struck by the EU and Turkey.
Earlier today Turkish Prime Minister Ahmet Davutoglu and the 28 leaders of the European Union formally reached a deal which aims to curb the huge influx of migrants and refugees coming to Europe.
Under the deal, all new irregular migrants arriving in Greece will be sent back to Turkey.
The EU will take in one Syrian refugee from Turkish soil in exchange for every Syrian readmitted to Turkey from Greece in a move designed to discourage them from risking their lives in boats operated by smugglers.
In return, Turkey won an acceleration of its long-stalled bid for EU membership, the doubling of refugee aid to €6 billion, and visa-free travel by June.
"It is also a historic day because we reached a very important agreement between Turkey and the EU," Davutoglu said at a press conference following a Brussels summit.
"We today realised that Turkey and the EU have the same destiny, the same challenges and the same future."
'Historic blow'
However, in a statement Amnesty International said the agreement was "a historic blow" to human rights.
"The double-speak this deal is cloaked in fails to hide the European Union's dogged determination to turn its back on a global refugee crisis, and wilfully ignore its international obligations," Colm O'Gorman, executive director of Amnesty International Ireland, said.
The hollow promises made by EU leaders to respect international and European law cannot be taken seriously, we are appalled that Ireland and other EU member states couLd have signed off on such a deal.
"Guarantees to scrupulously respect international law are incompatible with the touted return to Turkey of all irregular migrants arriving on the Greek islands as of Sunday Turkey is not a safe country for refugees and migrants, and any return process predicated on its being so will be flawed, illegal and immoral, whatever phantom guarantees precede this pre-declared outcome."
Médecins Sans Frontières (MSF) also condemned the deal.
It's obvious that this deal is designed with the single aim of stopping the arrival of people in to the EU. The rights and wellbeing of people themselves are not a primary consideration. The logic of stopping the boats, turning people back, and outsourcing 'management' to Turkey is unacceptable.
#Open journalism No news is bad news Support The Journal

Your contributions will help us continue to deliver the stories that are important to you

Support us now
"Regardless of the legality of such deal, we question if forcedly returning people to a country already hosting the highest number of refugees in the world is a responsible strategy."
The United Nations High Commissioner for Refugees (UNHCR) said: "People seeking international protection will have an individual interview on whether their claim can be assessed in Greece, and the right to appeal before any readmission to Turkey.
This would also entail that once returned, people in need of international protection will be given the chance to seek and effectively access protection in Turkey. We now need to see how this will be worked out in practice, in keeping with the safeguards set out in the agreement – many of which at present are not in place.
"How this plan is to be implemented is thus going to be crucial. Ultimately, the response must be about addressing the compelling needs of individuals fleeing war and persecution. Refugees need protection, not rejection.
"Greece's reception conditions and its systems for assessing asylum claims and dealing with people accepted as refugees must be rapidly strengthened. The safeguards in the agreement have to be established and implemented. This will be an enormous challenge needing urgent addressing."
- contains reporting from © AFP, 2016