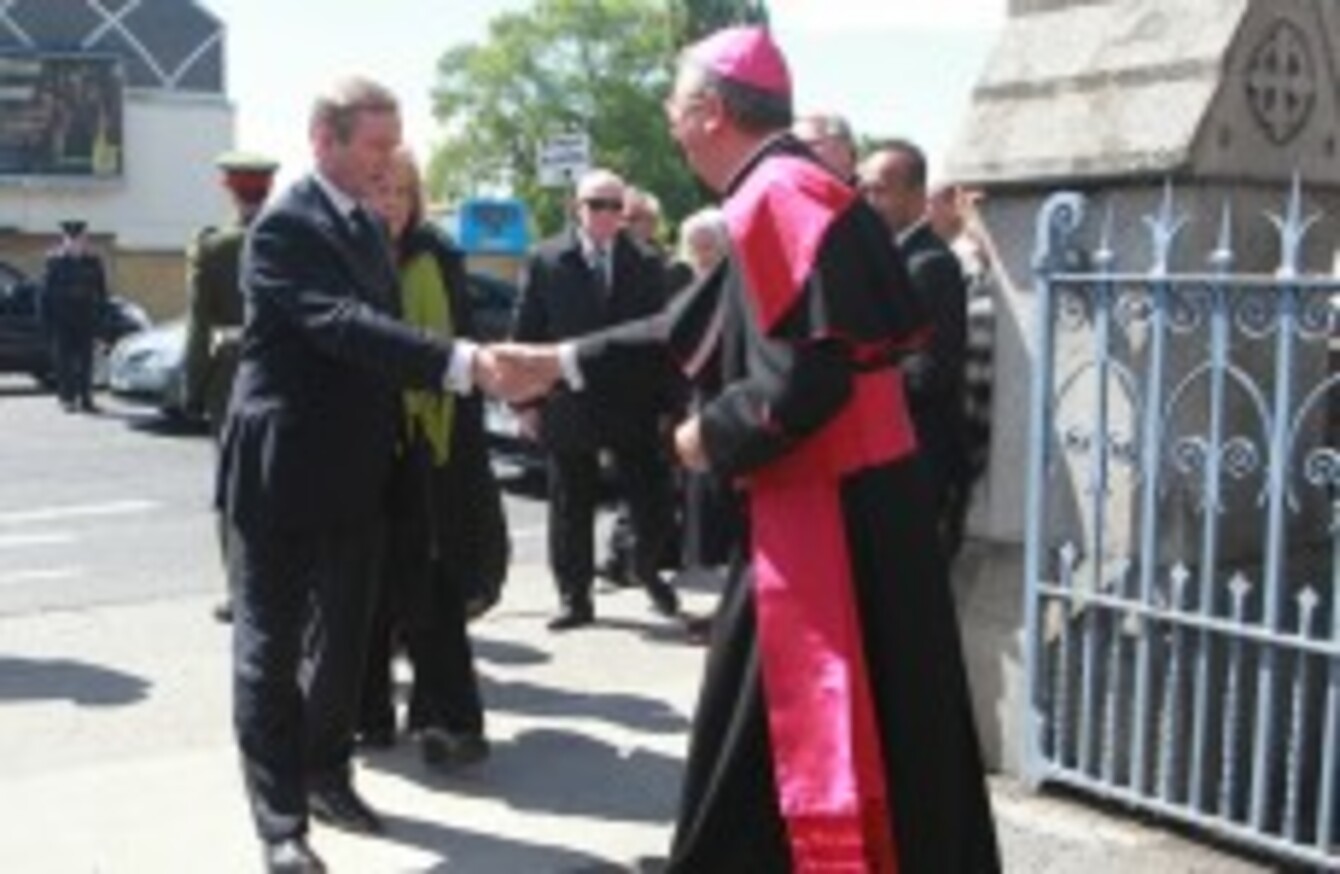 Taoiseach Enda Kenny shakes hands with Archbishop of Dublin Diarmuid Martin at the funeral of Garret Fitzgerald earlier this year
Image: Leon Farrell/Photocall Ireland
Taoiseach Enda Kenny shakes hands with Archbishop of Dublin Diarmuid Martin at the funeral of Garret Fitzgerald earlier this year
Image: Leon Farrell/Photocall Ireland
THE TAOISEACH HAS said he does not expect a negative or hostile reaction from Catholic Church leaders when he hosts a reception for them in Dublin Castle tomorrow night.
Enda Kenny and Tánaiste Eamon Gilmore are to co-host the reception for high-ranking members of the Catholic Church as the Eucharistic Congress draws to a close in Dublin.
The Papal Nuncio, the Papal Legate, and the Archbishop of Dublin will all attend the event at the State Apartments in Dublin Castle.
In a landmark speech last July, the Taoiseach condemned the 'dysfunction and disconnection' of the Catholic Church and deliberately put distance between the Church and State in the wake of how the child sex abuse scandals were dealt with by the Catholic Church.
"The relationship between Church and State has entered a new phase," a spokesperson for the government told TheJournal.ie. "Contact and dialogue are important to ensure that this mature relationship continues".
The Taoiseach will also attend the closing mass of the Eucharistic Congress in Croke Park on Sunday night. Around 80,000 people are expected to attend the ceremony which will mark the end of the week-long event.
The government spokesperson said it was 'entirely appropriate' for the Taoiseach 'to both host a reception and attend what is a significant event'. Enda Kenny has attended religious services for a number of denominations in his official capacity as Taoiseach.
The 50th International Eucharistic Congress has been taking place in Dublin since last Sunday for the first time in 80 years. Archbishop Diarmuid Martin has said that the event is 'low-key' to reflect the changing stance of the Catholic Church in Irish society.