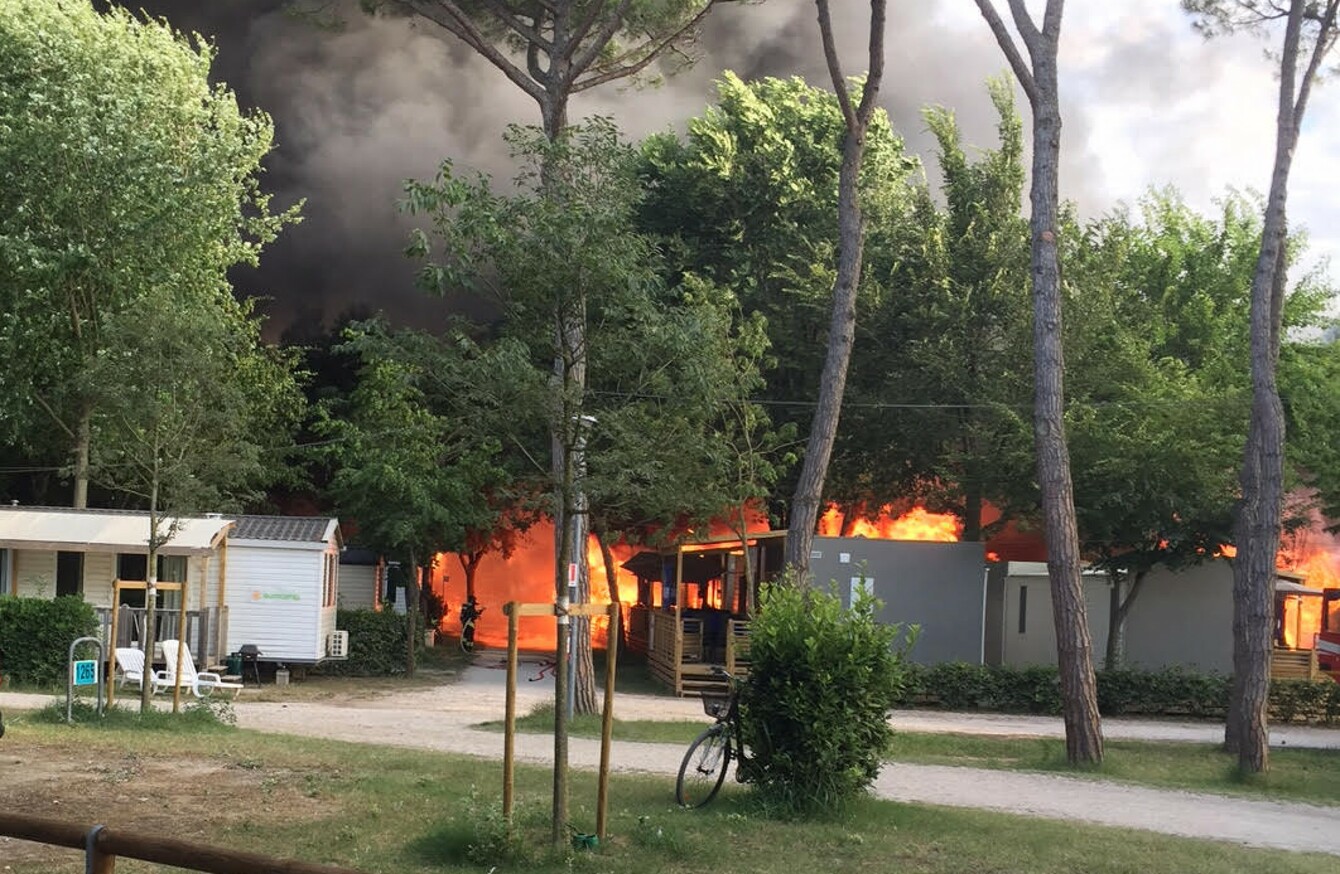 Image: Tom McCann
Image: Tom McCann
AN IRISH FAMILY lost everything but their passports and a mobile phone after a fire ripped through an Italian holiday camp.
The McCann family told TheJournal.ie that they were among a number of Irish families affected after a caravan fire broke out in the Pra Delle Torri site in Caorle, near Venice.
The fire broke out at 6.30am on Monday morning. Tom McCann, from Belfast, who is holidaying with his wife Edel and three children (aged between seven and 13), said he was unhappy with the initial lack of contact received from Eurocamp, the company his family had travelled with.
The holiday company has since contacted McCann personally this afternoon about the situation. Eurocamp is also contacting other customers in case the fire affects future holidays.
"I could hear loud cracking noises"
The caravan where the fire broke out was two lanes away from the McCanns' caravan. "I woke up and thought I overslept," said Tom McCann.
I heard lots of people shouting, and heard lots of loud cracking noises and thought 'what was that?'. I put my head out the window and saw huge billowing black smoke. I got the kids out of bed, woke up my wife and we ran for it.
High winds helped the fire to spread and the McCanns' caravan was soon hit by the flames. "The winds just whipped right through," said Tom McCann. "Within five minutes our caravan was on fire."
Local news site Venezia Today said that several teams of firefighters fought the blaze and that 150 families were affected. There were no reports of serious injuries. It is thought the blaze was caused by candles lit in a caravan.
The family were left with just their passports and a mobile phone – the children had to wear their pyjamas for two days.  They waited around the site that day to find out what contingency plans were put in place. Eventually, the site relocated families to another site around 40km away.
"These things happen and what we're trying to do now with the kids is make the most of it," said McCann. He said he had emailed and rang Eurocamp's Cork offices but did not receive a response until today.
"This isn't about receiving compensation or anything like that, it's just really hard to believe that they haven't responded," he said this morning, before receiving contact from Eurocamp.
The family are in Italy until Saturday week, and have had to buy emergency provisions such as clothes for the three children.
"If I hadn't been able to get my phone and didn't have data, what could I have done?" said McCann.
We were on our second day of the holiday. Another family from Galway, they were on their last day effectively.  There are probably three or four Irish families who have lost everything. Some have managed to recover stuff from their caravan but had to be relocated.
Danish tourists have had consular support following the blaze.
Locals held a collection for toiletries, underwear and clothing for the affected campers, which was available to be collected at the new campsite. 
"Everyone is safe and trying to make the best of the situation," said McCann from the new campsite. "We are trying to make the best of it for the children."
In a statement, Eurocamp said:
At approximately 6am on Monday 4 July a fire broke out on Camping Pra'delle Torri, which is situated on the Italian Adriatic Coast.
All customers within the immediate vicinity where evacuated and thankfully no one was injured. Whilst the fire was being brought under control customers were provided with food and drink by our onsite team at the site bar.
Eurocamp customers affected by the fire have been offered alternative accommodation on a nearby campsite and are being assisted by our local representatives.
Eurocamp had 15 mobile homes damaged by the fire and we are proactively contacting customers if this affects future holidays. All facilities onsite are unaffected by the fire and remain open as normal.
Currently the local fire/police department are investigating the cause of the fire which is still unknown.