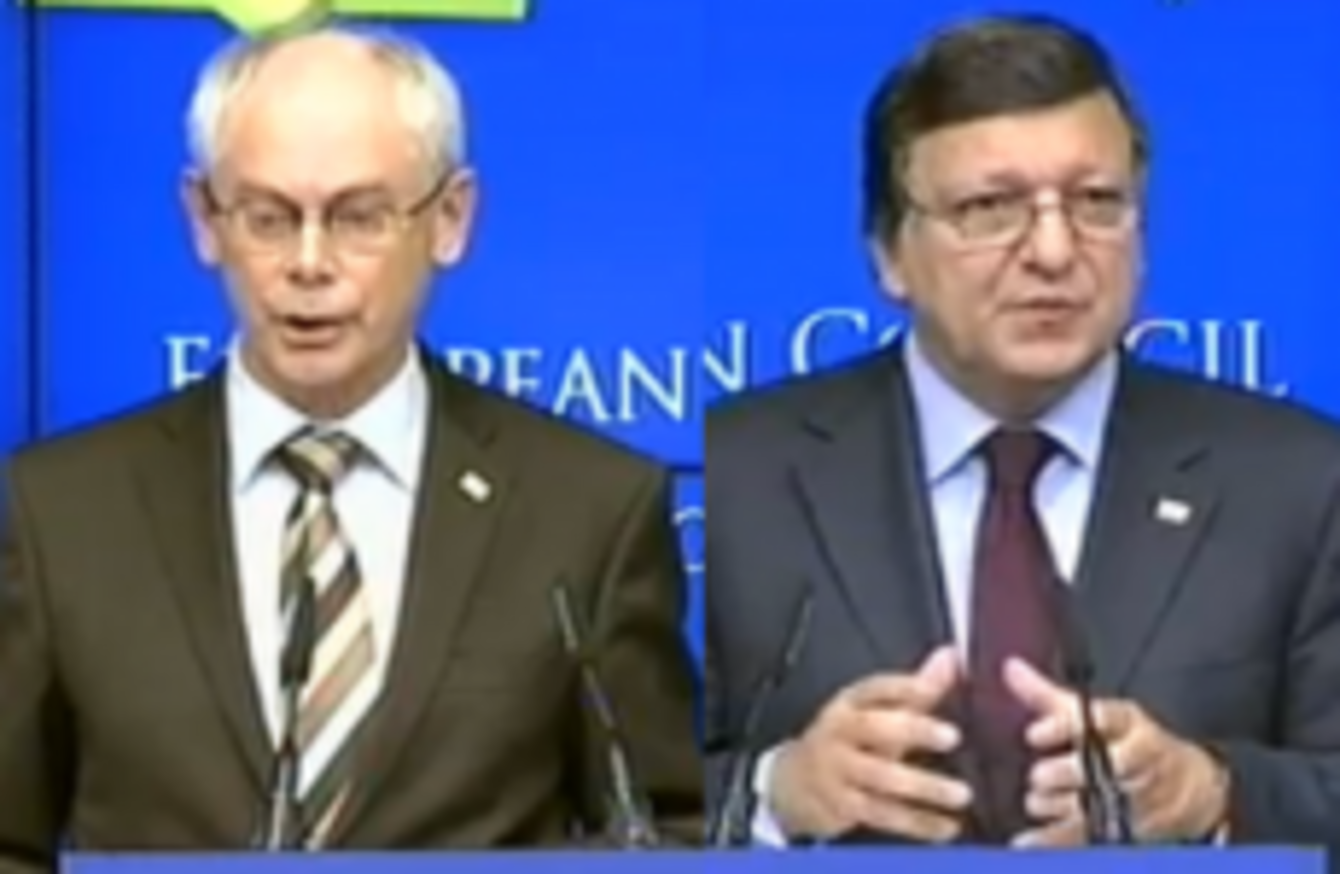 Herman van Rompuy and Jose Manuel Barroso have assured that a package of decisions to fight the European debt crisis will be contained.
Herman van Rompuy and Jose Manuel Barroso have assured that a package of decisions to fight the European debt crisis will be contained.
EUROPEAN LEADERS WILL convene for their second summit within a week on Wednesday evening, when they are expected to sign off on new measures which hope to draw a definitive line underneath the continent's debt crisis.
After a meeting of heads of government in Brussels today, European Council president Herman van Rompuy said another meeting would be required on Wednesday to sign off on the package of firefighting measures.
Those measures will be finalised by a meeting of finance ministers which will take place earlier on Wednesday, van Rompuy said.
European Commission president Jose Manuel Barroso, who also addressed reporters after the meeting, said those meetings would come up with a "comprehensive package" agreement on four matters.
Those matters are:
How the continent is to handle the growing unease about Greece's debt – van Rompuy this afternoon promised a "lasting solution" on that issue;
The recapitalisation of European banks to handle any future financial shocks;
The 'leveraging' of the European Financial Stability Fund in order to increase its lending power
The financial governance of the Eurozone.
Van Rompuy said leaders were "confident we will get an agreement on Wednesday" and said European leaders – including those of France and Germany – had been "working in a spirit of compromise, in a spirit of having an ambitious package to reassure the rest of the world of our determination to safeguard the Eurozone".
"I saw the French president and German chancellor determined to work together – together with the other members of the Eurozone. Agreement betwen France and Germany is a necessity, but is not succificient at all," van Rompuy added.
Barroso said Europe "can and must do more" to prompt economic growth, and voted to proceed further with a so-called 'Tobin tax' on financial transactions.
"There is a need for the financial sector to make a clear contribution back to society," Barroso said, arguing that such a tax could also be used to convince the G20 that Europe was taking affirmative action.
A statement issued by the European heads of state following today's meeting also agreed to make a full decision, by Wednesday, on whether any of their proposals will require amendment of the current European treaties.
Any amendment would need the unanimous approval of all 27 member states – meaning leaders including Enda Kenny could come under fresh domestic political pressure ahead of the Wednesday summit.
Speaking separately after the summit, Britain's prime minister David Cameron warned he would not sign off on any proposed treaty amendments unless those changes were "in the UK's best interest".
French president Nicolas Sarkozy, in a joint briefing with Angela Merkel, described Ireland as being "on the way out of the crisis".