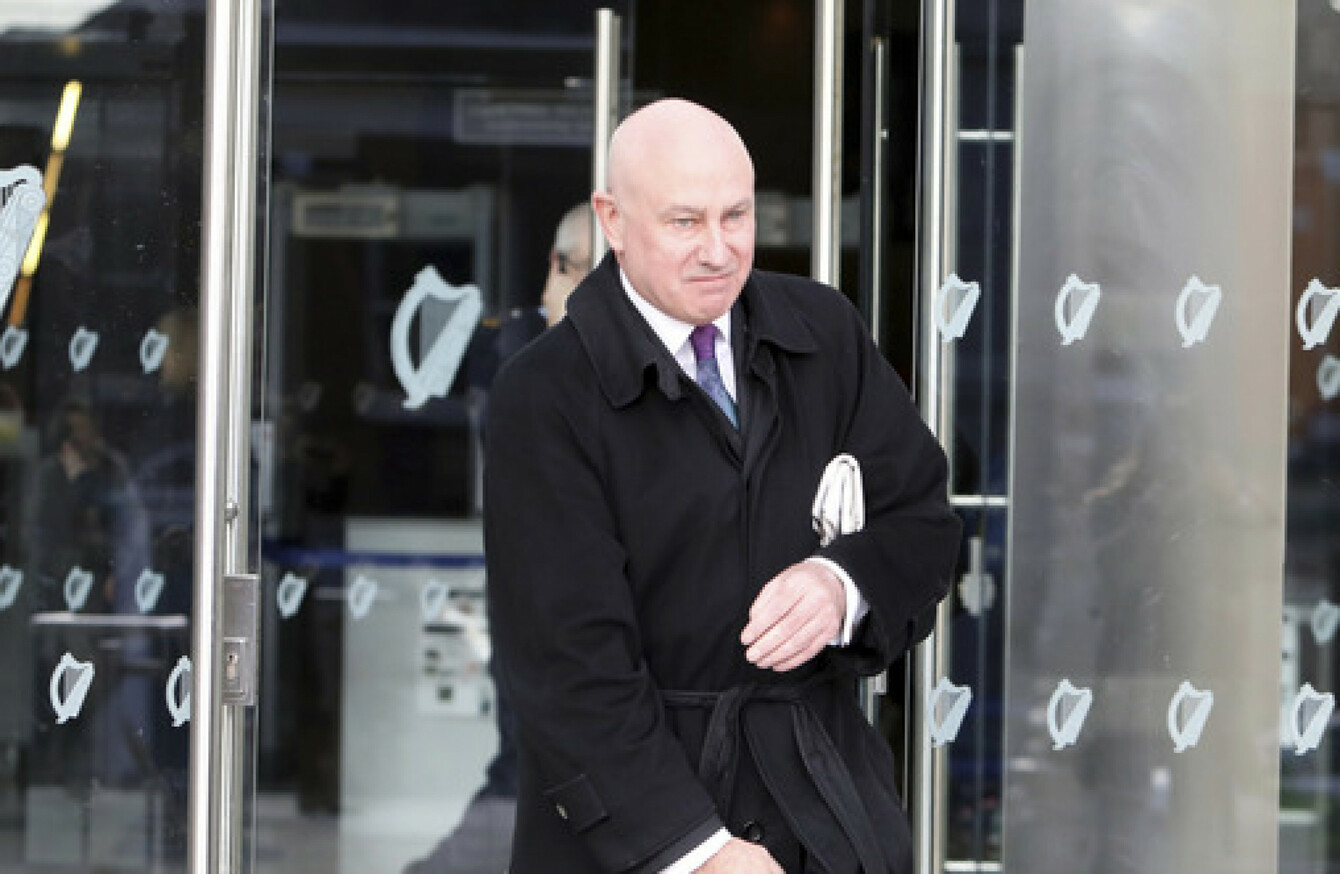 Former official of Anglo Irish Bank Tiarnan O'Mahoney leaving the Central Criminal Courts after a jury was directed this morning to find him not guilty of the charges against him
Image: Leah Farrell/RollingNews.ie
Former official of Anglo Irish Bank Tiarnan O'Mahoney leaving the Central Criminal Courts after a jury was directed this morning to find him not guilty of the charges against him
Image: Leah Farrell/RollingNews.ie
A FORMER SENIOR Anglo Irish Bank official, charged with conspiring to destroy or falsify records of accounts connected to the bank's former chief executive Sean FitzPatrick, has been acquitted of all charges against him.
Judge Martin Nolan directed the jury today at Dublin Circuit Criminal Court to acquit Tiarnan O'Mahoney (58), former chief operations officer with the bank, of all charges against him.
O'Mahoney of Glen Pines, Enniskerry, Co Wicklow had pleaded not guilty to conspiring to destroy, mutilate or falsify books and documents affecting or relating to the property or affairs of Anglo Irish Bank Corp PLC.
He also pleaded not guilty to conspiracy to defraud the Revenue Commissioners, who were conducting an investigation into bogus non-resident accounts which may have been liable for Deposit Interest Retention Tax (DIRT).
The offences are alleged to have occurred between 25 March, 2003 and 31 December, 2004 and refer to eight named bank accounts, all of which were connected to Sean FitzPatrick.
Judge Nolan told the jury that in their absence an application had been made by O'Mahoney's legal team, arguing the case shouldn't be put before them for deliberation due to an absence of evidence.
"Yesterday I acceded to that application and therefore the case will not go to the jury," Judge Nolan said.
Judge Nolan then instructed the jury foreman to sign the issue paper which stated that the defendant was "not guilty by direction".
He remarked that the application made by Brendan Grehan SC, defending, was not unusual and was quite appropriate to make at the end of the State's case. Judge Nolan thanked the jurors for their service during what he described as "an unusual case" and discharged them.
"Mr O'Mahoney can now be discharged," Judge Nolan said.
No response
Tiernan O'Mahoney did not make any response and showed no visible reaction.
The offences are alleged to have occurred between 25 March, 2003 and 31 December, 2004 and refer to eight named bank accounts, all of which were connected to Sean FitzPatrick.
Judge Nolan's direction followed a submission from the defence arguing that the case should not go before the jury because the prosecution had not proved the necessary connection between the accused and Aoife Maguire, former assistant manager at Anglo Irish Bank, and O'Mahoney.
Lawyers for the Director of Public Prosecution had argued the case could be decided by a jury if a direction was given by Judge Nolan to combine all the circumstantial evidence together to form a compelling conclusion.
Judge Nolan said that after considering the arguments from both sides he had reluctantly come to the conclusion that the case was "too tenuous" to go to the jury and a conviction would be "perverse".
"The evidence of conspiracy to do the acts with which Mr O'Mahoney is charged is too tenuous, too remote in both substance and in time," he said.
Not satisfied
He said he was not satisfied that any properly directed jury could convict in these circumstances, as they would be asked to speculate and to fill in gaps in the evidence adduced during the trial.
Judge Nolan said there was every reason to be suspicious of O'Mahoney's activities in October and November 2003, and his subsequent dealings with gardaí. But, he said, in the absence of formal evidence of conspiracy with Aoife Maguire this was not enough.
#Open journalism No news is bad news Support The Journal

Your contributions will help us continue to deliver the stories that are important to you

Support us now
Judge Nolan said that it was obvious that the person who benefited from the deletion of the accounts in question was Sean FitzPatrick.
"Sean FitzPatrick used the accounts to deal in Anglo shares in a prohibited period. For a petty reward he breached the rules in relation to insider trading," Judge Nolan said.
Judge Nolan praised the gardaí, who he said investigated the matter in an exemplary fashion.
The prosecution had alleged that O'Mahoney conspired to delete six accounts from the bank's electronic record system, and to disguise the identity of two further accounts.
During the trial the court heard that all eight bank accounts were "to a greater or lesser extent" connected to Sean FitzPatrick.
The prosecution's case was that Aoife Maguire, a member of staff at Anglo, approached members of the bank's IT team during the Revenue audit in 2003 and requested that certain accounts be deleted from the bank's system.
However the IT department members were uncomfortable with this instruction, and archived the accounts rather than deleting them. When the archived accounts were recovered it transpired that some details pertaining to the accounts had been altered.
The prosecution had argued that Tiarnan O'Mahoney was part of an agreement to make a deliberate, concerted effort to alter the details of these accounts and to defraud Revenue.
This trial, lasting 21 days, was a retrial after the Court of Appeal quashed Mr O'Mahoney's 2015 conviction in April 2016.