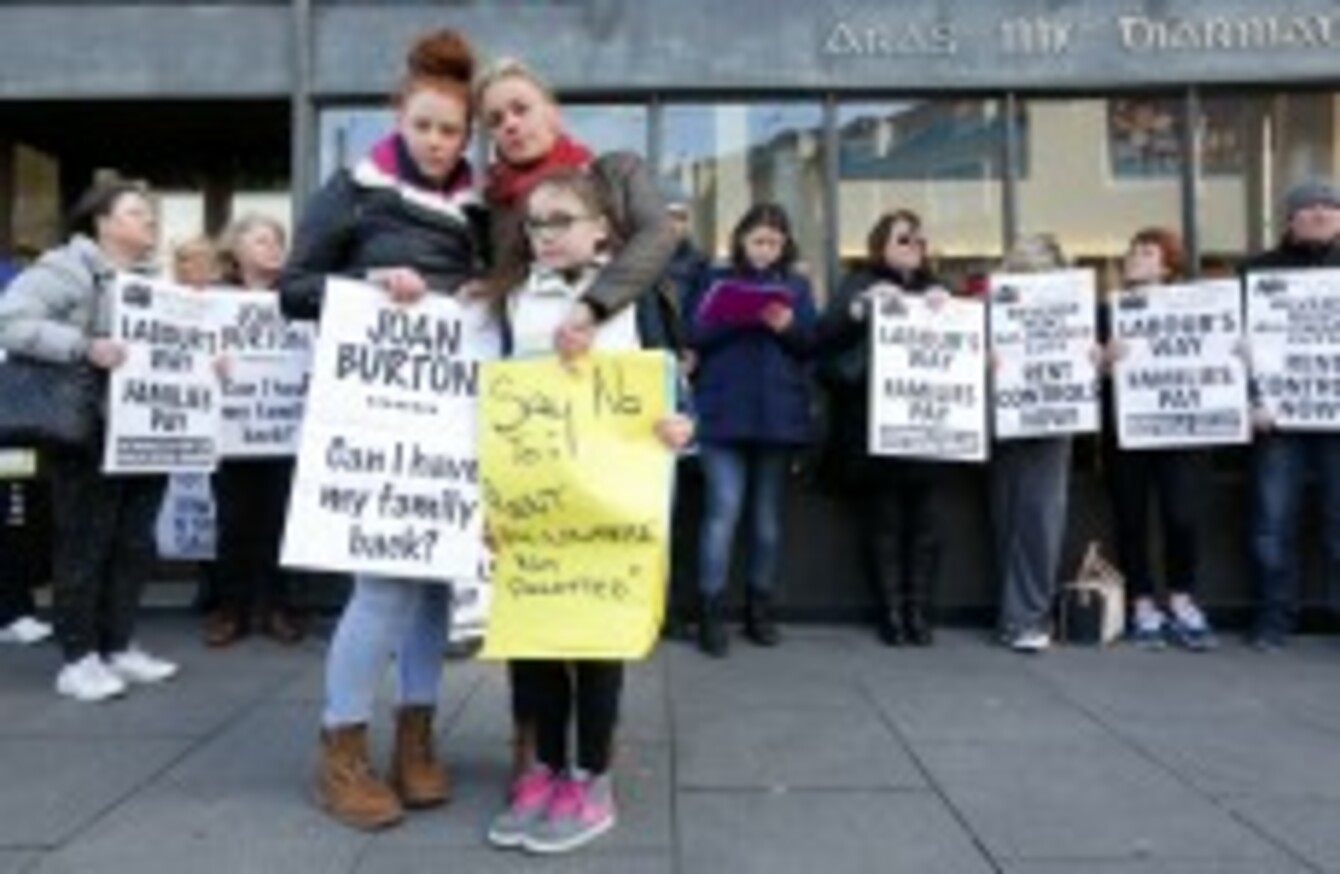 Gwen Connell with two of her three daughters at a protest in February
Image: Laura Hutton/Photocall Ireland
Gwen Connell with two of her three daughters at a protest in February
Image: Laura Hutton/Photocall Ireland
FAMILIES WHO HAVE become homeless are to protest in Dublin over the lack of accommodation and services.
Among the families due to attend the protest at City Hall next Saturday are Gwen Connell and her daughters.
Gwen's case came to light in February when reductions in their rent allowance, coupled with a prohibitive increase in the rent, led to the family losing their home. Her three daughters were forced to stay with relatives while she tried to find somewhere to live.
Her problem was two-fold: "No-one would accept rent allowance, and the rental market prices were so high," she explains.
Gwen says that the minimum cost of a house with three bedrooms in Dublin is now €1,200. "That's the lowest. Others are €1,400, and it's all increasing from there. People can't afford them".
Meanwhile, the rent allowance is currently capped at €950, meaning that people receiving it have to pay the difference if the price is more than that.
"For people on social welfare, there are so many signs saying 'no rent allowance accepted'" she said. "Also landlords can just jack up the price, which makes it even harder. Ours went up by €400, which was impossible".
She described the case of another woman who will be attending the protest who is living in a homeless unit in Crumlin with her family since October, even though her husband works.
"They don't get any social welfare, but the landlord was putting up the rent and they couldn't afford it," she says. "The conditions there [at the homeless unit] are bad – there's a lot of alcohol and drug abuse. It's just not the right place for a family to be".
Stigma
She said one of the difficulties in getting people out to protest is the stigma attached to losing a home.
"If you protest, you're always going to get some stick, but you also feel like people are putting the blame on you. My bills were always paid, my rent was always paid – there was nothing I did that was to blame, but we ended up out of our home".
There's definitely a stigma attached to it. I was embarrassed to come out and say I was in that situation.
"As a parent you want to be able to look after your kids and protect them, and it's hard to do that".
She says she's hoping people will come out to ask the government to build more social housing "because this is an ongoing problem and it's only going to get worse".
Same situation
Gwen has found a place to rent since her protest in February. "It was only through the protest that I got somewhere," she says. She's now renting a 2-bedroom apartment with her three children.
"Again, it's over the €950 of the rent allowance, but even Joan Burton's people couldn't find a place for me that was that amount [€950]".
She says a lot of families came up to her after her protest was publicised saying they're in the same situation.
"It's highlighted in the papers and the media all the time, but the government doesn't seem to be doing much," she said.
"I don't want to sound ungrateful. I was very lucky that I had a family and friends to put us up, but I felt like we were being a burden," she says.
"It was a very hard time. It made me see that something needs to be done to fix this".
The protest at City Hall takes place on Saturday 10 May at 2pm.