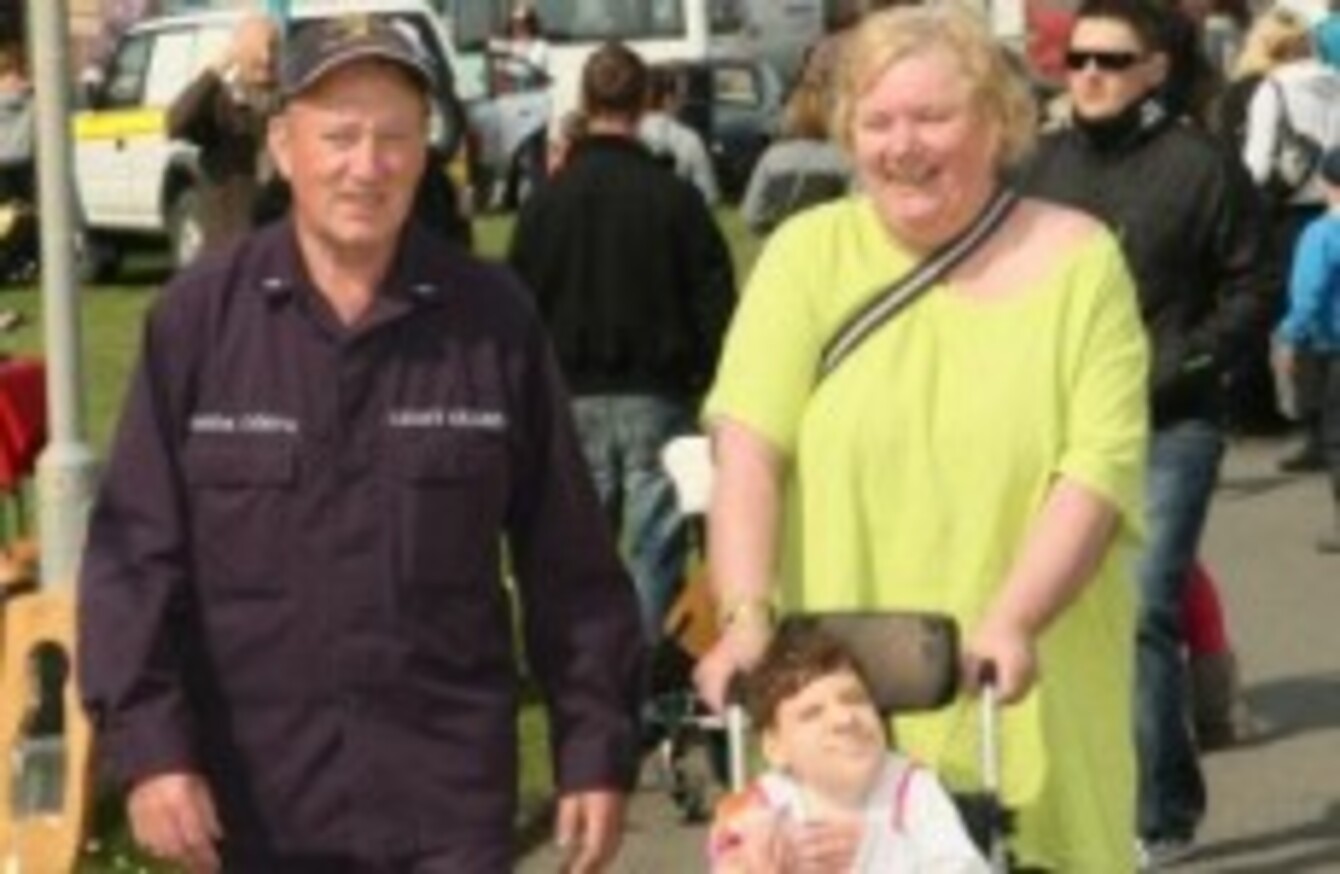 John, Johanne and Siobhan Powell
Image: The Carers Association
John, Johanne and Siobhan Powell
Image: The Carers Association
THE FAMILIES OF two young Wexford women with profound disabilities say they are "thrilled to bits" about a HSE decision to reinstate full transport services to their daughters.
For the past three-and-a-half months, mothers Johanne Powell and Caroline Dunphy have battled with the agency to have transport to day-care services provided for their daughters Siobhán (29) and Sinéad (21).
The families were informed in March that their services would be reduced from five days to just three per week because of budget restraints.
Speaking to TheJournal.ie today, an elated Johanne said the news "has put our life back to something we can cope with".
It is such a relief. It was such a strain and we are delighted the HSE saw fit to change their minds.
The Carers Association described the services as "vital" for both women because they receive essential physiotherapy and occupational therapy every day. Their mothers, who are also full-time carers, also require a break from providing round-the-clock care.
If the cuts had not been reversed, both the Powells and Dunphys were considering residential care at a cost of more €50,000 per year. The HSE had offered to take Siobhan into full-time care but Carers Association spokeswoman, Catherine Cox, claimed the HSE would save €16,000 per year on cutting the service when sending Siobhan into a residential nursing home could cost up to €78,000 annually.
Currently, Johanne provides full-time home care for her physically and intellectually disabled daughter in their home in Fethard-on-Sea. Siobhan suffers from a rare chromosomal disorder which has caused chronic renal failure, scoliosis and epilepsy. The 29-year-old woman is also a wheelchair user.
Her mother recently lost her mobility allowance and  also had a 20 per cent cut in her respite care grant. Last month, she told this website that it was the "final straw" and that the service change made life "impossible".
U-turn
The HSE told the families this week that transport services to the Wexford Town day care will be reinstated on 24 June.
Johanne told TheJournal.ie how much her daughter loves attending the centre and that her husband drove their daughter to the centre 24 miles away twice a week.
"It's her main social outlet. There's younger people there and they go shopping and drinking coffee.  I can't have her at home starring at me all day. She needs a social outlet with people of her own age and ability."
"While we are appreciative that this cut has been reversed and both Johanne and Caroline can now stop looking into residential care alternatives, we would like to engage further with the HSE around day respite services for young adults with disabilities, and specifically the lack of residential care facilities available for young adults such as Siobhán and Sinead," Catherine Cox from the association said.
"This is important particularly when their needs become greater and as their carers themselves become older. And as always, the huge worry for many parents who are also family carers is, what happens my loved one when I can no longer care for them. This seriously needs to be addressed by the health services."