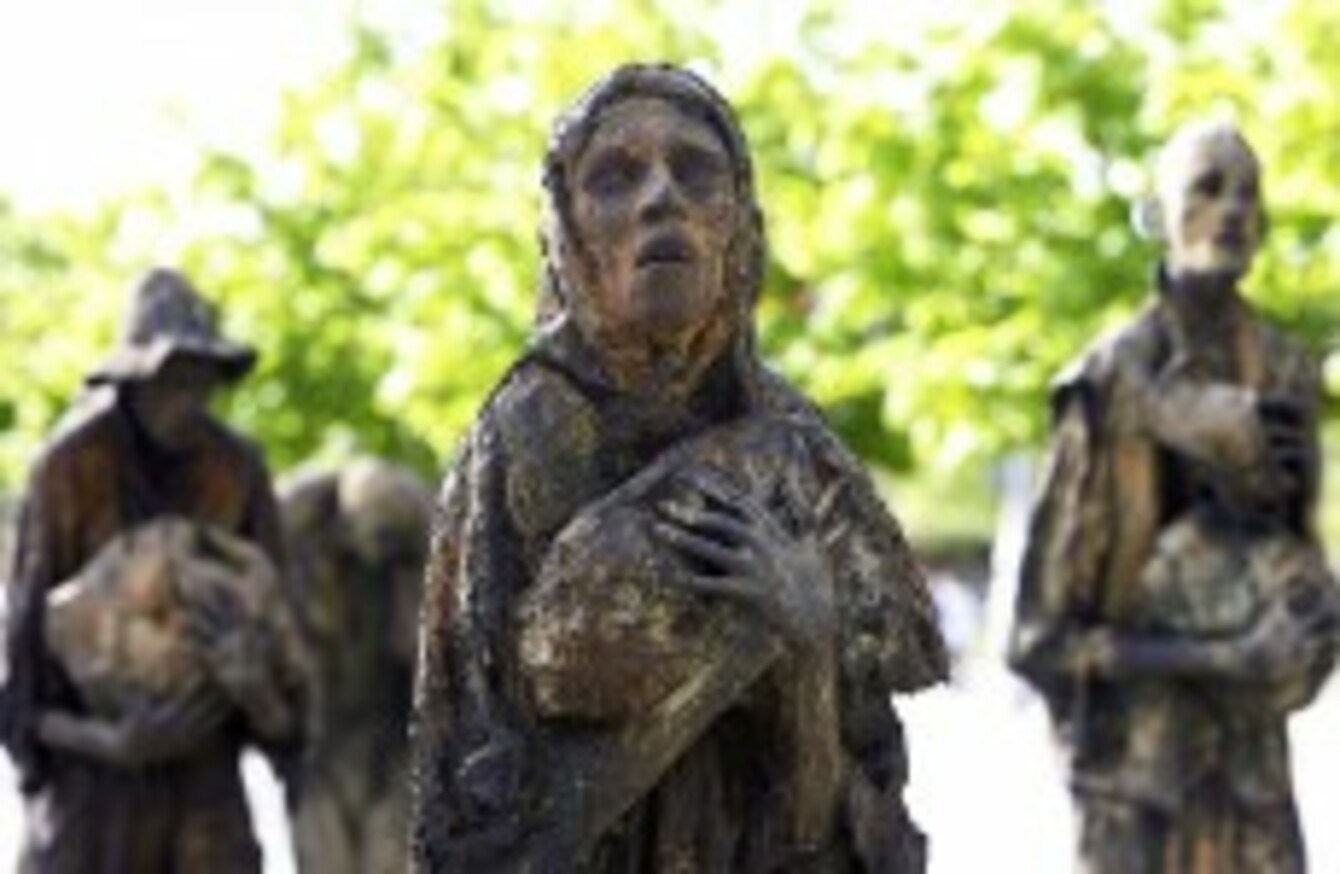 The Irish Famine Memorial on the north quay in Dublin.
Image: Niall Carson/PA Archive/Press Association Images
The Irish Famine Memorial on the north quay in Dublin.
Image: Niall Carson/PA Archive/Press Association Images
A CAMPAIGN HAS been launched in the US to have Irish Famine Studies taught in California.
Meetings have been held between proponents of the plan and those in charge of the State's education curriculum.
John O'Riordan, a Cork native and current member of the California Democratic Party, says the issue is central to the history of the State – and the nation – because millions of Californians can trace their Irish roots to the Great Hunger of the 19th century.
"Curiously, it has very limited references within the public school curriculum in California," he explains.
Campaigners want to see Irish Famine studies taught as part of an integrated American ethnic studies programme with an aim of teaching about the rights of a people to access food in their own country; the role of racism in times of crisis; the impact of free market economic policies; the support of relief efforts by US residents; mass migration into America and the success of migrants and their integration with American culture.
According to O'Riordan, most of these elements are lacking from the current curriculum.
The initiative has been praised by Pat Uniacke, a former president of the GAA in North America.
"This represents an opportunity to share the story of the voiceless Irish people who perished during the famine and those who survived to build a new life in America," he said.
It will also provide an opportunity to remind our children of our constant obligation to the poor and suffering throughout the world.
O'Riordan, who emigrated from Ireland in 1991, says he hopes his two daughters will "grow to be respectful, responsible and tolerant citizens with a broad understanding of a shared American history".
"This can be helped by the creation of an integrated ethnic studies program in California public schools, one that includes the study and impact of the Irish Famine."
According to the Irish American Caucus, the relief efforts organised in the US for Ireland have acted as a template for aid throughout the world ever since because it was given "with no strings attached".
A delegation from the Irish American Caucus recently met with Tom Torlakson, California State Superintendent of Public Instruction, to discuss the proposal to create a more robust discussion about the Irish Famine being added to the school curriculum.
The Irish American Caucus has now been invited to meet with Tom Adams, Director of Curriculum Frameworks and Instructional Resources, California Department of Education to further discuss the current role of the famine within the school curriculum and how the Irish community would like to see enhancements.