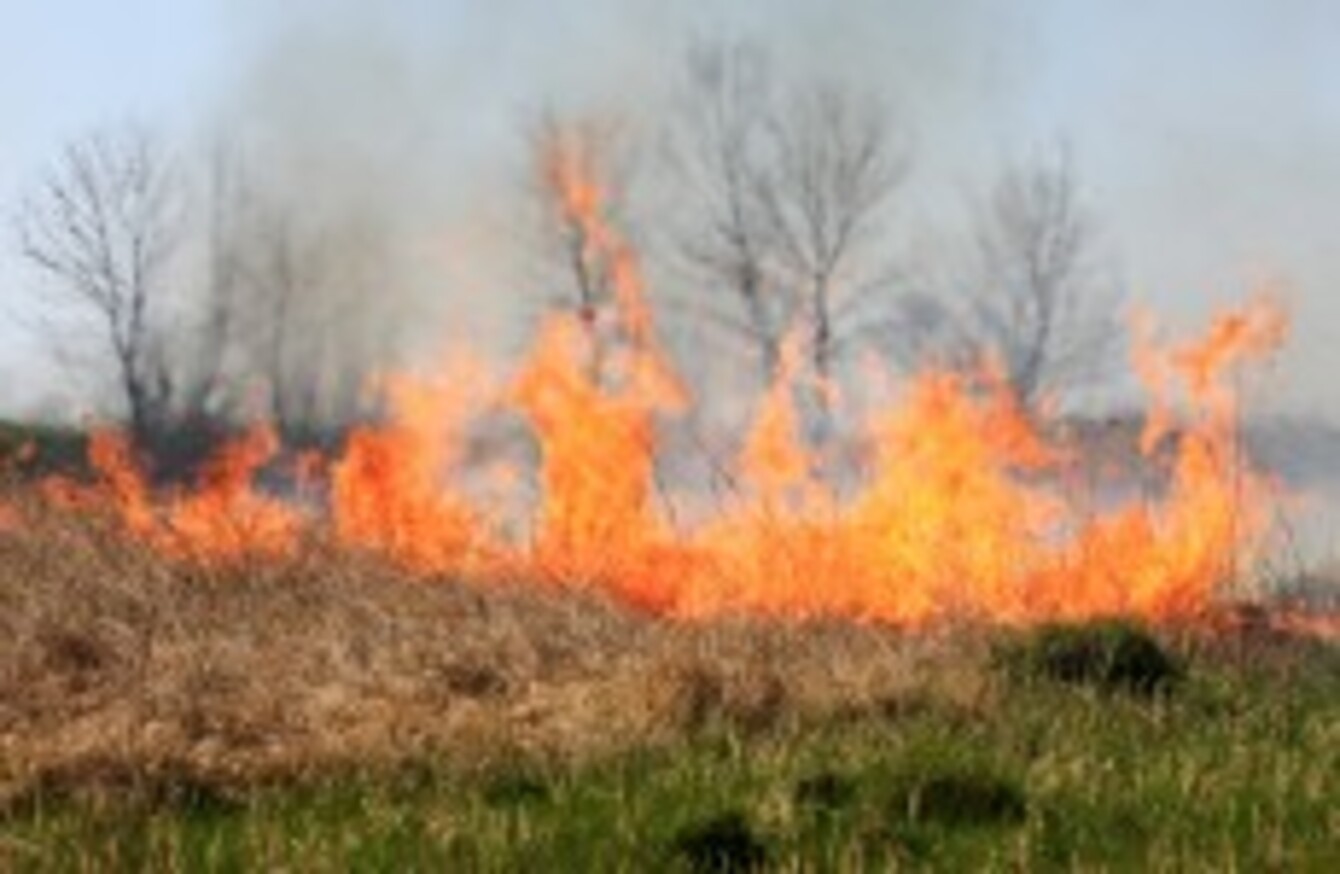 Image: fire via Shutterstock
Image: fire via Shutterstock
FARMERS ARE BEING reminded of the risks associated with uncontrolled fires.
The Minister of State for Agriculture Tom Hayes said, "I'm concerned that some farmers affected by the ongoing review of land eligibility being conducted by the Department may be tempted to clear areas of scrub, thereby restoring the land to full eligibility."
He also warned farmers that "Setting fire to growing vegetation is not only an extremely dangerous practice, it is also illegal.
It is completely unacceptable for a person to act so thoughtlessly as to set fire to vegetation and then to simply walk away from the consequences of that action, when those consequences could destroy the very lives and livelihoods of their own neighbours.
"I am taking this opportunity to call on all rural dwellers, farmers, forest owners, landowners and especially those that own, rent, lease or manage commonage, to unite in their response against the unacceptable behaviour of a small minority of careless and reckless people".
The Problem
In recent years, thousands of acres of valuable forestry has been lost due to land burning.
The full extent of the destruction of wildlife and natural habitats is incalculable.
Speaking about the dangers of these fires Hayes said, "The risk is greatest during dry spells from March to June when ground vegetation is dormant and dry. The risk increases with decreasing humidity and increasing wind speed.
Most people significantly underestimate the intense flammability of vegetation and the speed at which a relatively small fire can become out of control.
The Solution
This year there will be a co-ordinated effort to tackle the instances of wildfire outbreaks and to monitor the burning activities of landowners.
#Open journalism No news is bad news Support The Journal

Your contributions will help us continue to deliver the stories that are important to you

Support us now
Hayes said "I welcome the support of all responsible stakeholders in achieving this goal and I want to make it clear that, until 31st of August, the burning of growing vegetation is prohibited.
Any person found breaching this prohibition risks prosecution, fines and imprisonment. Any farmer found engaging in illegal burning will face the same rigours of the law and also risk the loss of their Single Farm Payment.
The Minister urged all forest owners to ensure that all fire breaks and fire lines are checked,
"Prior to and during the fire season, fire breaks should be inspected and cleared of all vegetation. This will help impede the progress of any possible fire and will also allow safer access to fire fighters to the scene of a fire."