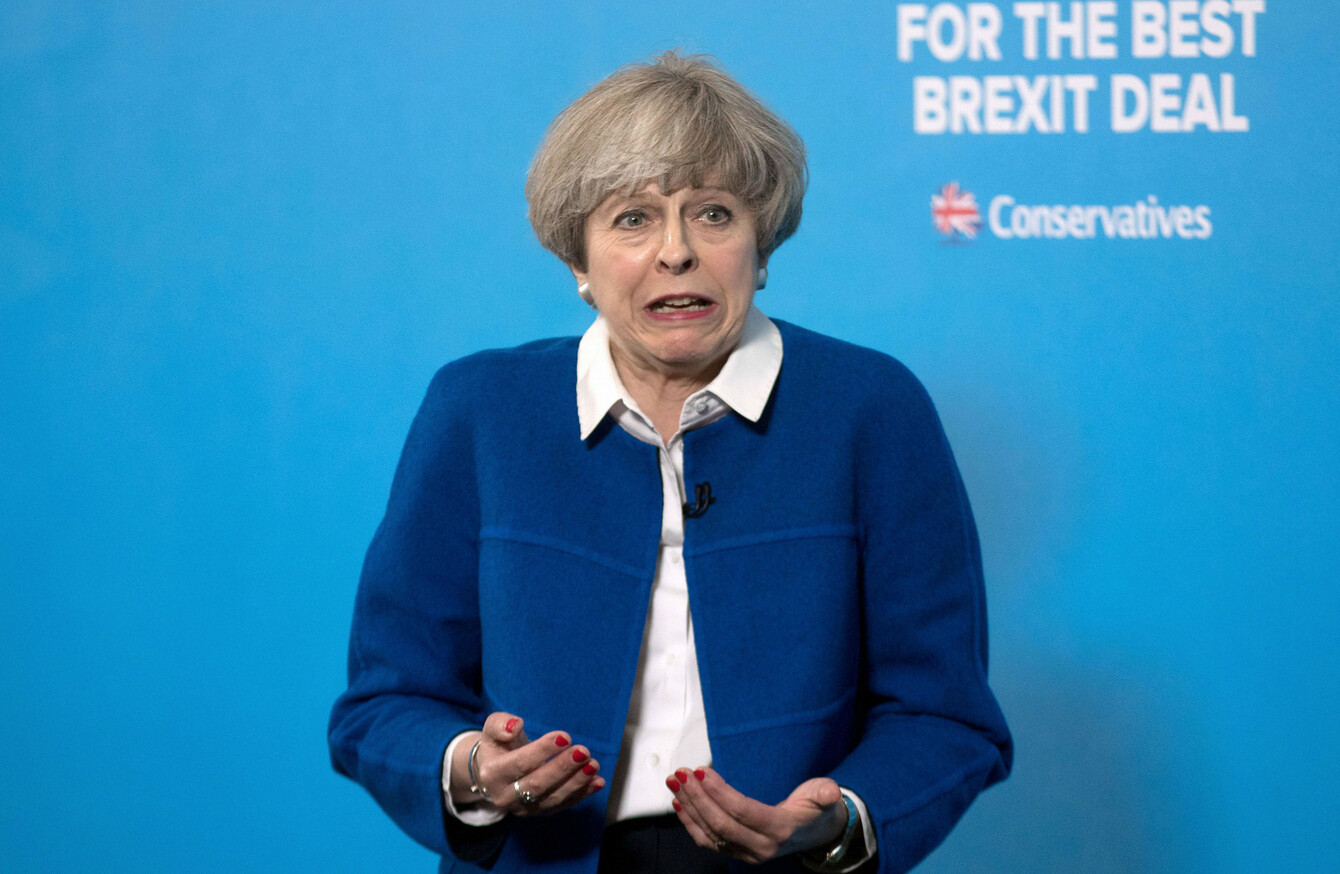 Image: Steve Parsons
Image: Steve Parsons
IRISH PEOPLE VIEW Theresa May very unfavourably according to new research on world leaders from WIN, of which RED C is the Irish member.
Only German citizens view her less favourable. Overall citizens of both countries see Theresa May very unfavourably, with 68% of the Irish regarding May unfavourably, and just 22% regarding her favourably.
Among all EU countries covered only Italy and Poland see May favourably.
For a larger image of the above table, click here. 
The research shows the favorability of world leaders in the view of the world, the EU and Irish citizens.
The Irish have an even more negative view of US President Trump than other citizens across the world, and also a more negative view of Russian President Vladimir Putin.
For a larger image of the above table, click here. 
The Irish do however have a more positive view of French President Macron, and a somewhat more positive view of German Chancellor Merkel, with only the Pope getting a more favourable rating among Irish citizens.
For a larger image of the above table, click here. 
CEO of RED C, Richard Colwell, said: "Clearly the Irish are not very happy about Brexit and those that are in control of the process at the moment, neither are we very happy with the leader of our other long term partner the USA, with Trump getting very low levels of favourability.
"Instead the Irish appear to far more favourable to our strong European partners leaders, with both Merkel and Macron seen positively. But despite a perhaps more negative attitude to the church in recent years, the Irish still hold the Pope far more favourably than any political world leader."
World view
The research shows that EU leaders are viewed the most favorably around the world, with Angela Merkel the most favoured leader – 49% hold a favourable view of her, up from 42% two years ago.
She just beats the new comer President Macron, who 45% hold a favourable view towards.
President Trump has a very poor rating across the world, with only 31% holding a favourable view of him, while 58% hold an unfavourable view.
This is a significant decline when compared to Obama, which when taken two years ago saw almost three in five (59%) of those polled throughout 65 countries around the world held a favourable view
President Putin favourability has improved over the same two year time period, from one in three (33%) viewing him favourably to 43% this year, a significant increase over two years.
President Putin polls favourably in most regions of the world except the US (14%) and EU-Europe (28%), but still higher than the 20% favourability for President Trump.
However, of all world leader measured, it is Pope Francis who records the highest level of favourability – 56%, rising to 75% of those surveyed in Latin America and 66% of those living in EU-Europe.
New research on world leaders from WIN and their partners Gallup International together represent 55 countries around the world.