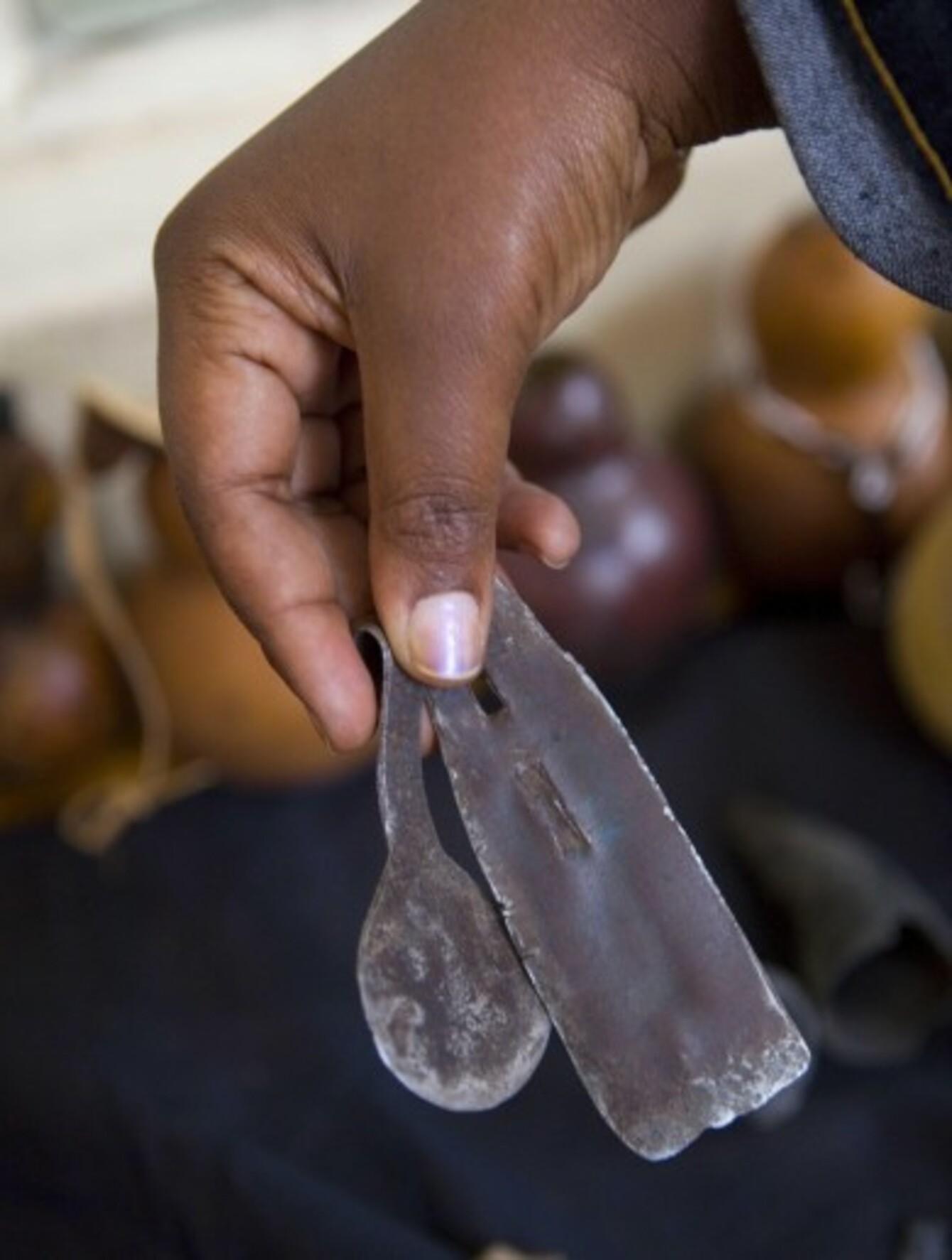 Some of the blunt and dirty tool used to carry out female genital mutilation (FGM) which were surrendered to Afnet, the anti-female genital mutilation network in Dodoma, Tanzania.
Image: PA Archive/Press Association Images
Some of the blunt and dirty tool used to carry out female genital mutilation (FGM) which were surrendered to Afnet, the anti-female genital mutilation network in Dodoma, Tanzania.
Image: PA Archive/Press Association Images
THERE HAVE BEEN calls for more training for teachers about female genital mutilation to help identify children at risk.
In Ireland it is estimated that 3,780 women have undergone female genital mutilation (FGM), although it is estimated that the numbers could be much higher. 
Report cases
Last week British Prime Minster David Cameron said he wanted to introduce new laws to combat FGM including making it compulsory for teachers and health workers to report cases.
He also wants parents who fail to prevent their daughter being subjected to FGM to face prosecution under new legislation.
FGM is defined as the partial or total removal of the external female genitalia, or any practice which purposely alters or injures the female genital organs for non-medical reasons.
It is a tradition practised widely in many African and Muslim countries and often justified as a means of suppressing a woman's sexual desire.
Short term consequences include haemorrhage, infection such as tetanus and HIV, urine retention, injury to adjacent tissue, fracture and dislocation of limbs.
Long term consequences include painful sex, recurrent urinary tract infections, painful periods, potential trauma during childbirth, dysmenorrhoea, infertility, chronic pelvic inflammatory disease, sexual dysfunction and psychological trauma.
Speaking to TheJournal.ie, Salome Mbugua, Director of AkiDwA, a minority ethnic-led national network of migrant women living in Ireland, said they would like to see more schools increasing awareness of the procedure amongst their teachers.
School children 
According to a government report, "State of the Nation's Children 2012″ the number of foreign national children in Ireland increased by 49.5% betweetn 2006 and 2011. This was an increase from 62,211 in 2006 to 93,005 in 2011.
Of the total, 45,791 are girls.
"People often take their children out of the country to have the procedure carried out, especially during the summer months," said Mbugua.
"We see there is more relevance in increasing awareness in schools. If a child is taken out of the country during their summer holidays sometimes they feel more comfortable telling a teacher when they return to school in September. Teachers often ask what everyone got up to during the summer holidays and young children might feel they can talk to a teacher they are close with," she added.
Young girls 
"Children who have FGM carried out are often very young and they really don't understand what it is about or what has happened to them, so it may be difficult for them to say or describe what happened to them," she said, adding that they would like to start working with schools around the country to help teachers identify if young girls have had FGM carried out on them.
When asked by TheJournal.ie what guidance, advice or procedures educators are given in relation to this, the Department of Eduction said that "young people through their education gain knowledge about their wellbeing through, for example, the Social, Personal and Health Education Programme and the Relationship and Sexuality education. This gives the context within which young people can learn about important physical, social, emotional and moral issues around relationships, sexual health and sexuality".
The statement added:
As part of their programme, teachers may decide, if appropriate and if in context, to make reference to FGM but this decision would be made  at school level.
The law
FGM was outlawed in 2012, under the Criminal Justice (Female Genital Mutilation) Act 2012.
This law makes it a criminal offence for someone resident in Ireland to perform FGM. The maximum penalty under all sections of this new law is a fine or imprisonment for up to 14 years or both.
It is also a criminal offence for someone resident in Ireland to take a girl to another country to undergo FGM.
"FGM is very hidden, but we have heard through discussions with communities that it has been done here in Ireland. But it is still very secret," she said.
#Open journalism No news is bad news Support The Journal

Your contributions will help us continue to deliver the stories that are important to you

Support us now
While legislation making FGM illegal in Ireland is welcomed by Mbugua, she said that more has to be done in terms of monitoring the law and how it is working.
She said that there also needed to be more awareness and training rolled out at a local level with the gardaí, local communities and health workers.
When the law was being debated in the Dáil in 2011, TDs said that "legislative change should be accompanied by prevention, education and awareness-raising measures among communities where female genital mutilation is likely to be practised and among relevant service providers, such as medical personnel, gardaí, social workers and teachers".
Not just on paper
Mbugua said that more "monitoring" of the law and its effectiveness needs to be carried out, stating "we need to know that it is working and that it's not just on paper".
This May, Ireland's first FGM clinic opened in Dublin aimed at providing treatment to women who have had the procedure carried out.
However, since its opening no women have presented themselves for treatment at the clinic.
Medical Director of the Irish Family Planning Association Caitriona Henchion said the lack of take up with the service is related to the stigma that is still associated with FGM coupled with the lack of awareness about what services and help is available to women.
She said that many of the women impacted by FGM are asylum seekers, which is why they are going to start visiting Direct Provision centres to speak about FGM in an overall health context.
"We hope that word of mouth will spread in the asylum community that there are services that are free and accessible to them," she said.
As the only FGM clinic is in Dublin, she said they are in discussions with the HSE and  AkiDwA about covering travel and other expenses for women who have to come to Dublin from other parts of the country.
"Increasing awareness about it is the only way the stigma will be removed and women will come forward," she said.
For more information on the IFPA FGM clinic please click here>>