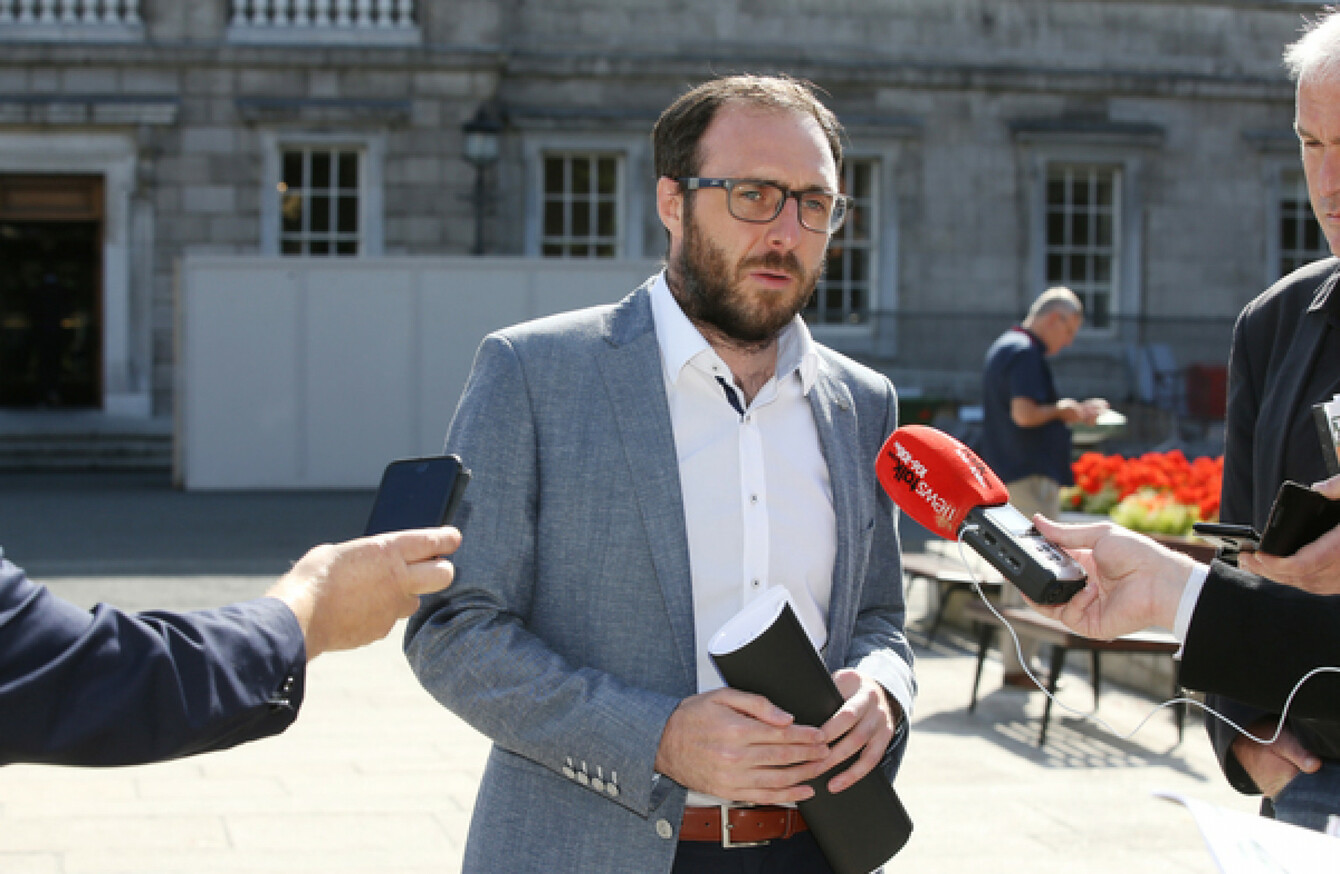 Robert Troy said that the government needs to do more to ensure the future of the Irish aviation industry
Image: Sam Boal via Rolling News
Robert Troy said that the government needs to do more to ensure the future of the Irish aviation industry
Image: Sam Boal via Rolling News
IRELAND NEEDS TO take action to address the challenges Brexit presents for the Irish aviation industry Fianna Fáil said today, sharply criticising the Minister for Transport, Shane Ross, for not doing more for the future of the industry.
The UK's exit from the EU presents challenges to a sector that employs tens of thousands of people, but the huge levels of growth projected in the sector globally could also provide huge opportunities for Ireland, Robert Troy, Fianna Fáil's spokesperson on transport, tourism and sport, said today.
"What we're calling for is that we need the government to ensure that an aviation deal is high on any negotiations," Troy said, also calling on Ross to produce a plan for how Ireland will address the risks Brexit poses to the sector.
Troy was speaking at the launch of Fianna Fáil's policy paper on Brexit and the Irish aviation industry, which states Ireland needs to work closely with European partners and improve airport infrastructure to ensure it is not left out after the UK leaves the EU.
"There's a lack of priority being afforded to this from the government at the moment. It's not high on the agenda.
"It's a critically important sector to a small open economy like ours," Troy said, calling on Ross to take urgent action on the issue.
The aviation sector currently contributes more than €4 billion to the Irish economy.
We think he should be far more engaged in consulting with his counterparts throughout Europe and in particular Spain, Italy, Greece, Portugal – all countries who rely heavily on an open skies policy to support their tourist industry and if he gets the support of them it will help influence how the EU-Brexit negotiations in relation to the aviation policy pans out."
This needs to be done by March 2018 at the latest, he said, for airlines to plan their operations.
A spokesperson from the Department of Transport, Tourism and Sport told TheJournal.ie that the impact Brexit will have on aviation will largely depend on the outcome of larger negotiations about our future relationship with the UK, and that aviation will not be negotiated until the terms of the UK's exit are finalised.
Ross has met with the European commissioner in charge of trans-European transport networks and the team led by the EU's Brexit negotiator about these issues, the spokesperson said.
A working group made up of representatives from Irish airlines and airports and department officials is also working on a paper that the department will consider, they added.
Ireland's priority when involved in the negotiation of any new aviation agreement will be to protect a fully liberalised and  deregulated market in order to ensure no erosion of our connectivity or disruption to airlines, airports, business, tourism and personal travel."
Ross also held a forum in Dublin Castle in February with Irish industry leaders, but was accused of leaving before engaging with the opinions of those present.
Potential
The number of airline passengers travelling in a year is expected to double by 2036. "That's a huge opportunity for Ireland," Troy said.
"By taking some sound steps now, we'll be able to protect employment in the sector but also take advantage of the growth that's projected over the next number of years."
Troy also criticised Ross's dismissal of a claim made by Ryanair CEO Michael O'Leary that all UK flights could be grounded for months if no deal is made before September 2018.
#Open journalism No news is bad news Support The Journal

Your contributions will help us continue to deliver the stories that are important to you

Support us now
"It certainly is a real possibility, and that's why we're saying quite clearly that Minister Ross needs to get off his rear end, needs to get out and negotiate with his counterparts," Troy countered.
Ryanair today joined Airlines UK, the body representing UK-registered carriers, with O'Leary saying he was looking forward to working with the body on Brexit.
We remain concerned at the uncertainty which surrounds the terms of the UK's departure from the EU in March 2019 and we understand how critical it is that all airlines come together as an industry to lobby for an effective solution for air travel that allows UK-EU flights to operate after April 2019.
Capacity
Fianna Fáil also called today for the second runway at Dublin airport to be fast tracked, and for Cork and Shannon airports to be further developed.
Dublin airport, Troy said, is currently "bursting at the seams".
With capacity issues resolved, Dublin airport could have the potential to become a major hub, similar to London Heathrow now, he argued.