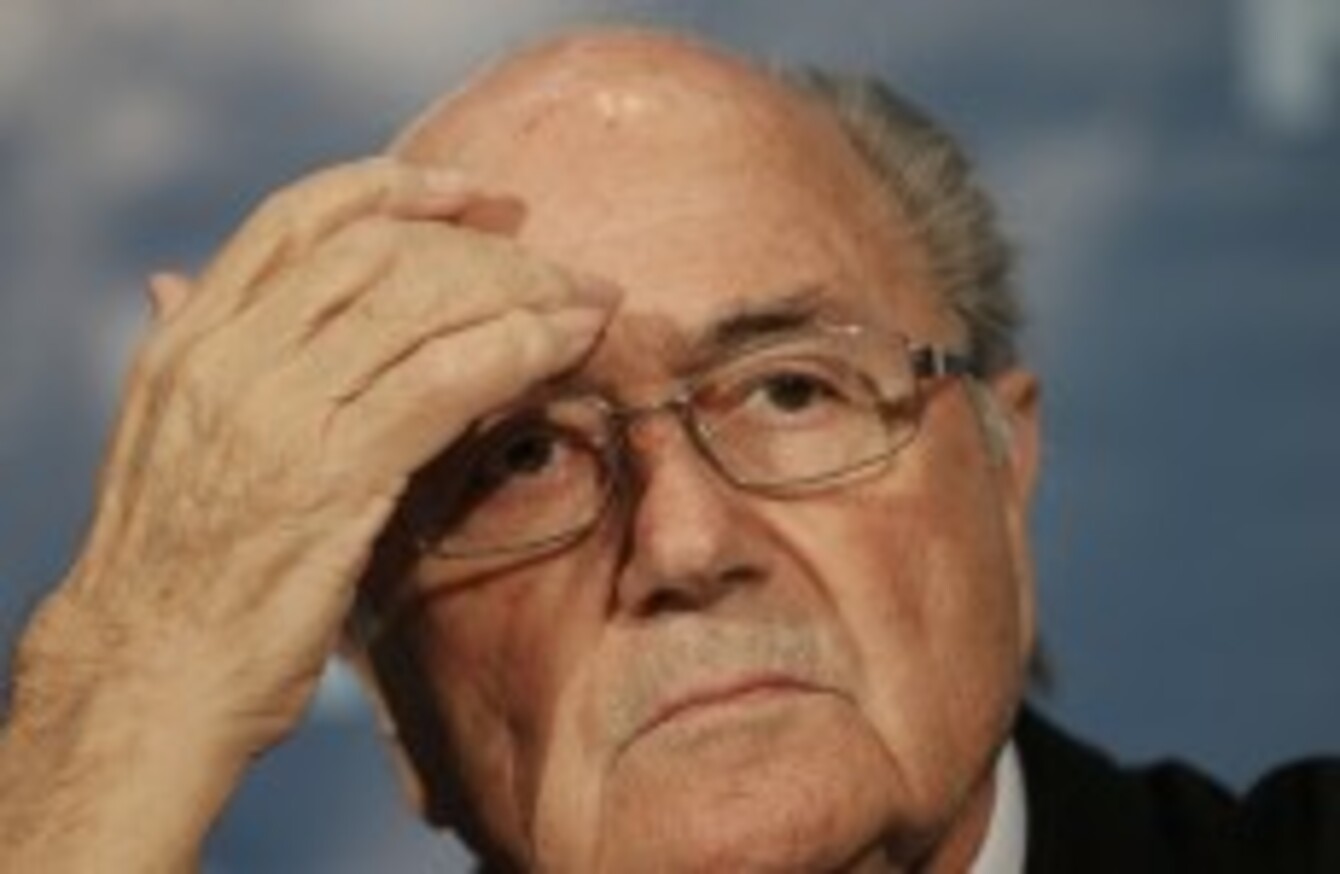 FIFA president Sepp Blatter
Image: Christophe Ena/PA
FIFA president Sepp Blatter
Image: Christophe Ena/PA
THIS MORNING NINE officials of soccer's governing body FIFA (together with five corporate executives) were taken into custody from a hotel in Zurich, Switzerland (from which they were to attend FIFA's annual congress) over allegations of corruption, specifically the receipt of enormous bribes totalling $100 million (€92 million).
It's far from the first time that the word corruption has been used in relation to FIFA, and it probably won't be the last. But what is the background to these arrests? Who exactly was arrested? Why are the FBI involved? And is it going to make any difference?
Specifically, the FBI, and now Swiss federal prosecutors, are investigating the process whereupon the 2018 and 2022 World Cups were awarded to Russia and Qatar respectively in 2010.
While the holding of a World Cup in Russia is not exactly ideal given the vastness (and remoteness) of that country, the issues with the Qatar tournament are on another level entirely.
Fundamentally, the World Cup of soccer is to be played in a country that is simply too hot to play football in. Which could see the tournament moved from northern hemisphere summer to winter in order for playing conditions to be, well, humanly possible.
So…
Who has been arrested and why?
The 14 men arrested this morning, from the Baur au Lac hotel overlooking the Alps, on charges of "racketeering conspiracy and corruption" are:
Jeffrey Webb (FIFA vice-president)
Eduardo Li (executive committee member-elect
Julio Rocha (development officer)
Costas Takkas (CONCACAF [Americas and Caribbean soccer association] presidential attaché
Jack Warner (former FIFA vice president)
Eugenio Figueredo (FIFA vice president)
Rafael Esquivel (CONMEBOL [South American football confederation] executive committee member)
José Maria Marin (FIFA organising committee for Olympic football)
Nicolas Leoz (former executive committee member)
The five corporate executives arrested are: Alejandro Burzaco (sports marketing), Aaron Davidson (president Traffic Sports USA), Hugo and Mariano Jinkis (principals, Full Play Group), and José Margulies (principal of Valente Corp and Somerton Ltd, broadcasting businesses).
Those with sharp eyes will note that FIFA president Sepp Blatter, hoping to be ratified as president for a fifth term at congress this week, is not on the list.
It has since emerged that two separate legal proceedings are in the offing, the first by the US Department of Justice into allegations of corruption and bribery stretching back to 1991, and the second by Swiss federal prosecutors into the awarding of the Russia and Qatar world cups.
The Swiss investigation is apparently taking place at FIFA's request, with that request filed in November 2014.
According to FIFA communications chief Walter de Gregorio, the association in this case is "the damaged party".
Why now?
The most likely reason for the arrests coming now is simply that it is the best opportunity for all these worldwide executives to be in the same place at the same time, specifically the same hotel.
As we've said the words FIFA and corruption are not exactly strange bedfellows to each other.  If you need a primer in the sort of madness the association gets up to routinely check out this video by comic John Oliver:
Source: LastWeekTonight/YouTube
The FBI have been mentioned, why are they involved?
The US FBI have been investigating the awarding of the 2018 and 2022 world cups since at least March 2013.
It has been reported that Chuck Blazer, former FIFA executive and no stranger to controversy, is helping them with their inquiries.
Blazer was suspended from football in May 2013 for 90 days amid allegations he received more than $20 million in bribes while general secretary of CONCACAF.
And the US Justice Department?
At a press conference in New York this afternoon US Attorney General Loretta Lynch said that those arrested this morning have "corrupted" the international game.
"They corrupted the business of worldwide soccer to serve their interests and to enrich themselves," Lynch said.
Kelly Currie, acting US attorney for New York, indicated at the conference that today's arrests mark the beginning of the investigation, not the end.
Is Sepp Blatter worried? Should be be?
While 79-year-old Blatter himself has not been arrested and has no connection with either investigation according to FIFA, this spate of arrests is the last thing the FIFA president needs, particularly with the presidential election looming on Friday.
"The President is not involved so how can you say whatsoever that he has to step down?" de Gregorio told a FIFA press conference on the matter this morning.
He is the President and in two days, there is an election. If the 209 member associations re-elect him, then he is the President for the next four years.
Blatter has ignored the matter on Twitter and thus far has remained silent regarding this morning's events.
One thing is certain, the FIFA elections are still going to take place on Friday.
Will anything come from this?
FIFA has proved itself to be a very slippery fish over the years, so it's hard to say. The involvement of both Swiss and US authorities however suggests that this story is far from over, and that real change at the top of football's governing body is at least a possibility.
The 14 men arrested this morning particularly appear to be in a world of trouble. And when men in positions of power are put to the pin of their collar dramatic changes sometimes happen. Whether that will see accusations rippling up the food chain to the very top remains to be seen.
Finally, any chance the bloomin' Qatar world cup might be changed?
With the world cup still seven years away anything is possible.
Questioned on the subject this morning Walter de Gregorio said that the 2018 and 2022 world cups will go ahead, but with a caveat.
"The World Cup in 2018 and 2022 will be played in Russia and Qatar," he said.
What do you expect from us — that we start to speculate and say that with Russia and Qatar we will have to re-do the voting.
Russia and Qatar will be played.
This is what is fact today and I don't go into speculation what will happen tomorrow.
So there's still hope it seems…
Originally published 5.30pm. With reporting from the Associated Press.