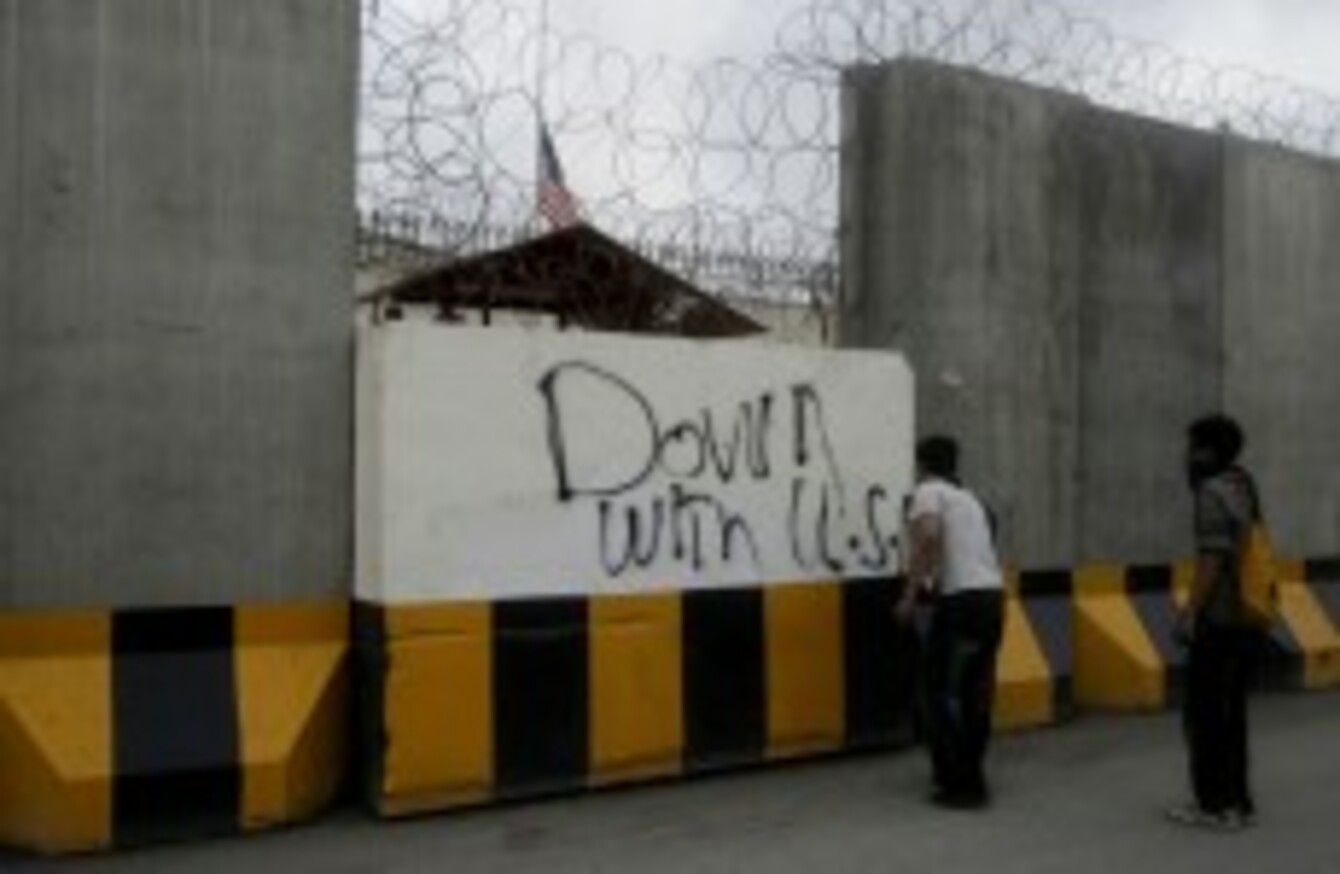 A Pakistani protester spray paints on the wall of the US consulate during a demonstration in Karachi, Pakistan, on Sunday
Image: Fareed Khan/AP/Press Association Images
A Pakistani protester spray paints on the wall of the US consulate during a demonstration in Karachi, Pakistan, on Sunday
Image: Fareed Khan/AP/Press Association Images
HEZBOLLAH HAS CALLED for a week of protests in Lebanon against the anti-Islam video that has been the subject of much fury across the Muslim world.
Al Jazeera reports that Hezbollah's leader Hassan Nasrallah made the call in a televised speech yesterday, and asked for the protests to be staggered, taking place in different cities each day.
He described the film as worse than Salman Rushdie's Satanic Verses and said it is the "worst attack ever on Islam".
Pakistan
Thousands of Pakistanis took to the streets today to condemn the anti-Islam film, burning US flags and chanting slogans, as police warned of more protest rallies across the country.
In the northwestern city of Peshawar, the capital of troubled Khyber Pakhtunkhwa province, up to 3,000 university students, teachers and employees marched after boycotting classes, police said.
Gul Nawaz Khan, a senior police officer at the site, told AFP:
They were shouting slogans against Americans and were demanding a ban on the anti-Islam film. Later they dispersed peacefully.
Protesters from another anti-US rally blocked a main road in front of Peshawar university, Khan said.
Some 350 activists from Islami Jamiat-e-Talaba, a student wing of the hardline Sunni party Jamaat-e-Islami (JI), staged a separate demonstration, blocking a main road by setting fire to tyres and burning a US flag.
In the port city of Karachi, where eight people were injured on Sunday when protesters clashed with police outside the US consulate, police expanded a security cordon around the mission as religious parties announced more rallies.
The US Embassy in Islamabad said all of its American personnel are safe and accounted for, and thanked the Pakistani police for their efforts in protecting the US consulate in Karachi.
It also tweeted the following message:
#Open journalism No news is bad news Support The Journal

Your contributions will help us continue to deliver the stories that are important to you

Support us now
Innocence of Muslims
The "Innocence of Muslims" film, thought to have been produced by a small group of Christian extremists in the United States, has sparked violent anti-American protests across the Islamic world.
Taliban fighters stormed a heavily fortified air base on Friday in southern Afghanistan, killing two US Marines in an assault the insurgents said was to avenge the video.
A total of 17 people have died in violence linked to the film, including four Americans killed in the Libyan city of Benghazi.
CBS News reports that 50 people were arrested in connection with the attack on Benghazi last week on its US consulate, in which four staff members were killed.
Prophet film

Prophet film

Afghanistan US Prophet Film

Afghanistan

Prophet film