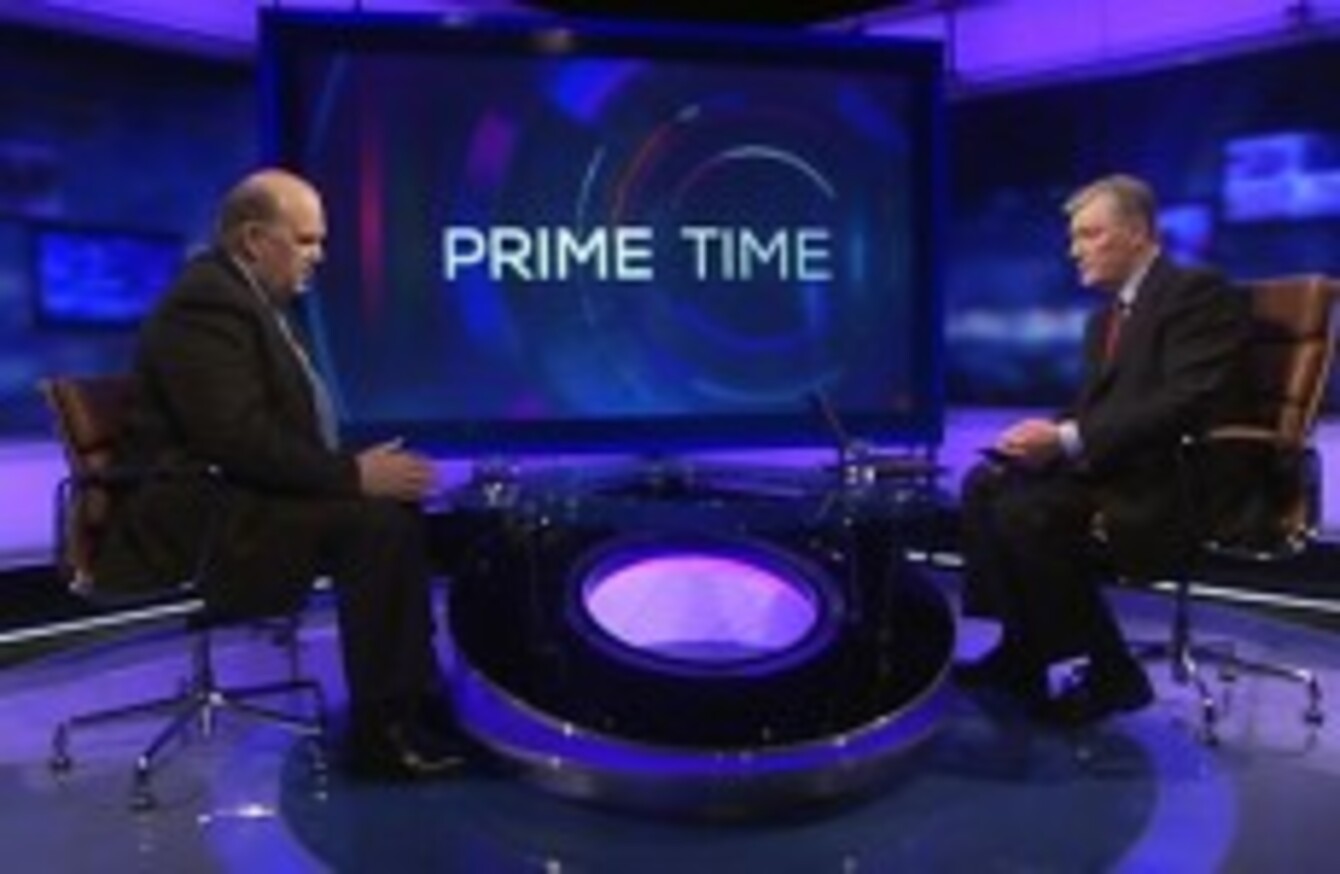 Image: RTÉ
Image: RTÉ
MICHAEL NOONAN HAS criticised Ireland's bailed-out banks for not dealing with the personal debt crisis "more promptly".
Speaking with RTÉ's Pat Kenny on Prime Time last night, the Finance Minister said the financial institutions were "given the wherewithal" to write down personal debt held by Irish residents.
He confirmed that the government is committed to accelerating the amount of settlements with people.
"[The banks] have been in constant contact now over recent weeks with the Central Bank. And the Central Bank is bringing forward a timeline against which they will operate."
However, he also noted that different solutions could be used in varying situations – measured against the order of difficulty.
"You have to remember also that an interest only [loan] can suit a lot of people if they have a temporary crisis; if someone is ill, if somebody is out of work, a capital and interest only can suit a lot of people."
Figures from the Central Bank yesterday showed that there are 94,488 private residential mortgage accounts (which are primary dwellings) in arrears of more than 90 days. That is a 3.4 per cent jump on end-September 2012 figures and just under 12 per cent of all mortgages.
The number of households in arrears of over 270 days has risen by 14.1 per cent to 23,523.
In some better news, the number of early-arrears cases fell during the final quarter of 2012. But that still amounts to 49,363 cases.
The data showed 79,852 accounts classified as restructured by lenders. Mechanisms used included Interest Only loans (37.2 per cent), Reduced Payment (21.6 per cent), term extension (16.8 per cent), Arrears Capitalisation (12.2 per cent), Payment Moratorium (2.9 per cent), Permanent Interest Rate Reduction (0.3 per cent), Deferred Interest Scheme (0.2 per cent) and Split Mortgage (0.01 per cent).
In the three months from October to end-December 2012, legal proceedings were issued to enforce the debt on 238 mortgages. The courts granted repossession orders on 111 associated properties.
During the three months, a total of 134 properties were taken into possession by lenders. Ninety-six were voluntarily surrendered or abandoned.
Within the buy-to-let category, there are 28,421 properties with loans in arrears of more than 90 days, representing about 18.9 per cent of the market.