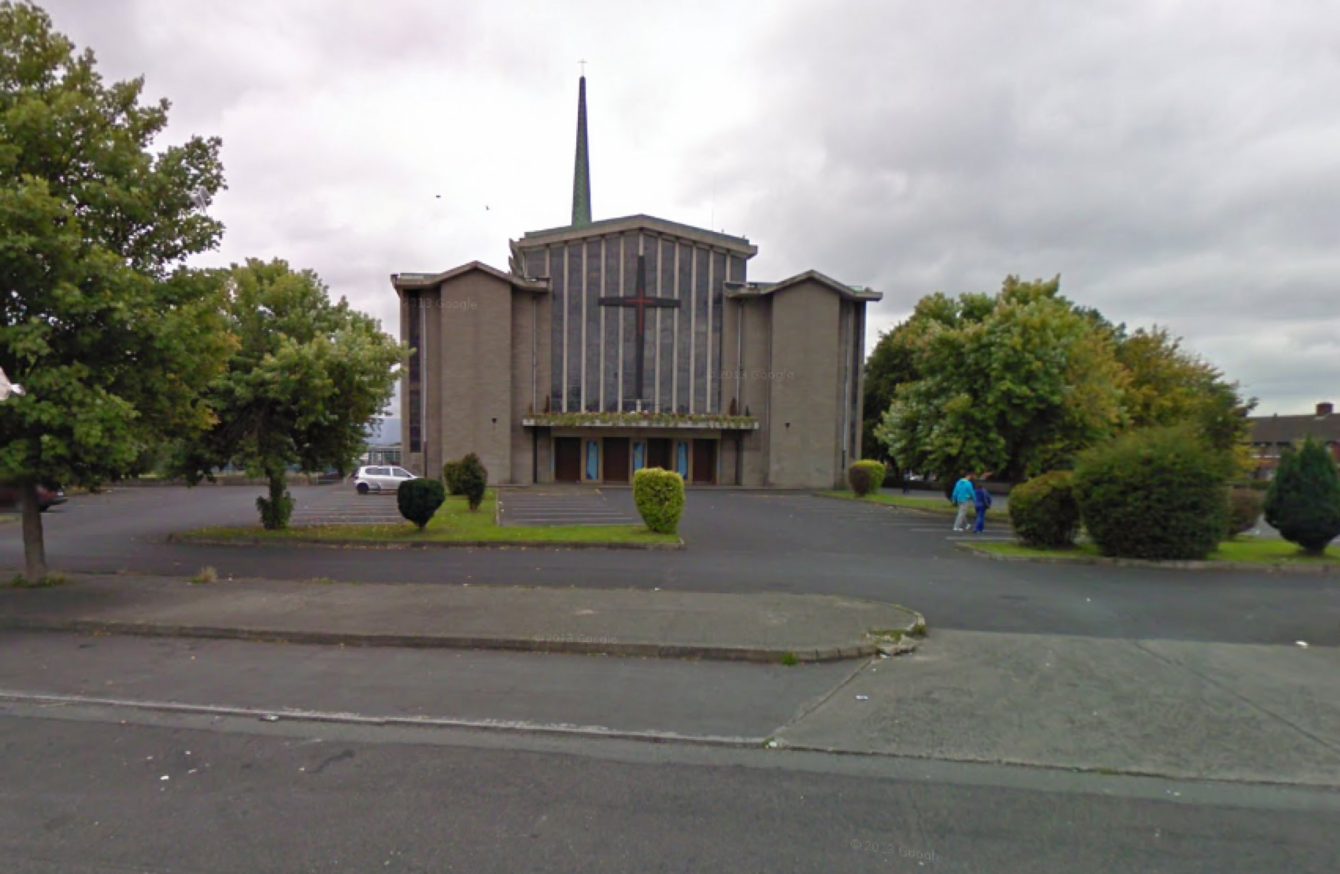 Church of the Annunciation, Finglas, is set to be demolished and replaced with a much smaller church
Image: Google Street View
Church of the Annunciation, Finglas, is set to be demolished and replaced with a much smaller church
Image: Google Street View
A LARGE CHURCH in Finglas is set to close its doors just over 50 years after it first opened, and will be replaced by a much smaller church on the same site.
The large site occupied by the Church of the Annunciation on Cappagh Road in Finglas West will be primarily used for social housing after the current building is knocked down.
Falling attendance at the church, as well as structural problems with the church building itself, have persisted in recent years.
The large site can accommodate over 3,000 parishioners, but there will only be room for 350 in the new, much smaller building.
In a statement on the parish website – first reported by the Irish Times this morning – local priest Father Eamon Cahill said that the parish had "struggled for many years with the extensive building problems" in the church.
He added: "Following recent research, discussion and much analysis, the Parish Pastoral Council, the Finance Committee, and the Parish Team agreed that it would be best to replace the present church building with a new church.
This proposal was discussed at a public meeting where there was a clear majority in favour of building a new church.  The Archdiocese agrees with this plan and has given us great support.
One local business owner told TheJournal.ie that locals in Finglas have been aware that the church would be replaced by a much smaller one for quite some time.
They added that, despite the church's large size, it had regularly been full of parishioners for Sunday mass in the 1970s and 80s, but falling attendance and the problems with the building meant that the move was welcomed in the local community.
It is understood that some of the main issues relate to the building's roof, which causes leaking, and issues related to the heating of such a vast building.
Father Cahill added that the new church will feature some pastoral facilities, including meeting rooms, coffee/tea dock and offices.
"Preparations are well under way but it will take time," Cahill added. "We will need lots of support, planning permission and a budget to see us through. While it is early days yet, we have received very strong support and best wishes."
A spokesperson for the Dublin Archdiocese told TheJournal.ie stressed that they were still at planning stage, but added that the idea made sense as the "numbers weren't there anymore".
They added that the cost of maintaining such a large building was "very expensive", and that extensive contact has been made with locals to discuss the matter.