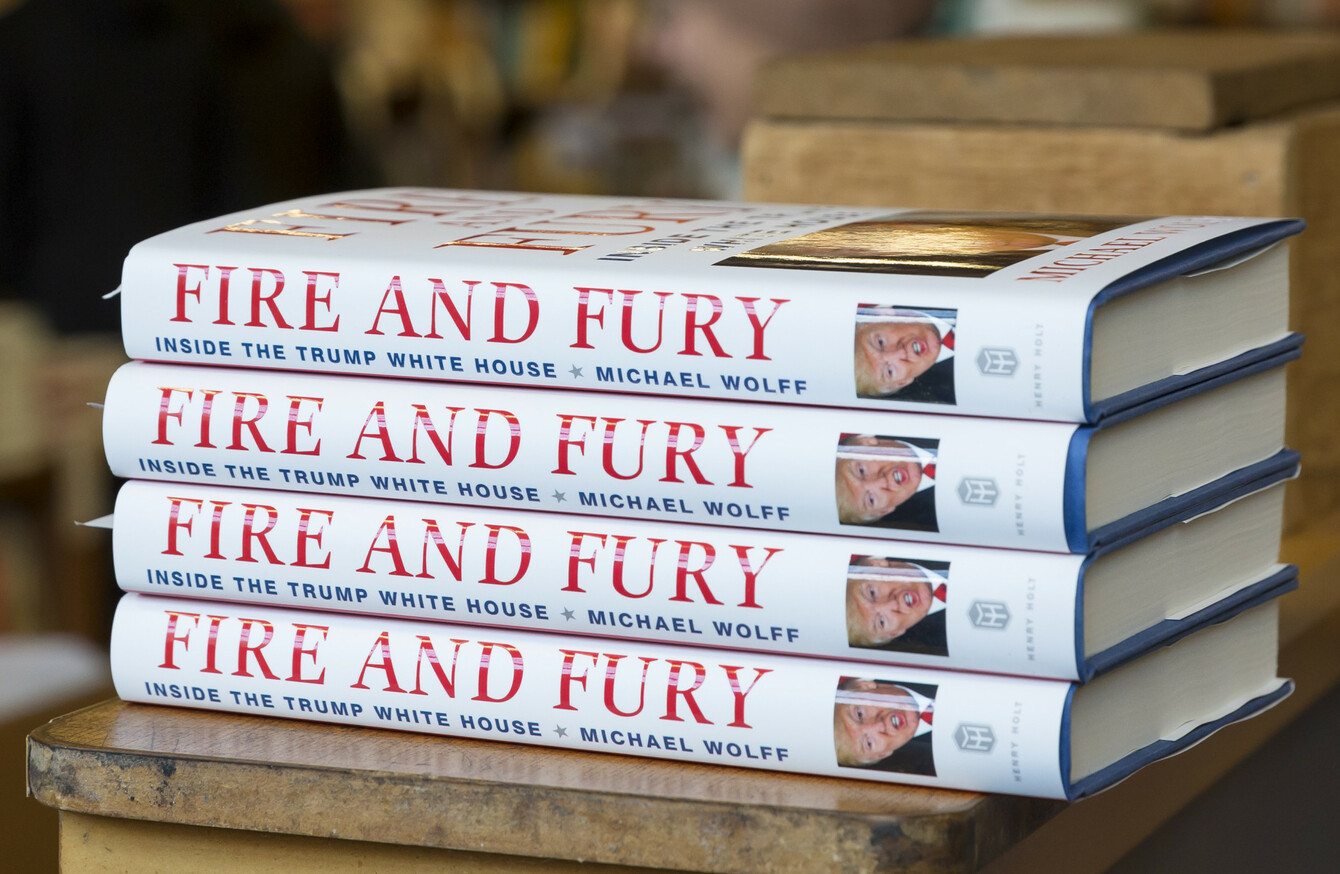 Image: Paul Christian Gordon via PA Images
Image: Paul Christian Gordon via PA Images
THE AUTHOR OF the explosive book Fire and Fury: Inside the Trump White House, Michael Wolff has said he thinks that President Donald Trump sees the book as "a mortal threat to his presidency".
Despite the best efforts of Trump's lawyers to block the release of the book, it is already a best-seller and describes his White House as "chaotic".
The book quotes key Trump aides, including former White House Chief Strategist Steve Bannon, expressing serious doubt about his fitness for office.
One of the most interesting passages of the book comes nearing the epilogue, where Wolff writes that the fundamental premise of almost everybody who joined the Trump White House was "This can work, we can make this work". Now, he says there's not a single member of his senior staff that could be confident of that statement.
In a lengthy interview with RTÉ's Today with Seán O'Rourke, Wolff said that the book has "gotten under the skin" of Trump.
"I thought the book would make some waves, I did not in any way think it would be the tsunami that it has turned out to be," Wolff said.
"The tsunami has come because it has gotten under Trump's skin."
Bannon's leaks
Wolff gathered much of his information within the book from Bannon.
He told O'Rourke that when he approached Bannon about writing a book, he seemed to completely lose interest.
However, when Wolff made his intentions clear that he wanted to create a record of what happens in the White House, Bannon shrugged his shoulders and told him to "knock himself out".
"He certainly didn't object when I showed up at the White House and started making appointments with senior staff," Wolff said.
[image alt="Wolff Profile" src="http://cdn.thejournal.ie/media/2018/01/wolff-profile-296x213.jpg" width="296" height="213" credit-source="Carolyn%20Kaster" credit-via="PA%20Images" caption="Fire%20and%20Fury%20author%20Michael%20Wolff" class="alignnone" /end]
Wolff told O'Rourke that his experience inside the White House was that "everybody was coming to the conclusion that Donald Trump did not have the facility to function in this job".
The one thing you could say he's getting right is that the chaos prevents him from doing anything much… He's done much less wrong than we might have thought he might do because he can't get out of his own way. He probably didn't plan on doing very much.
Wolff told O'Rourke that he feels the Washington Press Corps is resentful towards him for having published the book.
However, he did say: "I think the Washington Press Corps is as gobsmacked as anybody else."
'Sworn to protect'
Wolff told O'Rourke that he does have tapes from some of the interviews that he has conducted while writing the book – some of these included the people who are closest to Trump.
When asked if he might make them public, Wolff says that he has tapes with people who he has "absolutely sworn to protect", therefore he doesn't know if he'll release some of them but is thinking about it.