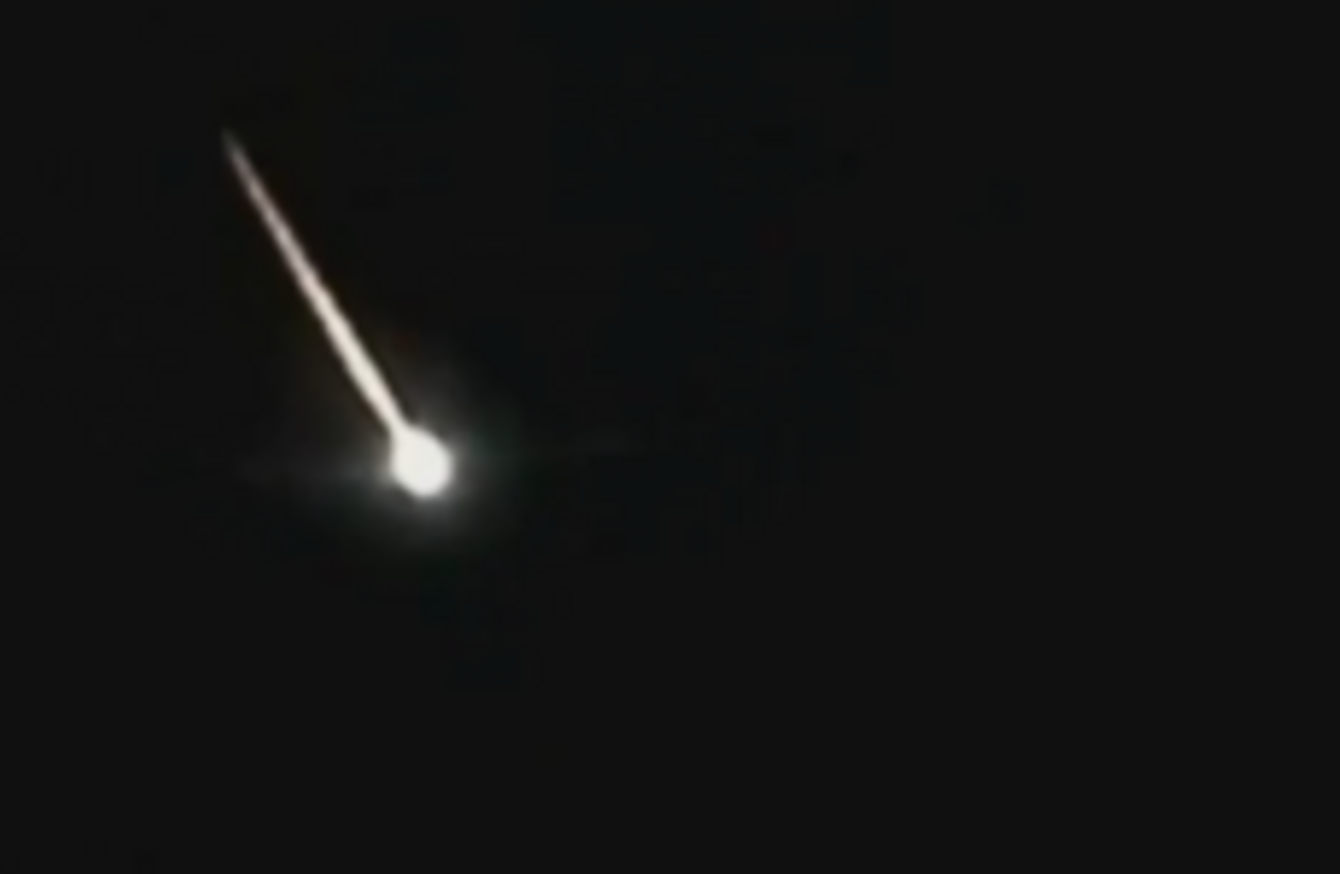 NOTE: This is a file pic.
Image: ABC News
NOTE: This is a file pic.
Image: ABC News
Updated 7.13am
ASTRONOMY IRELAND IS appealing for anyone who spotted what's being described as a 'giant fireball' over the east of the country last night to get in touch.
The group — and the newsroom here at TheJournal.ie — has received several reports of the phenomenon. It's also cropping up on social media.
AI's David Moore said that by the sounds of what's being described, it could mean the start of a meteorite-hunt.
"Some of the reports are saying it was 'brighter than the full moon' and that's positive, because it indicates it may be able to survive the burning-up entry process," Moore said.
Speaking to us at around 8pm, Moore said he had received six reports about the fireball — the majority in Dublin, one in Louth and one from Northern Ireland.
Meanwhile, BBC Northern Ireland also reported several sightings of "a fireball as bright as the moon".
And in the last few hours, we've had more sighting reports via email…
From Nebil Campbell-Shaw, in Dublin…
Yes indeed, I saw something I thought was a firework while walking to Lansdowne Road station along Shelbourne Road around 17.27 this evening.
"It was very bright, like an aeroplane landing light but fell too far down too fast to be an aeroplane or helicopter and seemed to fizzle out before it reached the level of the roof of the houses I was walking beside."
From Lucy Fahy, in Meath…
I was walking my dog in Athboy, County Meath earlier and I saw a massive fireball.
"I thought I was losing my mind but now I see your article. It looked like it was heading straight to earth, lasted a few seconds and was gone.
And this, from Jim Whelan in Balbriggin, north Dublin… 
Clearly seen falling right to left over the sea towards Drogheda from Balbriggan at around 5.40pm, like a falling star for about 3-4 seconds before it burned out.
In Belfast, a BBC reporter who was playing football said he saw a bright object resembling a flare, which took "about six seconds to pass over the pitch, going south to north".
There are around six such sightings of a fireball of this intensity a year, according to Moore.
However — he said the fact that most of the reports are saying this one was overhead increase the chances of the meteorite finding its way to land.
"In 1999, we were able to triangulate a sighting to the village of Leighlinbridge in Carlow, which was the last meteorite find in Ireland," Moore said.
On that occasion, the space rock was sold by the woman who found it to a Scottish collector for several thousand pounds.
"More than its weight in gold," according to Moore.
So…
Anyone spot it?
Let us know in the comments section, at news@thejournal.ie, or fill out a 'fireball' report over at the Astronomy Ireland website.