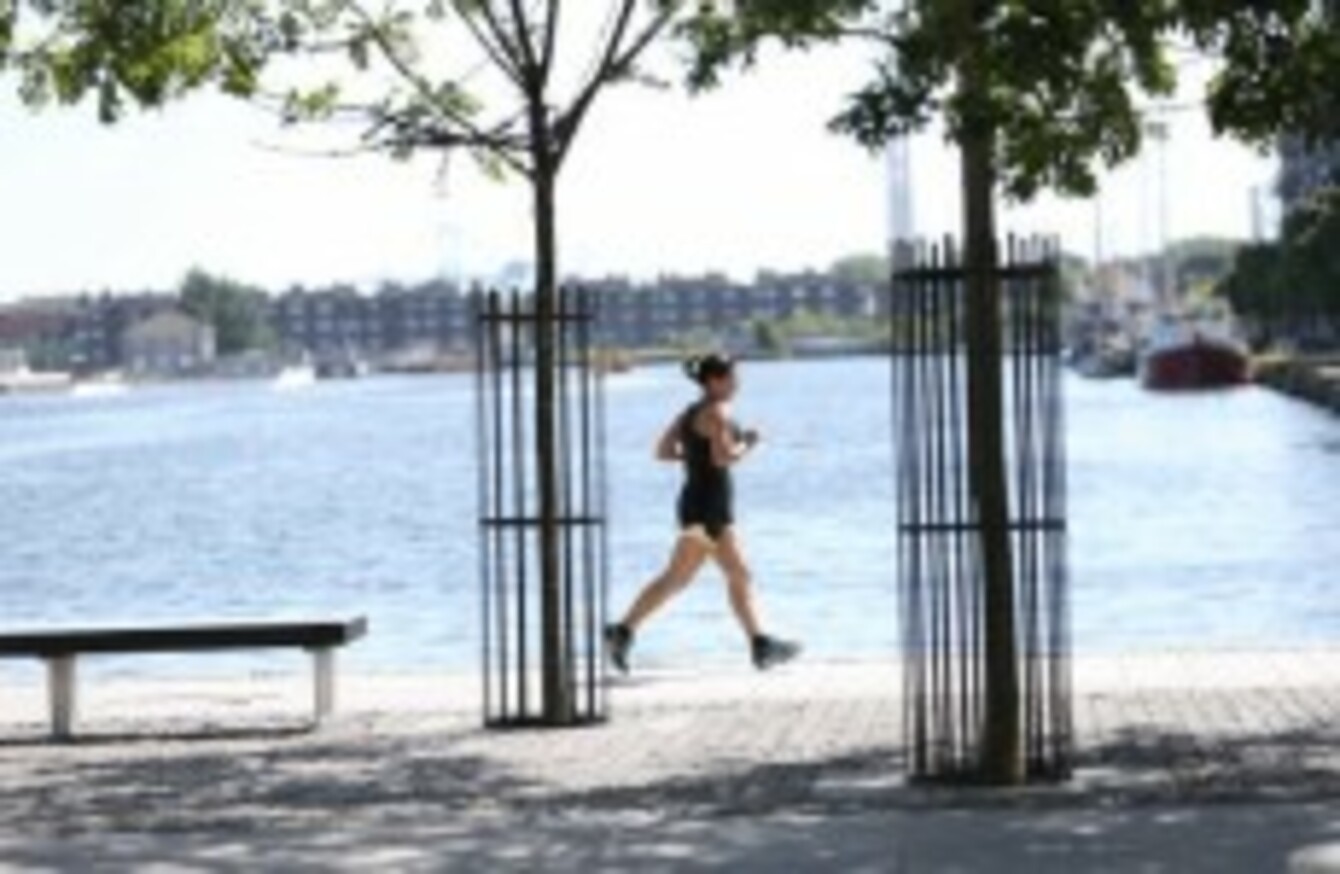 Image: Sasko Lazarov/Photocall Ireland
Image: Sasko Lazarov/Photocall Ireland
IF YOU'VE MADE a new year's resolution this month, chances are it's to either get in shape, or improve your fitness.
It's something we can all relate to, but trying to find the time to fit in a workout routine while keeping up work and personal commitments isn't easy.
This is where your smartphone can really help you out. There are a large number of fitness and exercise apps out there to suit you so whether you're starting out or looking for a new routine, they can help you out.
Before you start
Before you start downloading any apps, it's worth considering what your aims are. Decide what your goal is first (lose weight, improve your fitness or get toned) and work from there. If you only want to become more active, remember that you can do most exercises from home and most apps only require you to exercise for 30 minute segments when starting off.
Don't set unrealistic aims like exercising almost every day if you're only taking exercise up. It's better to start with two/three days a week to help you get into the routine before you increase the amount.
The majority of apps listed below have both free and pro versions. While the pro versions offer more features and options to users, it's worth trying out the free versions first to see what works for you.
One of the advantages of using an app to get you active is their use of push notifications. It's handy to have them on at the beginning so you're reminded to go for a run, but only have it on for one or two fitness apps at most. Any more and it gets annoying.
Also, it's worth keeping battery life in mind when you're using an app for the first time. Some of them require GPS, or work in the background, which is more taxing on your battery life so it's recommended that your phone has at least 50 per cent of charge left before you do anything, or ensure that only one app is using GPS at any given time.
For those starting out
Couch-to-5K
For: iOS, Android
Cost: €1.79 (iOS) €1.59 (Android)
A popular choice for those who are just only starting off, Couch-to-5K aims to get you running that distance in the space of nine weeks. The programme only requires you to exercise for 30 minute segments, three times a week and eases you into a exercise routine.
(Image: Couch-to-5K/App Store)
Zombies, Run!
For: iOS, Android
Cost: €2.69 (iOS), €2.60 (Android)
If you need a little more motivation to run, escaping from the undead might do the trick. Zombies, Run! combines exercise with a story-based game as you run, collect supplies and complete missions, all while being chased by hordes of zombies.
Even better, you can listen to your own playlists while you're running, which is broken up with radio messages and voice recordings to help advance the plot. If being chased by zombies isn't enough to motivate you, then nothing will.

(Video: zombiesrungame/YouTube)
Activity Trackers
Moves
For: iOS, Android
Cost: €2.69 (iOS) Free (Android)
Moves is a handy little app that tracks all your activity and movement through your phone, even in the background.
Through a simple and easy to understand display – showing you data like the amount of time you spent moving, calories burned, and steps taken – it helps you understand just how active (or inactive) you are and what you need to do to improve it.
(Image: Moves/Google Play)
Human
For: iOS
Cost: Free
Human gives you one simple aim to achieve: be active every day for 30 minutes. Like Moves, the app tracks you in the background so when you do complete the 30 minutes, it notifies you and starts afresh the next day.
To prevent you from cheating, it only tracks steps taken outside so the only way to reach it is to go for a run, cycle or walk in the outdoors.
(Image: Human/App Store)
Workout Routines
Nike Training Club
For: iOS, Android
Cost: Free
For those who want to work out at home, Nike Training Club provides you with a number of exercises routines to help get you in shape. It allows you to choose individual workouts or provide a 30-day schedule depending on your goals.
Each drill comes with a video guide and are designed to last 15 to 45 minutes depending on how much time you have to spare.
(Image: Nike Training Club/Google Play)
Pump Up
For: iOS, Android
Cost: Free
Similar to Nike Training Club, Pump Up builds a custom routine for you by asking you a number of questions. Once it knows your fitness level, goals, and the amount of time you can dedicate, it chooses the most suitable exercises for you to do.
The workout routines provided don't require you to go to a gym or buy equipment, although it helps if you do.
(Image: Pump Up/App Store)
GPS tracking
Endomondo
For: iOS, Android, Windows Phone
Cost: Free (€4.49 for Pro version)
One of the original GPS tracking apps out there, Endomondo is a reliable app for anyone serious about running. It allows you to track your runs, compare with other runners, or cyclists in your area and plan routes while receiving audio feedback on your performance.
There's also a pro version which adds extra features such as interval training and low power mode, which allows your phone to continue tracking your progress for longer.

(Video: Endomondo/YouTube)
Runkeeper
For: iOS, Android
Cost: Free (€ for pro version)
As you may have guessed, Runkeeper's purpose is pretty straightforward. Set a number of goals, let it track your runs and analyse your performance over time to see any trends in your performance. It's handy for those who want to take their exercise routines more seriously.
(Image: Runkeeper/YouTube)
Runtastic
For: iOS, Android, Windows Phone
Cost: Free (€4.99 for pro version)
Runtasic is similar to Runkeep and Endomodo in functionality, but offers enough to separate it from them. A clean, colourful display helps keep things simple, and its power saving mode is useful if you're running or cycling for long periods.
The pro version includes a feature called story running, a collection of downloadable audiobooks that are designed to keep you motivated. Each one is 40 minutes long, and the music and narration are designed to help you increase your speed at certain intervals.

(Video: Runtastic/YouTube)
Calorie tracking
Nudge
For: iOS
Cost: Free
Nudge is a health tracker that's dependant upon the info you provide it. It helps you track your food intake and daily activity and uses that information to give you an overall score. Inputting this info is done with a few simple taps although it's entirely dependant upon you remembering to use it every day.
It's best used when it's connected with other apps like Moves and RunKeeper so it can get a better picture of your day-to-day activity.
(Image: Nudge/App Store)
MyFitnessPal
For: iOS, Android, Windows Phone
Cost: Free
If you're looking for something to help you improve your diet, MyFitnessPal is worth a look. Documenting a wide range of foodstuffs, you can document what you eat and make adjustments to help you improve your diet.
Similar to Nudge, it's best used in conjunction with another app like Endomondo to get the full picture.
(Image: MyFitnessPal/App Store)