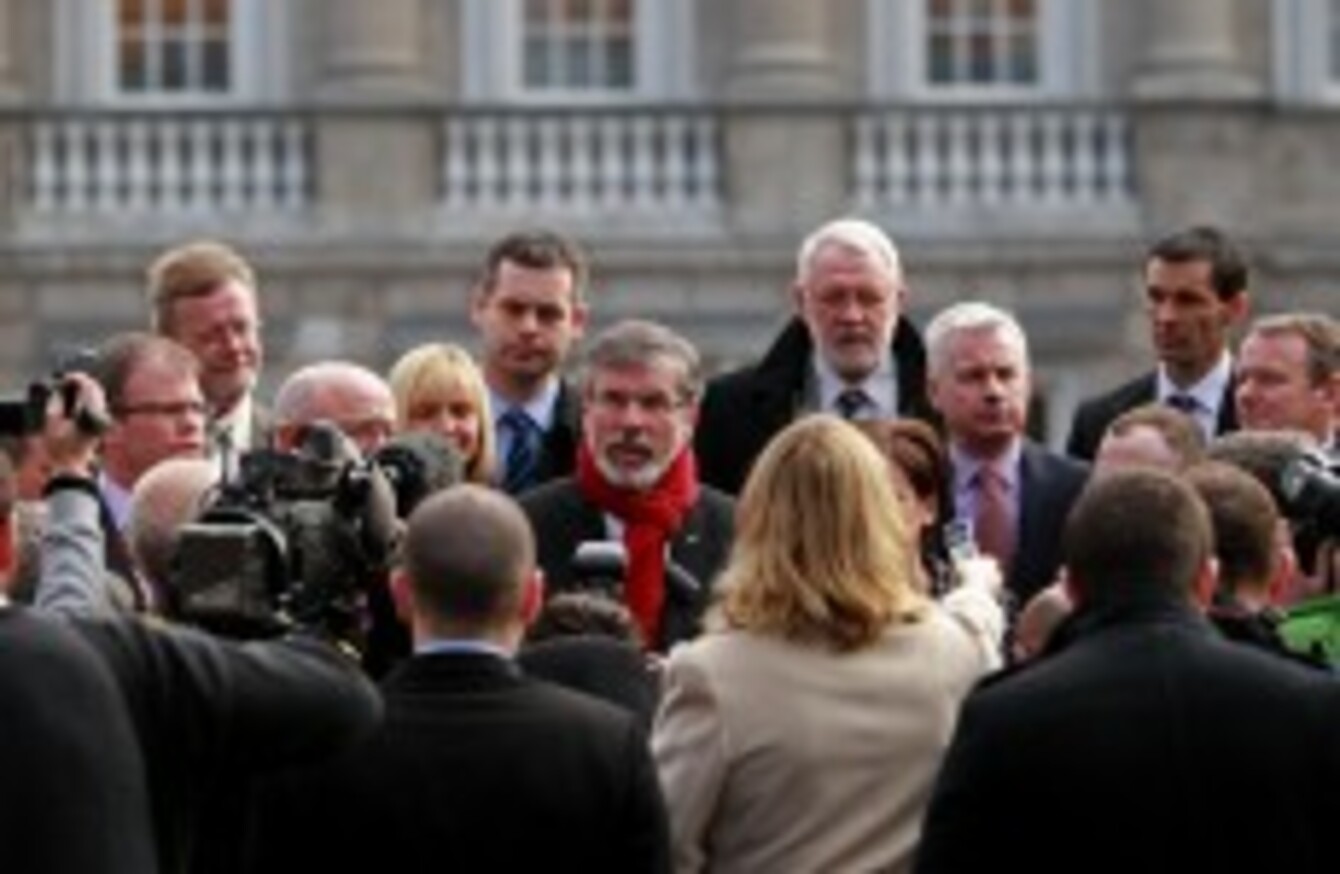 Sinn Féin TDs outside Leinster House (File photo)
Image: Julien Behal/PA Archive/Press Association Images
Sinn Féin TDs outside Leinster House (File photo)
Image: Julien Behal/PA Archive/Press Association Images
FIVE SINN FÉIN TDs are to boycott the household charge taking the number of Dáil representatives who will not pay the €100 tax to well over a dozen.
A party spokesperson confirmed this morning that five of Sinn Féin's 14 TDs will not be paying the charge but would not confirm who they were. The party's spokesperson for housing and justice Aengus Ó Snodaigh has already said publicly he will not pay the charge.
Sinn Féin is not advocating a boycott of the charge but said it will support those that choose not to pay it. "We're not telling people what to do," a spokesperson told TheJournal.ie.
Those five join nine others who have said they will not pay the charge. A group of independent TDs yesterday launched a campaign for other homeowners to boycott the charge which will have to be paid by 31 March next year.
Socialist Party TDs Clare Daly and Joe Higgins, independents Thomas Pringle, Mick Wallace, John Halligan, Seamus Healy and Luke Ming Flanagan as well as People Before Profit's Richard Boyd Barrett and Joan Collins are all opposing the tax arguing it hits the poor disproportionately.
Junior Environment Minister Fergus O'Dowd confirmed in the Dáil this week that the flat tax will be in effect for two years but there is already speculation about what will replace it.
The proposed property tax will be based on the value of a property, household income, regional factors, and payment of stamp duty by first time buyers during the boom, the Irish Independent reports.
This will mean the average homeowner will pay between €200 and €250 per year while owners of mansions would pay about €600 annually.
Yesterday, the Irish Property Owners' Association (IPOA) said that the cost of the charge should be passed on to tenants despite the legislation – which passed through the Oireachtas this week – saying the cost should be met by property owners.
The housing charity Threshold said IPOA's comments were "misleading and irresponsible".