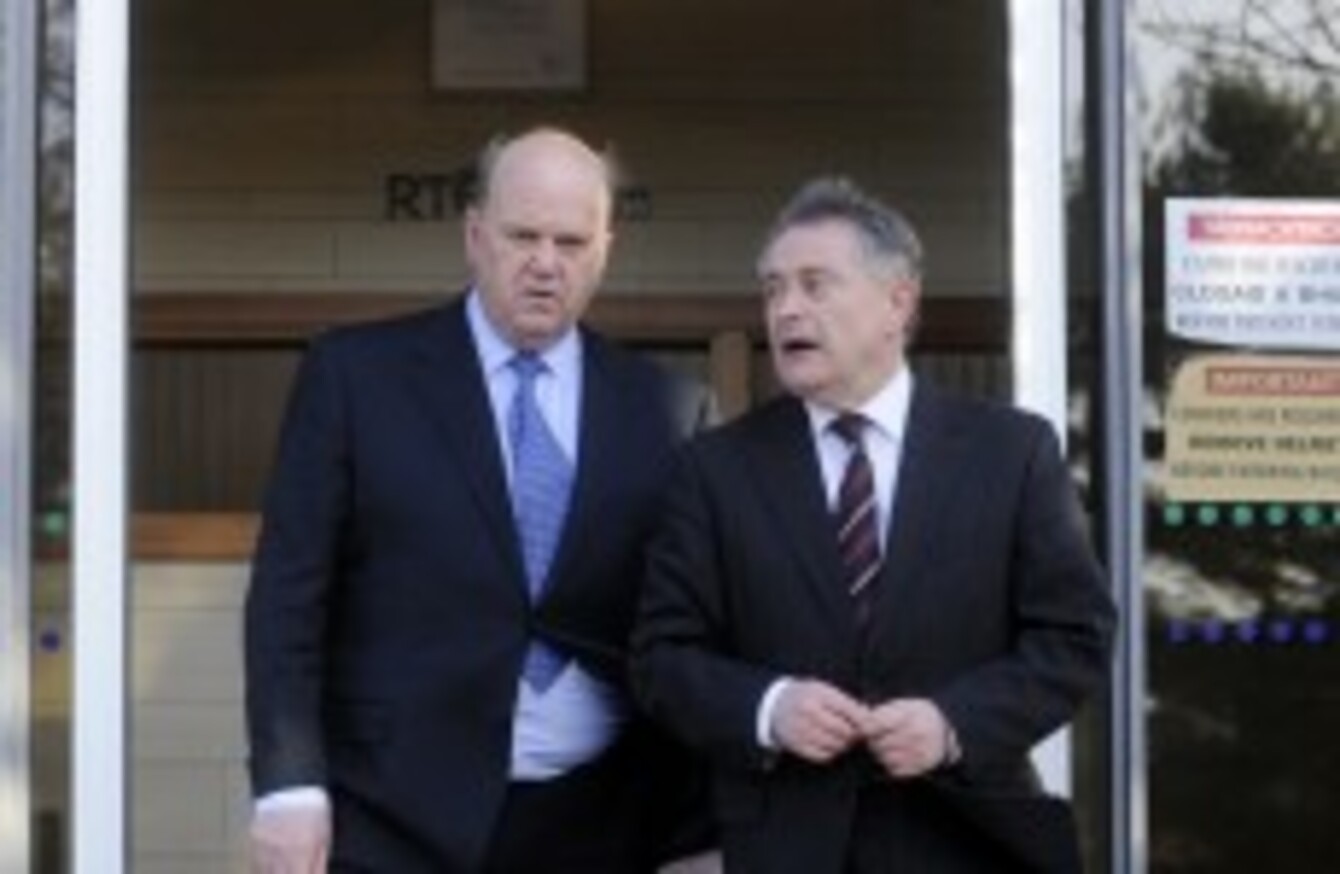 Image: Laura Hutton/Photocall Ireland
Image: Laura Hutton/Photocall Ireland
TODAY'S PRESS CONFERENCE from Michael Noonan and Brendan Howlin, on the outcomes of the most recent EU-IMF bailout review, had five main points of note.
Here, in bitesize format, is what we learned.
1. Legislation on personal debt will be published in April
This had been due in the coming months, but has been delayed slightly – not by government disagreements, Noonan said, but rather because it's a difficult piece of legislation to write.
Asked whether the legislation would include methods of allowing struggling mortgage holders to get out of debt, Noonan said the bill would "include measures which will allow everybody who has a debt to either follow a judicial route or a non-judicial route to ease the burden of their debt".
That essentially means that the law will provide ways for people in major mortgage arrears to clear off some of those arrears. This will be music to the ears of many.
2. The Troika is looking at helping us cut down on Anglo spending
Currently the long-winded wind-down of Anglo Irish Bank is being funded by a 'promissory note' – essentially an I.O.U. – which will see Ireland shell out €3.1 billion each year (plus interest) for the next ten years. Over time, it's expected to cost us around €45 billion.
Trying to cut down on that burden has been a major plant of the new government's policy for some time – because having committed to not burning senior bondholders, it's essentially the only way of cutting down on the cost of fixing the banking sector.
Previously the European Commission, ECB and IMF had all been working on this independently of each other. Now we know that they're all engaging with each other to come up with a "substitute" for these promissory notes.
This is a good thing for Ireland, says Michael Noonan, because if they come up with a proposal to replace the promissory notes with something cheaper, it will have the inherent backing of the EU. That could save us quite a bit.
3. If we sell state assets, we can use the cash to create jobs
One of the main disputes between Ireland and its international paymasters was over the sale of state assets. While the Troika hadn't strictly demanded that Ireland sell off its family silver, the coalition had committed to doing so in the Programme for Government.
In line with its other policies for surprise windfalls, the Troika had been demanding that any cash made through the sale of state assets would be put towards paying off Ireland's national debt. The government, however, wanted to invest it in job creation.
Today we were told that Ireland has won a concession "where it's acceptable that a sizeable portion of sale asset funding could be used for productive job-creating purposes." That's a victory for Ireland.
4. We've delayed the next round of stress tests
Under the last Memorandum of Understanding, Ireland was due to kick off a new round of stress tests in the second quarter of 2012 (and, indeed, another one in 2013). Today we learned that this is being put off to the autumn.
No need to panic, though – all parties have merely decided that there's no point in Ireland doing its own batch of stress tests in spring, and then having another set carried out by the European Banking Authority during its own annual tests in the autumn.
Therefore, the Irish tests will be carried out in parallel with the European ones. If the European ones are delayed beyond autumn, though, then Ireland will still plough on ahead and do its own.
5. We're still not sure about the future of Permanent TSB
While most of the recent focus on Permanent TSB has been on its mortgage interest rates – which Éamon Ó Cuív this morning named as the highest in Europe – there's also been question marks about whether it will be sold off.
The government has openly tried to split up Irish Life & Permanent, which was nationalised last March, by selling off the banking and life assurance arms to the highest bidders.
Before Christmas it had arranged the sale of Irish Life to its rival, Canada Life, but this was put on hold because of the new fears about the future of the euro.
Although we're told that this sale remains on course – and will conclude whenever the market revives enough to ensure a decent selling price – there's still no word about the sale of the banking arm, Permanent TSB.
Michael Noonan claims a position on selling it will be agreed this quarter – and answering questions later, he said the government was reluctant to have to wind it down, indicating that a sale may not be on the cards.