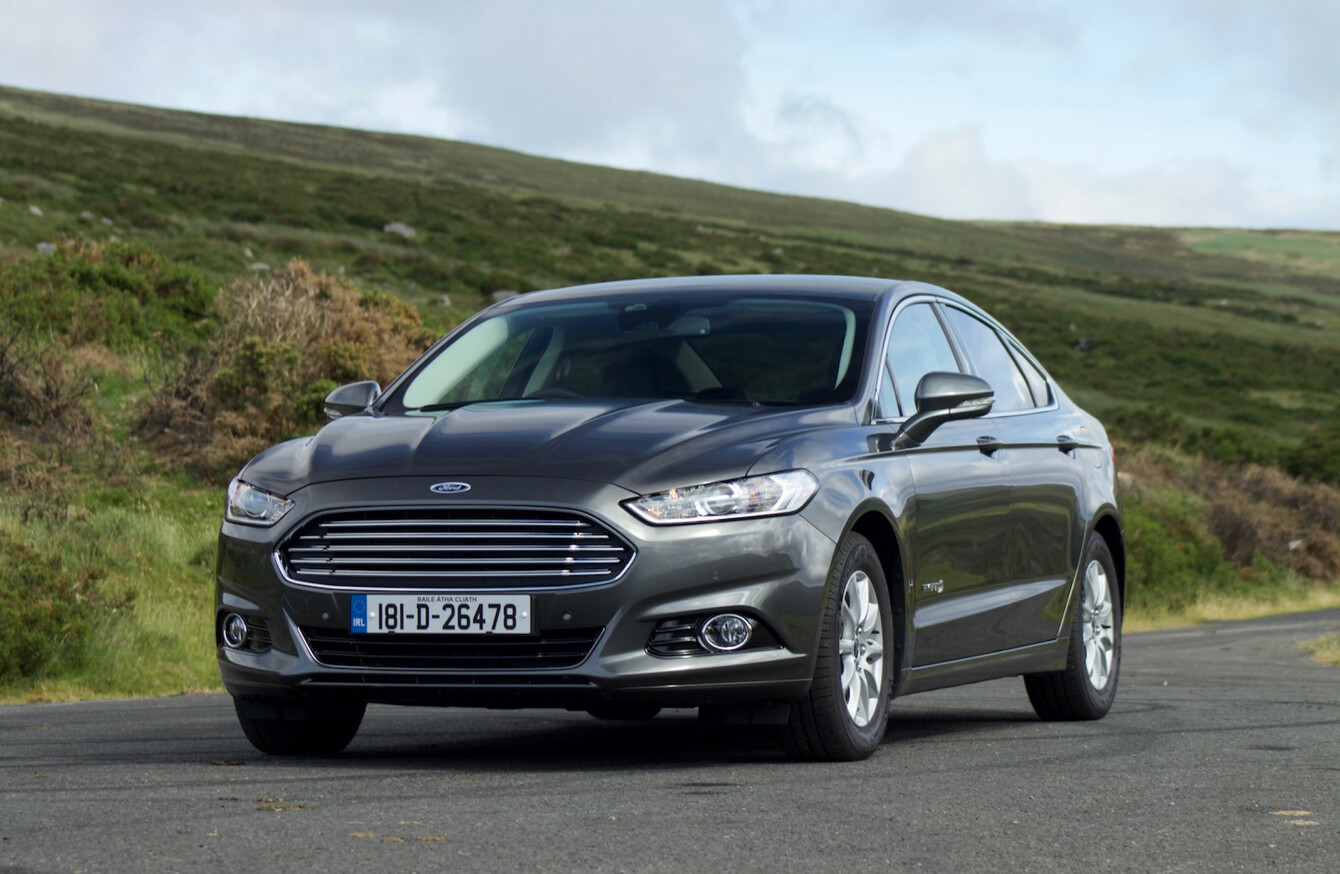 Image: Dave Humphreys
Image: Dave Humphreys
THE MONDEO HYBRID may be new to the Ford range here in Ireland, but it's a car that was first shown several years ago.
It follows the basic hybrid concept that has brought its rivals Toyota much success over the years. In the rear is a battery that recharges through energy recuperation, so there's no need for you as the owner to do any plugging in.
While that battery setup is convenient, it does swallow up a chunk of boot space, rendering this Mondeo less practical than the standard model. This version also comes only as a four-door body style, losing the added practicality of a hatchback tailgate.
There is little difference with the interior in comparison to the other Mondeo models, aside from a slightly different instrument display. A digital instrument cluster shows when the battery is being used (and recharged), in addition to fuel consumption.
If you're mostly driving at slower, urban speeds with plenty of stopping and starting, then you stand a better chance of benefiting from the Mondeo Hybrid's efficiency than if you're driving long distances.
The battery in the rear recharges quickly and does a solid job in propelling the Ford away from rest using just the electric motor.
When the engine does kick in, it does so reasonably smoothly although it almost always feels lacking in power. Accelerate down a slip road and onto a dual carriageway or motorway and the engine revs highly without the car delivering any serious oomph.
Ford claims that the Mondeo Hybrid can deliver better fuel consumption than the equivalent diesel. Without any serious effort it seems to at least match the fuel consumption figures that I typically see from modern diesel cars.
However, if you're looking for that shove of torque diesel provides, you may feel less than impressed with the overall performance of this particular Mondeo.
The drive however, is nice and smooth and quiet too. This adds to the overall comfort levels of what is already a rather comfortable car.
With fewer people buying saloons these days, and a lack of serious financial incentives for business users to switch to hybrid instead of diesel, the Mondeo Hybrid may have limited appeal here.
The standard Mondeo range starts from €29,370 with Titanium models starting at €31,970. Hybrid models start at Titanium level and are priced from €32,745 (including a promotional launch discount and VRT rebate). 
Want to make sure you don't miss out on anything going on in the world of motors? Like us on Facebook and follow us on Twitter for the latest updates.