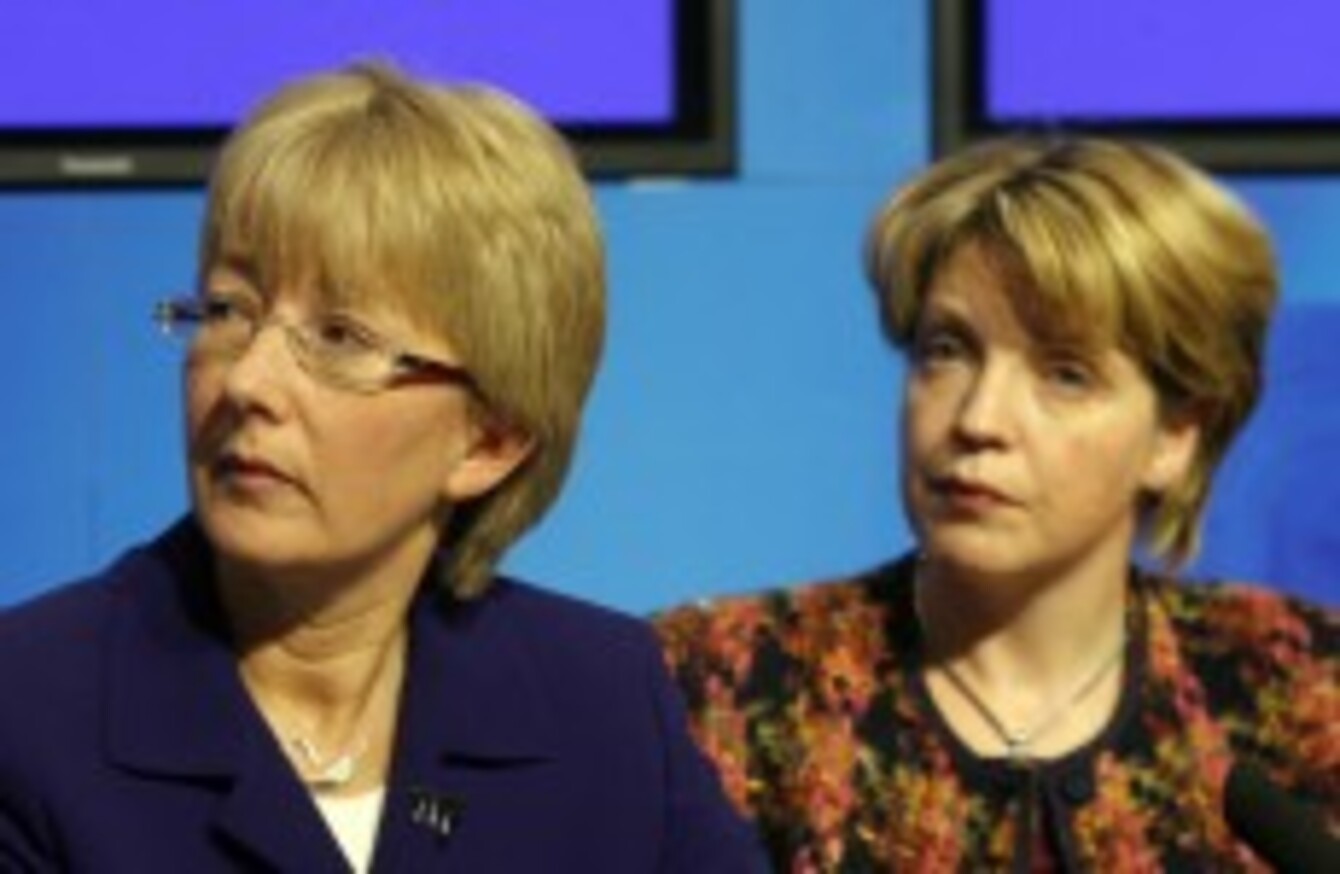 Marys Hanafin and Coughlan could be making a Dáil comeback at the next election.
Image: Mark Stedman/Photocall Ireland
Marys Hanafin and Coughlan could be making a Dáil comeback at the next election.
Image: Mark Stedman/Photocall Ireland
DESPITE WHAT YOU might think there are not that many former Fianna Fáil ministers looking to make a comeback at the next general election.
The party is slowly but surely recovering from its historic low result of 2011 but not all is rosy in the garden. It may be the largest party in local government after May's local elections but Micheál Martin's party had a disastrous outing in the European elections.
Several TDs, notably the party's former deputy leader Éamon Ó Cuív, have expressed unease about Fianna Fáil's "becalmed" position in the polls where it hovers around the low-to-mid 20s.
While several ex-ministers are angling for a comeback the party leadership is keen to give young, fresh faces a chance.
Nowhere was that more evident than in the 'Battle of Blackrock' earlier this year where former minister Mary Hanafin and new candidate Kate Feeney faced off and ended up winning a council seat each. But only one of them is likely to run for the Dáil at the next election. If both run there's still only realistically one seat.
One former minister who isn't running is Pat Carey. The former Dublin North West TD held three cabinet portfolios in the farcical final days of the Cowen administration and has no desire to make a comeback
"I am as happy as could be and very busy," he told TheJournal.ie this week, adding that he does not think many of his other former ministerial colleagues would be "in the mix" for a comeback.
Carey said that while a lot of ex-ministers who could run are still relatively young they were a long time in politics.
"It's like a death sentence," he said. "I always felt you should get in young and get out young or get in old and get out old. You just run out of steam. A lot of younger people had to retire for a variety of reasons. Some of them are just now getting to know their families."
So while the field is relatively small here are a few former ministers who could be in the mix for Fianna Fáil whenever the country next goes to the polls…
1. Conor Lenihan
The former junior minister and brother of the late Brian Lenihan, was adopting a "never say never" stance when asked about the chances of a political comeback last weekend. The ex-Dublin South West TD is working for the Sholkovo Foundation in Russia at the moment and indicated it may not be practical for him to be involved in politics again. But Lenihan keeps on top of political matters in Ireland and is occasionally spotted around Leinster House.
2. Mary Coughlan
"I'd have a lot of people who'd like me to go back," the former tánaiste told RTÉ last month in a lengthy interview that was clearly organised with the intention of her dipping her toe in the waters to test the public mood. Coughlan lost her seat in Donegal South West in 2011 and would face an uphill battle to win it or even secure the Fianna Fáil nomination back. But it's very clear that she's thinking about it.
3. Mary Hanafin
#Open journalism No news is bad news Support The Journal

Your contributions will help us continue to deliver the stories that are important to you

Support us now
After emerging from the 'Battle of Blackrock' with a council seat and becoming "all official again" in Fianna Fáil there's no doubt that the former education minister has one eye on the Dáil. But winning the party nomination in Dún Laoghaire may prove difficult when the leadership has high hopes for her rival and fellow councillor Kate Feeney.
4. John O'Donoghue
As much as he might want to make a comeback, the former ceann comhairle and justice minister, is said to be "political toast" or at least that's according to a party source who told the Irish Times in June that O'Donoghue had little chance of winning the Fianna Fáil nomination for the new Kerry five-seat constituency.
O'Donoghue resigned as ceann comhairle in 2009 in a storm of controversy over his expenses claims while Arts Minister. That could hinder his chances of a comeback. In addition he qualified as a barrister in July – a further indication that much as he might like to run for the Dáil again he is keeping his options open in the event he is prevented from doing so.
5. Seán Haughey
The son of former taoiseach Charlie and ex-junior minister won a seat on Dublin City Council in May's local elections with a credible performance in the Clontarf ward. He insisted at the time he has given no thought to running for the Dáil but his name is sure to be in the mix come nomination time.