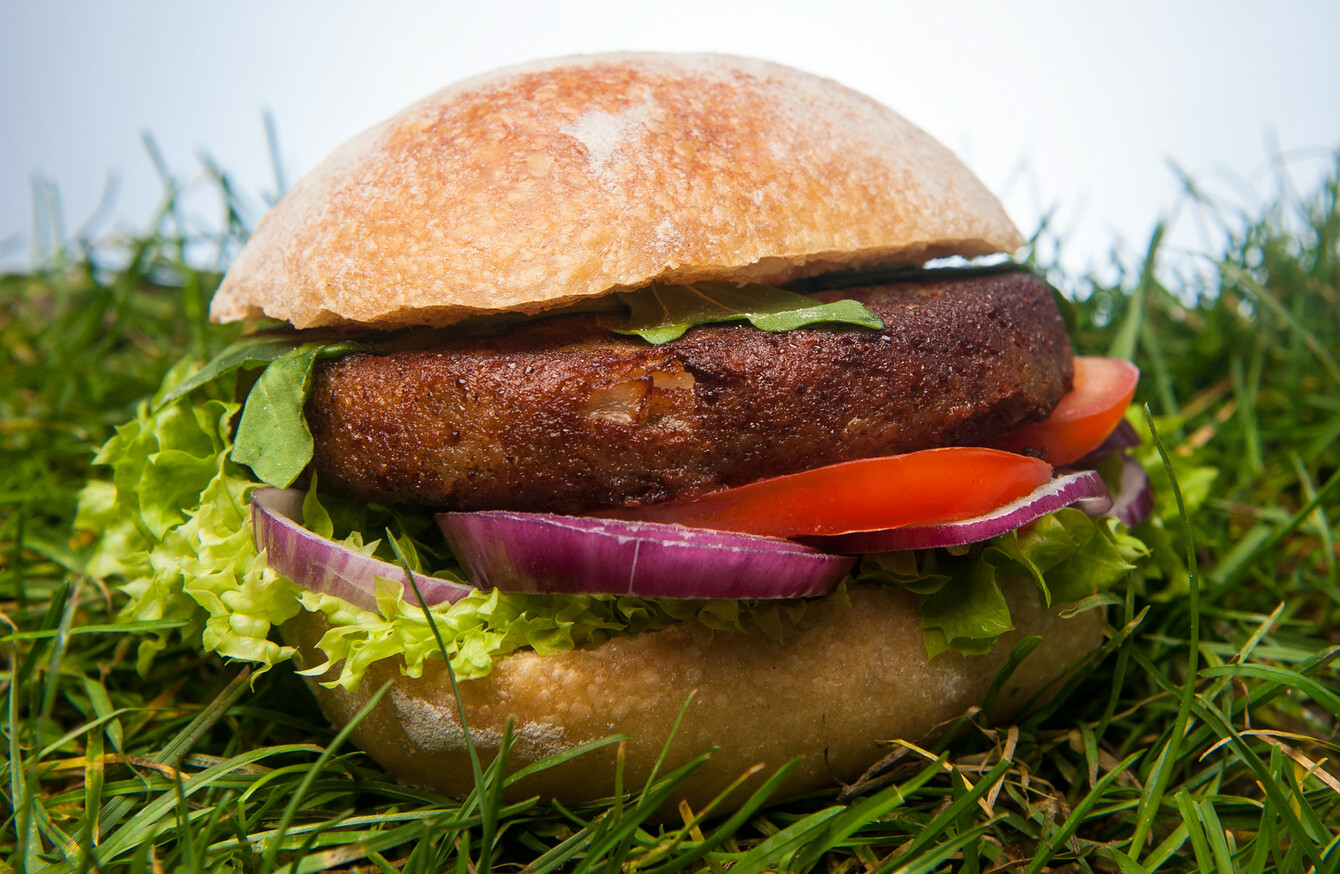 Half of this burger is composed of ground mealworm larvae.
Image: DPA/PA Images
Half of this burger is composed of ground mealworm larvae.
Image: DPA/PA Images
The way we live is changing fast. Every fortnight in our new Future Focus series, supported by Volkswagen, we'll look at how one aspect of everyday life could change in the coming years. This week: the food we eat.
TODAY, IF YOU go down to McDonalds and pick up a Big Mac, it'll be made of beef which has come from cows that were bred and slaughtered in Ireland. It mightn't be the case tomorrow; in fact, your burger might not even be made of meat.
Ireland's eating habits have changed dramatically over the last forty years. The recent RTÉ documentary, One Day: How Ireland Eats, illustrated the extent of the changes: we eat on the move, we don't eat at regular mealtimes, and we spend a frankly astonishing €20 million every day on snacks.
However, much bigger changes could soon be on the way to our dinner plates. A report released in December by the European Academies Science Advisory Council called for urgent action on food and nutrition. It found that we're going to need climate-smart food systems combined with a change in our meat- and calorie-laden diets, in order to control the impact our food makes on our climate – and also that genetic research will be crucial to the future of food and agriculture in Europe.
Impossible burgers
It sounds extreme, but as demand for meat products grows worldwide, environmental finger-pointing has shifted in the direction of the meat industry. Many businesses have already begun the search for alternative protein sources. M&S, Nestlé and Unilever all have goals in place to increase their alternative protein portfolio. For Ireland, whose agricultural sector relies heavily on the meat and dairy sectors, and whose failure to adequately reduce greenhouse gas emissions has recently begun to be criticised, a change in the way we farm and eat could be afoot in the coming years.
But today, it's mostly US start-ups that have been leading the way in sustainable food innovation. The Impossible Burger, made by Impossible Foods, is envisaged as a way for us to keep eating beef burgers without the environmental and health costs. At least, it'll taste like beef burgers; it's actually a vegan product, but one which has all the features of real meat.
Here's the science bit: Impossible Foods say they have found a way to extract a molecule called heme, which is found in animal muscle, from soy plants. The heme is included in the Impossible Burger – which is made of wheat protein, potato protein and coconut oil – and is apparently what gives it a meaty flavour. Perhaps surprisingly for a vegan product, it's become widely popular, and has even gotten a shout-out on the Ellen Show from Chrissy Teigen. After becoming a bestseller in the LA outlet of restaurant chain Fatburger, it's now available in its outlets all over the US.
Lab-grown meat
Others are taking a different approach. JUST (formerly Hampton Creek), Memphis Meats, and MosaMeat (based in the Netherlands) are all working on producing consumer grade lab-grown meat from animal cells. The end product is still 100% meat, but it's been grown from cultured muscle tissue cells in a bio reactor, instead of a field. The first artificial beef burger was made by MosaMeat in 2013 and cost $325,000 to produce, but the price has since plummeted to a much more affordable $11. Memphis Meats have announced that they're hoping to have the first lab-grown meat available to consumers within five years.
But while these businesses are looking to recreate the foods we already eat in a more environmentally sustainable way, others are looking to move away from our traditional animal products entirely. If seafood is your thing, nonfood in the US is one company using algae as a base ingredient for food, which could be an interesting option for Ireland's seas in the future.
Similarly, the idea of eating insects might put us more in mind of I'm A Celebrity, Get Me Out of Here than fine dining, but Dr Rena Barry-Ryan, a senior lecturer in food product development at DIT, says that she expects insects to grow in popularity in Ireland over the coming years.
"The notion of sushi to Europe when it first came was that we would not eat raw fish, and it was hugely unattractive. Now your shop on the corner has sushi boxes. We think something similar could happen with insects," she says.
Sustainable insects
As a protein source, insects are far more sustainable than our traditional meat products; their lifespan is short, they live off waste and don't require strict environmental regulation. So far insect products have been slow to take off in Europe due to the European Food Safety Authority's (ESFA) rigorous rules around food production, but Dr Barry-Ryan expects that they could be on our shelves more widely in the next 5-10 years.
"Insects are already hugely eaten across the world," she says. "Goji berries had to go through vigorous proofing about historic usage to prove they were safe, and insects will have to go through the same. If you farm your insects correctly they will actually be safer than a lot of meat products because they'll be antibiotic free. But under ESFA legislation, to be sold as an ingredient it's still in discussion."
There are also strict EU laws in place which make things difficult for producing genetically modified (GM) food. In recent years, Bord Bia has undertaken GM potato trials which have shown that potatoes whose genes have been modified to be resistant to blight can be grown successfully in Irish soil. However, a recent survey by Science Foundation Ireland found that only 43 per cent of people in Ireland think that genetically modified food is safe to eat and consumer sentiment in Europe lies in firm opposition to GM crops. It'll probably be a while, if ever, before the tide turns towards GM in Europe and Ireland.
A nice 3D-printed dinner
But there are some food gadgets rather than technologies which might come to our shores in the shorter term. The Food Ink pop-up restaurant in London became the first restaurant where everything – furniture, utensils, and even food – were made by a 3D printer. Food Ink has a world tour coming up, but no dates have been announced yet, and unfortunately, no Irish date. However, 3D food printing will likely become an option for restaurants closer to home as it falls in price, even if it only operates as a novelty.
What should we expect from food in the future? In the shorter term, a greater awareness of what's in our food and how it's produced is probably a given, while in the slightly longer term, lab grown and artificial foods – once they've gotten through the legislative hurdles – could be on the agenda. We probably won't have a total move to Soylent, but strange things like artificial meat, algae and insects might well be on our dinner plates rather than a beef burger, and it could happen sooner than you might expect.