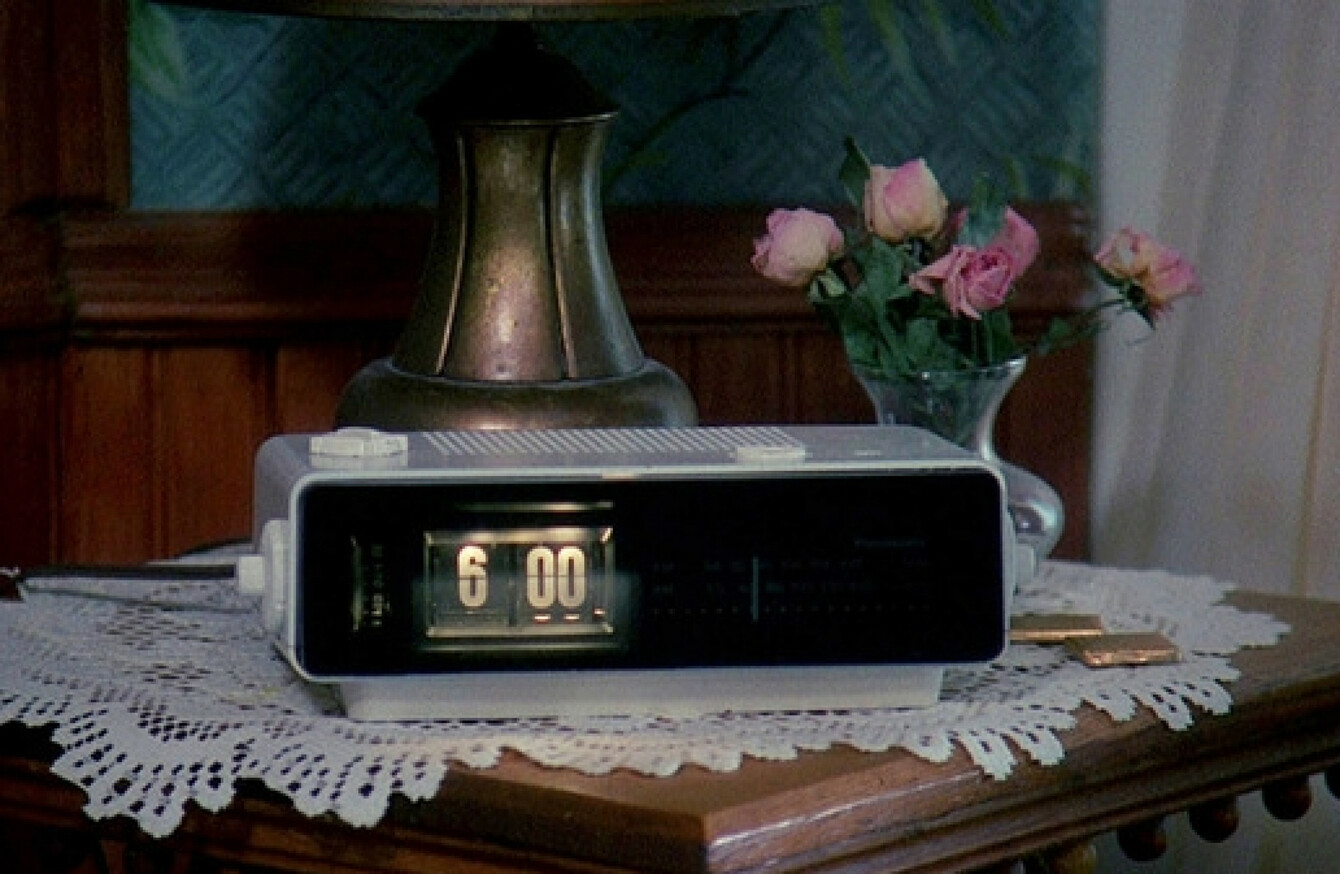 Image: Columbia Pictures
Image: Columbia Pictures
The way we live is changing fast. Every fortnight in our Future Focus series, supported by Volkswagen, we'll look at how one aspect of everyday life could change in the coming years. This week: music.
SICK OF HITTING the snooze button and groggily crawling out of bed in the mornings? Did you oversleep and miss the bus to work? Or maybe you tossed and turned all night, and sleep never came to begin with.
No matter what your particular sleep ailment looks like, if there isn't a solution already, over the next few years there'll probably be an app for it.
Sleep technology that used to be an array of eye masks and ear plugs is expanding to include apps, headsets, sensors, monitors and a range of other equipment to help you sleep better. And currently, the market is flooded – the international market for sleep paraphernalia is expected to reach over $76 billion in 2019.
If it wasn't enough for every part of your waking life to be connected, soon your sleep will be too. Drooling on your pillow may no longer be acceptable once your pillow is able to talk back to you. And you may not need anyone beside you in bed at all once you try out the Somnox sleep robot, which was released this year and which mimics human breathing to cuddle you to sleep, however creepy it may sound. However, the future of sleep is more than individual devices; it mightn't be long until your whole bedroom is smart enough to look after itself.
Source: Somnox - world's first sleep robot/YouTube
In recent months Chinese company Sleepace debuted its IoT smart bedroom, Dreamlife. Dreamlife includes a sensor which monitors your sleep, a cloud which stores your data and IoT devices which do things like adjust the temperature, close the curtains and turn off the TV when the sensors sense you lying down on your bed. It'll do anything short of brushing your teeth.
At the launch in January at CES 2018, the CEO of Sleepace, David Huang, said: "We predict that the number of people who use sleep technology will double in 2018, with smart mattresses and pillows integrated with other smart home technology in 20% of households by 2025."
But one of the world's more innovative sleep offerings is coming from Ireland. SleepScore Labs is based between California and Dublin. Their app, SleepScore, accesses your phone and can detect your sleep patterns without using wearable devices or sensors.
Using the phone's speakers, the app sends sound waves, which are reflected off the user's body and received through the microphone. SleepScore then interprets the reflected sound waves to sense breathing and body movements. The data can identify which sleep stage the user is in.
"Sleep affects all facets of people's health, and yet there has been no easy way to accurately measure or track it everywhere we sleep—until now," said Colin Lawlor, CEO of SleepScore Labs. "We've been developing this technology longer than the iPhone has existed. We're excited that for the first time, virtually everyone can get a truer picture of their sleep health for free and make smarter decisions about how to get a more restful night's sleep."
However, not everyone believes that apps and tech will herald a new age of sleep. There are still question marks over how effective sleep tech and monitoring is, and whether knowing everything about the various stages of your sleep will actually help you drop off at night.
"For me the only benefit in using apps to monitor sleep is the chance that they may raise the user's awareness of sleep and thus modify their behaviour to be more 'sleep positive'," says independent sleep expert Dr Neil Stanley. "However recent research has shown that what they are in fact doing is causing a degree of anxiety about sleep which is probably causing poor sleep in itself."
Troubled relationship
We've certainly become more aware of our troubled relationship with sleep in the past few years. The increase in our use of screens before bed has gradually cut into our sleep time. In a survey by Aviva health insurance last year, 35pc of Irish adults said they do not believe they are getting the right amount of sleep, and ranked Ireland as the second most sleep-deprived country after the UK. Another recent survey commissioned by IKEA found that one third of Irish people are getting less than six hours sleep a night.
So will sleep tech actually help us get better sleep? Currently, future possibilities seem endless. One offering, Neuroon, claims to help to enable lucid dreaming. You take part in a series of meditations, and the sleep mask triggers flashing lights during REM sleep which brings awareness to the fact that you're dreaming. Similar sleep and lucid dreaming products use variations on flashing lights, but currently, these are said only to improve the experiences of people who can already lucid dream, not those who have never had a lucid dream before.
While lucid dreaming tech is only at the beginning of its journey, it's possible that in the coming years we'll see improvements in the tech which helps to enable it for newbies.
Or it could even be possible that we cut down on the hours we spend sleeping altogether. A study by UC San Francisco neurology professor Ying-Hui Fu showed that a gene which allows some humans to live on just a few hours of sleep a night can allow mice to do the same thing. A mutation in the DEC2 gene helps control a hormone which maintains wakefulness. It's a long way away yet, but if the same thing could be done in humans, the one third of our lives we spend asleep could become a lot shorter.
In the short term if you're satisfied with extending your hours spent sleeping as much as possible, there's worse that could be done than snore-cancelling earbuds, such as those released by QuietOn this year. If you're struggling to drop off to sleep tonight, there are already options available; these include the Calm app's recently released bedtime story, Once Upon a GDPR, wherein former BBC radio announcer Peter Jefferson reads an extract from the new GDPR legislation to put you to sleep.
Today, we already have a lot of quick fixes that help us drop off, such as apps, meditations and wearable tech. But it's more than likely that the future of sleep will be smart, lucid, and eventually, short.