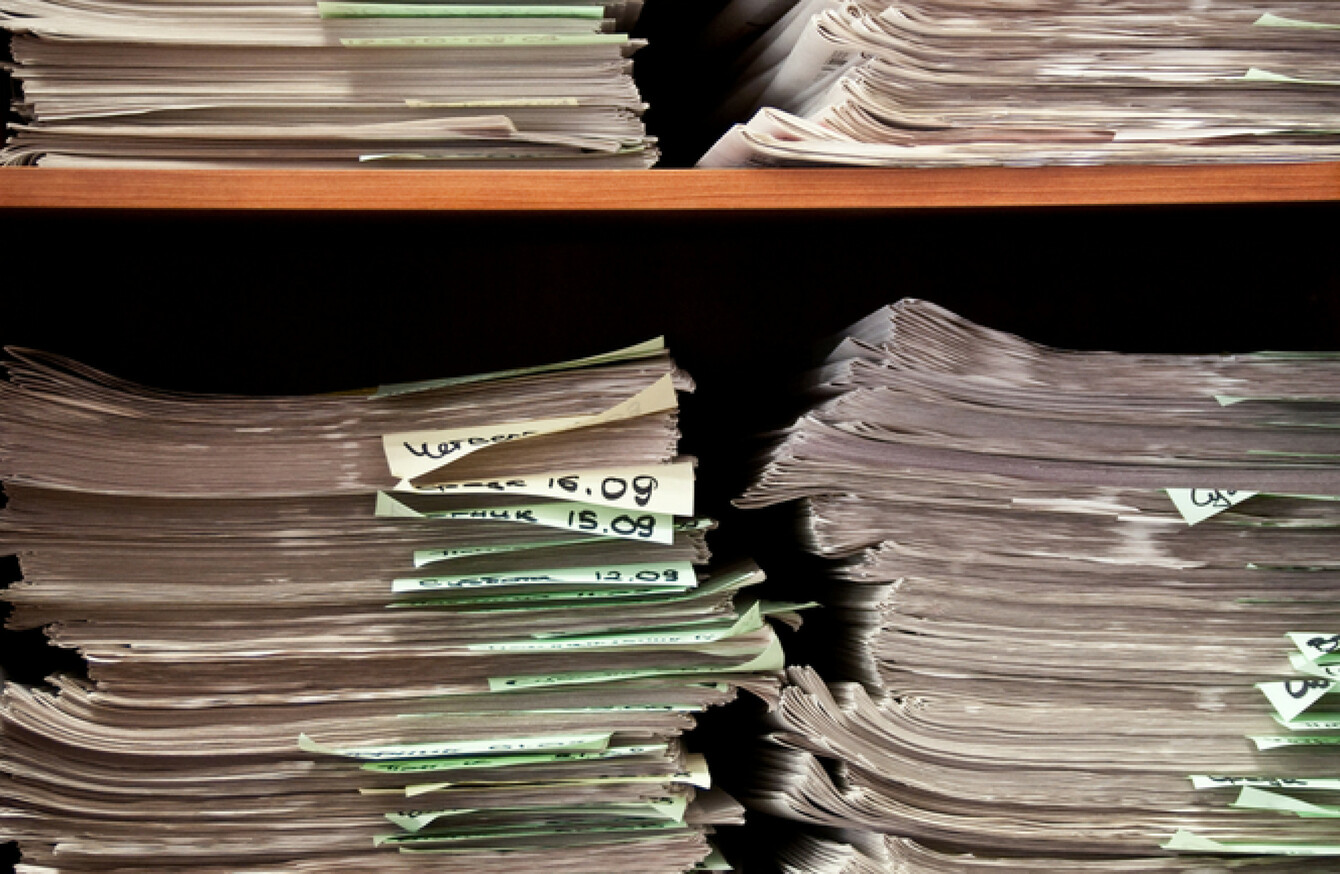 This was the old way. So what's the new way?
Image: Shutterstock/Oleg Golovnev
This was the old way. So what's the new way?
Image: Shutterstock/Oleg Golovnev
The way we live is changing fast. Every fortnight in our Future Focus series, supported by Volkswagen, we'll look at how one aspect of everyday life could change in the coming years. This week: time management and productivity. 
THE GENERAL IDEA of technology is that it's meant to make everyday life easier and make us more productive. But a trend unearthed by the Central Statistics Office hints that we're actually getting less productive with our time in the workplace as years go by. We're spending more time at work and overtime pay has increased by €405 million since 2013.
But that only paints a part of the picture because a survey by Matrix Recruitment showed half of Irish staff are not paid overtime for work they do outside of their normal hours.  This is backed up by research from recruitment firm McKinsey, which shows we spends more than 60% of our time managing our workload instead of doing it. 
It all points towards a trend that we're not finishing our work within the typical working day. In the workplace, digital to-do lists like Trello and Asana have become very popular, while instant messengers like Slack are also common. Companies are investing in these sorts of productivity tech tools because it's meant to be good for business. If a workplace is disorganised staff get stressed, and stressed staff take days off – which can lead to missed deadlines.
But Seán McLoughney, author of Slave to the Clock, Master of Time, says a lot of technology in the office can actually be a drain on productivity because it's not used properly. 
"Tech in the workplace is brought in for the right reasons. Tools like Slack are fantastic for keeping everyone in the loop, but it's when we use it that's the problem," McLoughney says.
Previously if you were in the middle of doing something that requires a huge amount of concentration, no one would come near you. Now you have this 'bing, bing, bing' going off and there's an expectation to respond instantly. But if you do, you're not doing your job.
It's an issue Slack is well aware of. It has hired a team of data scientists to use artificial intelligence to identify the unread messages that matter most.  The tech company doesn't want to get a reputation as a distraction in the office because recent research by online education platform Udemy shows that 70% of workers admit to being distracted by meetings and technology in the workplace, costing businesses millions of dollars.
So technology isn't always doing what it says on the tin. But McLoughney says there's nothing necessarily wrong with the tech we use. It's how we use it. US organisation Privacy Rights Clearinghouse notes that the majority of US employers monitor their employees. For years, call centre staff have been monitored for training purposes, while businesses also track what staff look at on the internet. So it has become a logical step to use new tech tools to conduct time audits of how staff use their time. 
McLoughney, who gives a lectures in time management, says doing a time audit is usually the first step to being more productive – and there are lots of tools on the market that can help. Some companies already use apps like Everhour and Harvest to monitor staff as they work. These programs tap into other apps and help paint a picture of where time is being wasted. 
You might be surprised to find out you are also tracking yourself. If you've got an iPhone in your pocket, its in-built Screen Time app is compiling daily and weekly reports on how you use your phone. All this information is accessible – but be wary, it probably contains some chilling statistics on how much time you spend scrolling through Instagram and Twitter. It might be depressing to see on paper how much time you spend answering emails or Slack messages, but McLoughney says you need to see this to start being productive. He says it addresses a big problem people have, which is misjudging how much time they actually have to do a task.
This is where apps like Everhour and Harvest come back into play again, as they help break down how much time you have in your working week for each task. 
After doing a time audit, McLoughney says people shouldn't get hung up on downloading the latest app or paying good money for a fancy digital to-do list. 
If you're mad into technology and have the latest app, use it. If you're still at pen and paper, use it. It doesn't matter, as long as you use that principle of planning and scheduling.
What's in store next?
As McLoughney says, we cannot manage time – there are only 24 hours in a day after all. But new smart tech on the market can spur us on to be more productive. In fact, it's already happening and we take it for granted.
You don't need to track friends' birthdays anymore because of Facebook and cars tell us when they're nearly out of petrol. These are simple examples, but reminders are getting much smarter. British company Smarter has made sensors for the fridge that keep track of when items like milk are running low – and when you're phone picks up that you're near a shop, it notifies you to stock up. Apps such as Google Calendar have also gotten quite clever at making sure you're on time and will remind you when to leave for a meeting so you have enough time to get across town. 
These are some straightforward ways tech is encouraging us to be more productive, but the bigger picture tells us that no great invention coming to make us more be more efficient. The big productivity trend on the horizon is actually a shift in where we work. A large survey of workers in the US, the UK, France and Germany by tech company Jabra outlines that the most productive workspace is the home. Its research showed the popular open-plan office model is too distracting – and also questioned whether it makes sense to restrict people to the 9-to-5 day when they might work better on their own terms.
By 2025, it has been predicted that offices could be ghost towns. US jobs service FlexJobs research shows a third of staff in the US will work remotely within the next decade. We want in on this trend too, as figures from job site Indeed show the number of Irish people looking for remote jobs has surged by 171%.
So don't expect technology to come along and solve all our productivity problems. It looks like having our feet up on the couch as we dial into a conference call could be the answer.