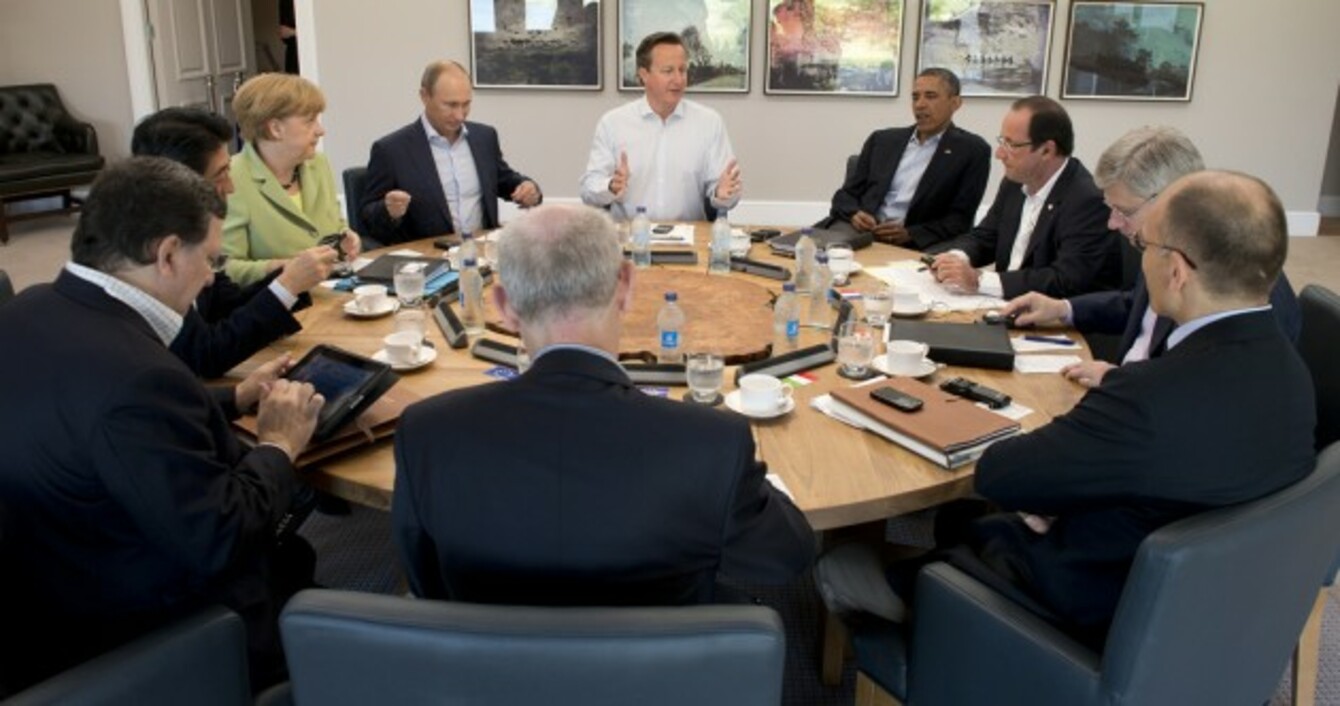 G8 leaders in discussions this morning
G8 leaders in discussions this morning
G8 LEADERS ARE expected to reach an agreement on a way forward for the Syrian conflict today but the detail will be closely examined by aid agencies and others for what one of them termed 'something concrete'.
AFP reports that world leaders are close to agreeing a statement that will likely focus on less contentious issues as Russia and the west continue to be at odds over the future of Bashar Assad's regime.
Some of the issues they agree on are the need to push for a peace conference in Geneva and on humanitarian aid. More contentious is Russia's belief that Assad should not automatically be forced from power in any change of government.
Leaders hope to agree to a summit in Geneva in the coming weeks that will aim to bring the two sides – Assad and the Syrian National Council – of the two-year-old conflict to the negotiating table.
Speaking last night the chief executive of aid agency Oxfam's Irish operation, Jim Clarken, said that Syria needed to be high on the agenda and a summit between the two sides needed to the be "the number one priority" for G8 leaders.
There have benen "frank discussions" among leaders with the United States, Britain and France saying President Bashar al-Assad's forces have used nerve gas but the regime's ally Russia says there is no evidence to support their claims.
However there was agreement on the need for a transitional authority that would include all communities in Syria, which is increasingly divided along sectarian lines after more than two years of conflict.
Extra aid money
Issues such as arms – after Washington said last week it would start supplying weapons to the rebels – were largely left off the table, officials told AFP.
Negotiating teams are said to have worked through the night to agree on a statement.
Clarken underlined the urgency of setting up to so-called Geneva Two summit, saying: " [They need to] force this political solution, work to make sure this forum does happen, that it happens as soon as possible, that they get everybody to the table and that they work with the parties involved to get a peaceful solution, as soon as possible."
Clarken also said that it was also important for G8 leaders to agree on extra humanitarian aid for Syria with the UN's largest ever appeal for donations so far only 25 per cent subscribed.
This morning, a number of G8 governments have pledged around $700 million in aid including the governments of the US, Canada, Germany and Japan.
Clarken said he was hopeful that leaders would deliver "something concrete" when they conclude negotiations and issue their statement later today.