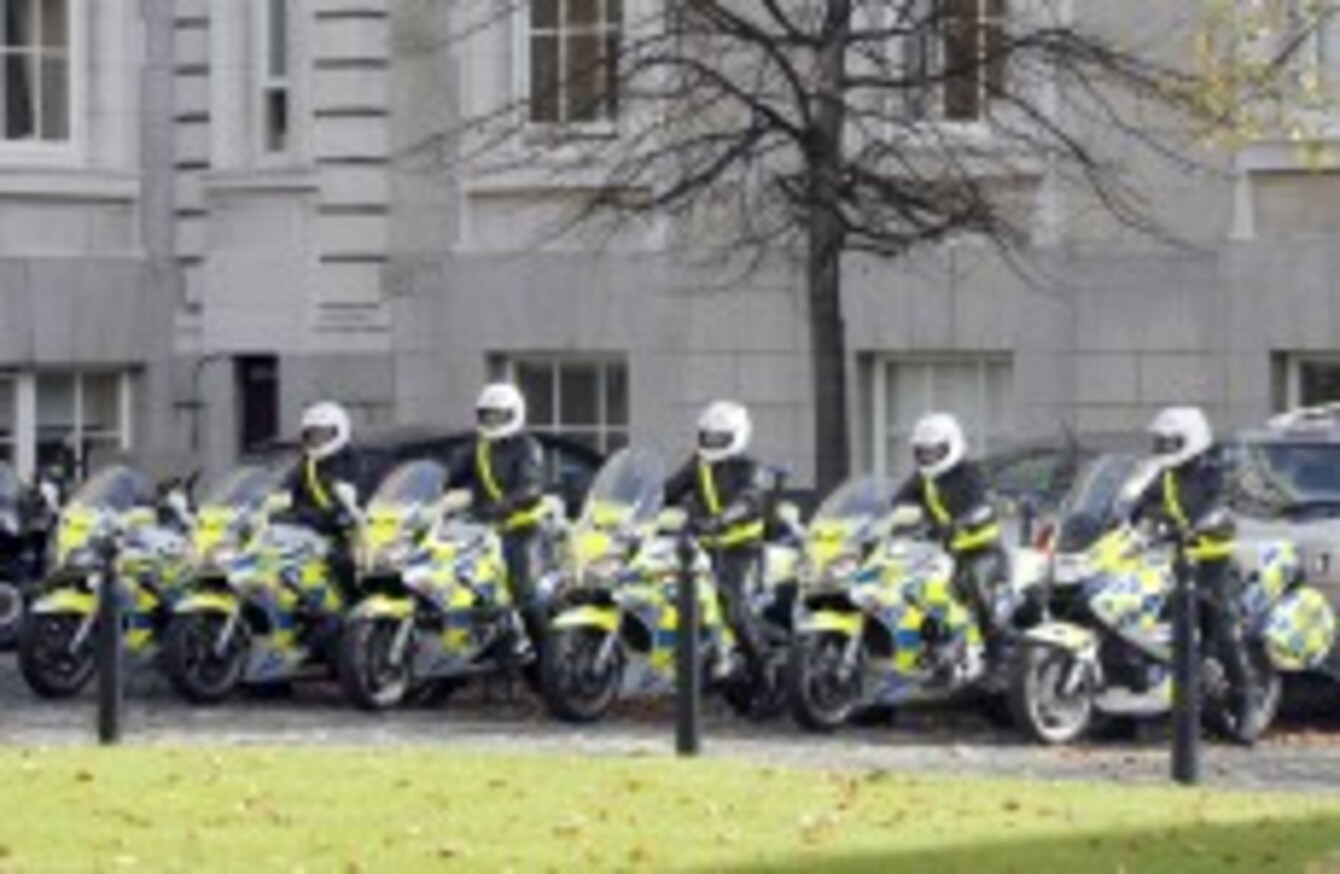 Image: Mark Stedman/Photocall Ireland
Image: Mark Stedman/Photocall Ireland
ALL OF THE garda escort motorcycles in the country were taken off-road for July and August, while local traffic units covered escorts, TheJournal.ie has learned.
The motorcycles, which are used for presidential escorts, in the transportation of prisoners to and from court and for escorting ambulances to hospitals in serious cases, are also used in regular traffic duty.
There are around 20 of these bikes, based in the Dublin Metropolitan Region, and all of them were out of action for two months, under the premise that they would be undergoing health and safety checks, sources have said.
"That would have taken no more than two weeks," a source said. "People were asking why they were sitting there for another six weeks and why no one was using them."
Over this two month period, gardaí were doing escorts on traffic motorcycles which were described as "substandard", as they are much less powerful than the Yamaha FJR escort bikes and cannot reach the speeds required.
TheJournal.ie also learned that the traffic corps in Dublin had been pushing escorts towards local traffic units, though escort duty is generally performed by gardaí based at Dublin Castle.
Stretched resources
Sources said there is a belief among gardaí that this move was taken to make immediate savings in the stretched garda budget. Overall numbers of garda vehicles have been decreasing in the last number of years from 2,677 in 2011 to 2,473 in June 2013.
The number of garda motorcycles has fallen from 238 in 2009 to 170 in March of this year.
Almost 130 of these vehicles were more than five-years-old with 71 of those being used for at least seven years. An Garda Síochána is required to replace vehicles once they reach a certain mileage but the limit for motorcycles is much lower than for cars and it is thought that the ageing bikes are being kept off the roads to delay their replacement.
One garda source said the budget limits the purchase of new vehicles but there is a larger provision for repairs and so they are often fixed up multiple times – even if it costs more than replacing them.
It is understood that last year, a garda car involved in a head-on collision in Limerick was repaired at a cost of almost €6,000, despite the fact that the car could have been replaced for about €3,000.
#Open journalism No news is bad news Support The Journal

Your contributions will help us continue to deliver the stories that are important to you

Support us now
"If that car had cost €10,000 to repair it would have been paid because the repairs budget is higher – there's no lateral thinking", the source explained.
We're in cars with wires exposed, radios and sirens not working, crashed and then patched up. There's no budget for new cars but there's a budget for repairing them so when something should be written off, instead there's thousands poured into it to keep it on the road.
'Monitored and reviewed'
In response to a query on the issue, the Garda Press Office said:
The allocation of these vehicles will be determined by Garda Traffic, Dublin Castle consistent with operational requirements and the operational requirements in the Dublin Metropolitan Region will be considered within the the overall operational requirement of the organisation.
"The allocation of garda motorcycles is monitored and reviewed on a continual basis to ensure the best match with operational requirements," it added.
When contacted by TheJournal.ie, the Department of Justice declined to comment.
This report was first published on Monday, 23 September 2013, at 6am.