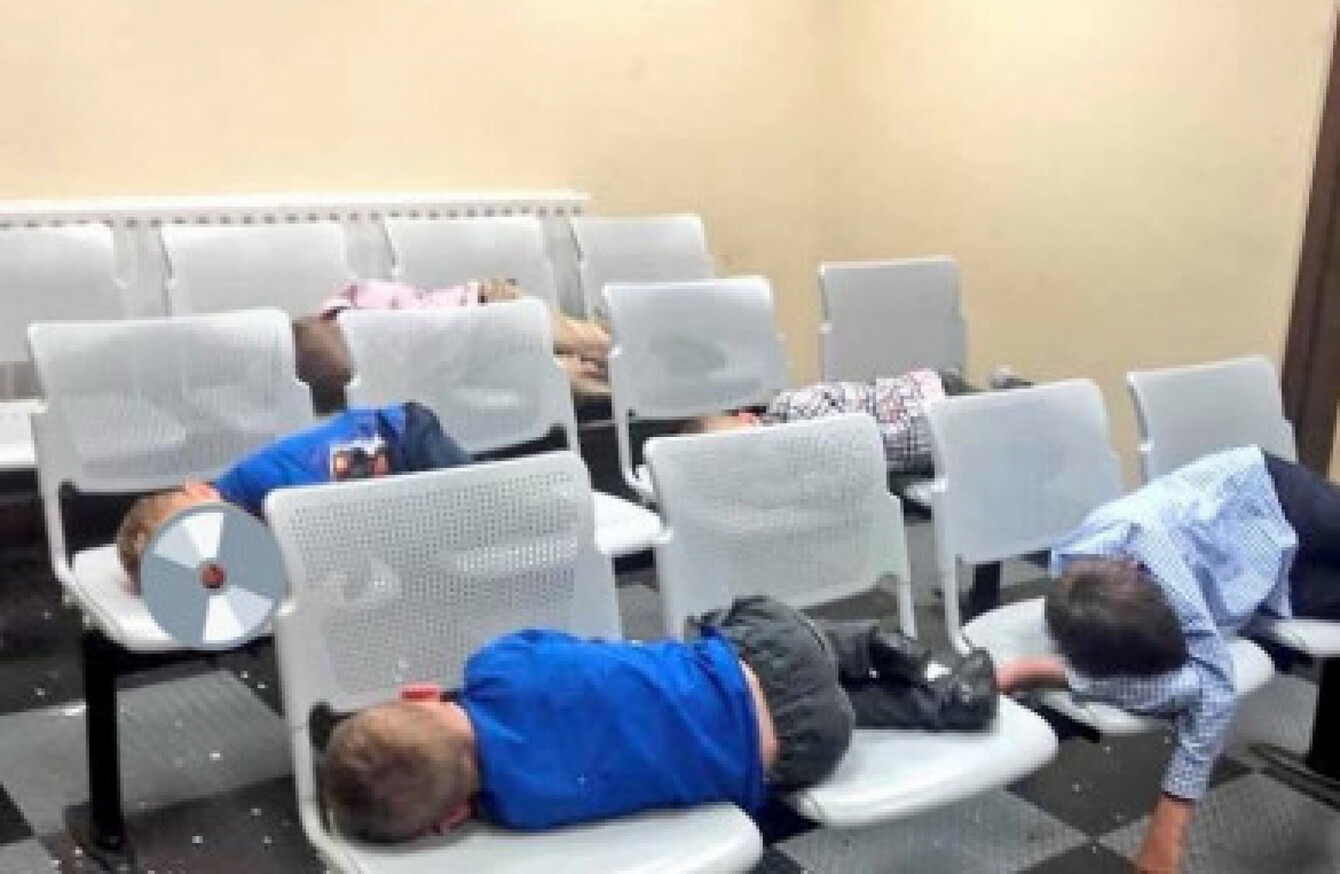 The children who slept in Tallaght Garda Station last night.
Image: ICHH
The children who slept in Tallaght Garda Station last night.
Image: ICHH
A MOTHER WHO spent the night in a garda station with her six children on Wednesday has said experiencing homelessness is "the most horrible thing".
Margaret Cash (28) and six of her children, aged from one to 11, spent the night in Tallaght Garda Station in Dublin on Wednesday after failing to secure emergency accommodation.
Speaking to 98FM this morning, Margaret said that she has now secured temporary accommodation for herself and six of her children until Monday, with the help of Inner City Helping Homeless (ICHH). Another one of her children is staying with a family friend, having recently been released from hospital after suffering from a viral infection.
The fact that the family had to spend the night sleeping on chairs in a garda station had been widely condemned yesterday.
"I don't have a clue on Monday what's going to happen, it could just be back to square one," Margaret said.
Margaret, who is from Tallaght, said she became homeless last September after the private house she was renting was repossessed.
Last month, she secured a rental property which she planned to pay for under the Homeless Hap scheme. However, she noted that after the council inspected the home, which it does before providing Homeless Hap payment, it was determined that the house was not up to standard.
"I didn't turn down the house. It wasn't up to standard so they couldn't pay the rent," Margaret said.
Presenting to the garda station
Margaret said she was advised on Wednesday night to present to Tallaght Garda Station after Focus Ireland could not secure emergency accommodation for her and her children.
"They called back and said they found a room. They went on to tell me it could only take five of the kids and they said it was in county Meath," she said. She said she would not have been able to travel there that late at night.
Margaret and her family then spent the night in Tallaght Garda Station.
"I couldn't believe what was happening. It's so hard when you're in a situation like that," she said.
It's horrible. It's a shameful thing as well, as a mother it's a very, very shameful thing when you don't have anywhere to put your kids.
"At the end of the day… the homeless thing can happen to anybody. You can be homeless at any second. You don't know what's around the corner," she added.
I wouldn't wish this upon nobody. It's the most horrible thing in the world to have to watch your children go through something like that. Nobody understands before they go through it themselves.
Margaret said she is currently on South Dublin County Council's waiting list for housing.
'Horrified'
The Garda Representative Association (GRA) has said that garda stations are "wholly unsuitable" accommodation for people experiencing homelessness.
Speaking to RTÉ Radio One's Morning Ireland, GRA spokesperson John O'Keefe said gardaí were "horrified" over the situation on Wednesday night.
Gardaí confirmed yesterday that the family presented to Tallaght Garda Station during Wednesday night as "they had nowhere to go".
Members of An Garda Síochána tried all emergency lines in relation to homeless shelters and no accommodation was located.
"I'd like to commend the gardaí present in Tallaght for their caring actions in such circumstances," O'Keefe said.
"But regardless, a garda station, be it in Tallaght or in Co Mayo, or wherever it might be in the country is wholly unsuitable accommodation for a family in this terrible predicament," he said.
O'Keefe said that while garda stations may appear to be calm during the day, at night the atmosphere "can turn hostile at any moment".
"Clearly, this is the most unsuitable climate for young children already suffering the horror of homelessness."
Gardaí have no training in how to deal with homeless people presenting to garda stations, O'Keefe said, and they "have to go on instinct".
"We can't get involved in the homeless crisis in the way other agencies can. What we can say is if homeless people come to us we will do our best to find them accommodation, though of course we are not the agency to do that," he said.
#Open journalism No news is bad news Support The Journal

Your contributions will help us continue to deliver the stories that are important to you

Support us now
O'Keefe described the current homeless crisis in Ireland as "a national shame".
Council reaction
Dublin Regional Homeless Executive said that on Wednesday night "an unprecedented number of families presented out-of-hours seeking emergency accommodation".
The Department of Housing said in a statement that "addressing homelessness is a priority for this government and we are absolutely committed to increasing the delivery of housing to ensure that we can deliver solutions for those experiencing homelessness".
Given the continuing number of families presenting to homeless services, as well as the continuing use of hotels, Minister Murphy commenced a Rapid Hub Programme in early January that will see additional family hub places added to the existing hubs.
The Department later added that Minister Murphy has spoken with DRHE and they have confirmed that they are reviewing the processes in place for those who present late at night in need of emergency accommodation.
"Emergency accommodation was available [on Wednesday night] but there is clearly urgent need for better communication between the DRHE, our Partner Organisations and State Agencies to ensure families can be accommodated at short notice when they present."
South Dublin County Council earlier said in a statement that families are assessed on a case-by-case basis at a homeless clinic.
"If homeless priority is granted, families would either be accommodated in a homeless home (where availability exists) or granted self-accommodation," the statement said.
Self-accommodation allows applicants to self-source hotel accommodation on a short-term basis, according to the council.
If a family cannot source hotel accommodation, a freephone number is supplied and families can access accommodation through the family intake team on a night-by-night basis.
"All efforts are made to ensure families have accommodation on a temporary basis until more permanent arrangements can be put in place."
Latest figures from the Department of Housing show that 9,872 people were in emergency accommodation during the week of 18-24 June, an increase of 26 people compared with the previous month.
The figure includes 6,048 adults and 3,824 children.
With reporting by Órla Ryan