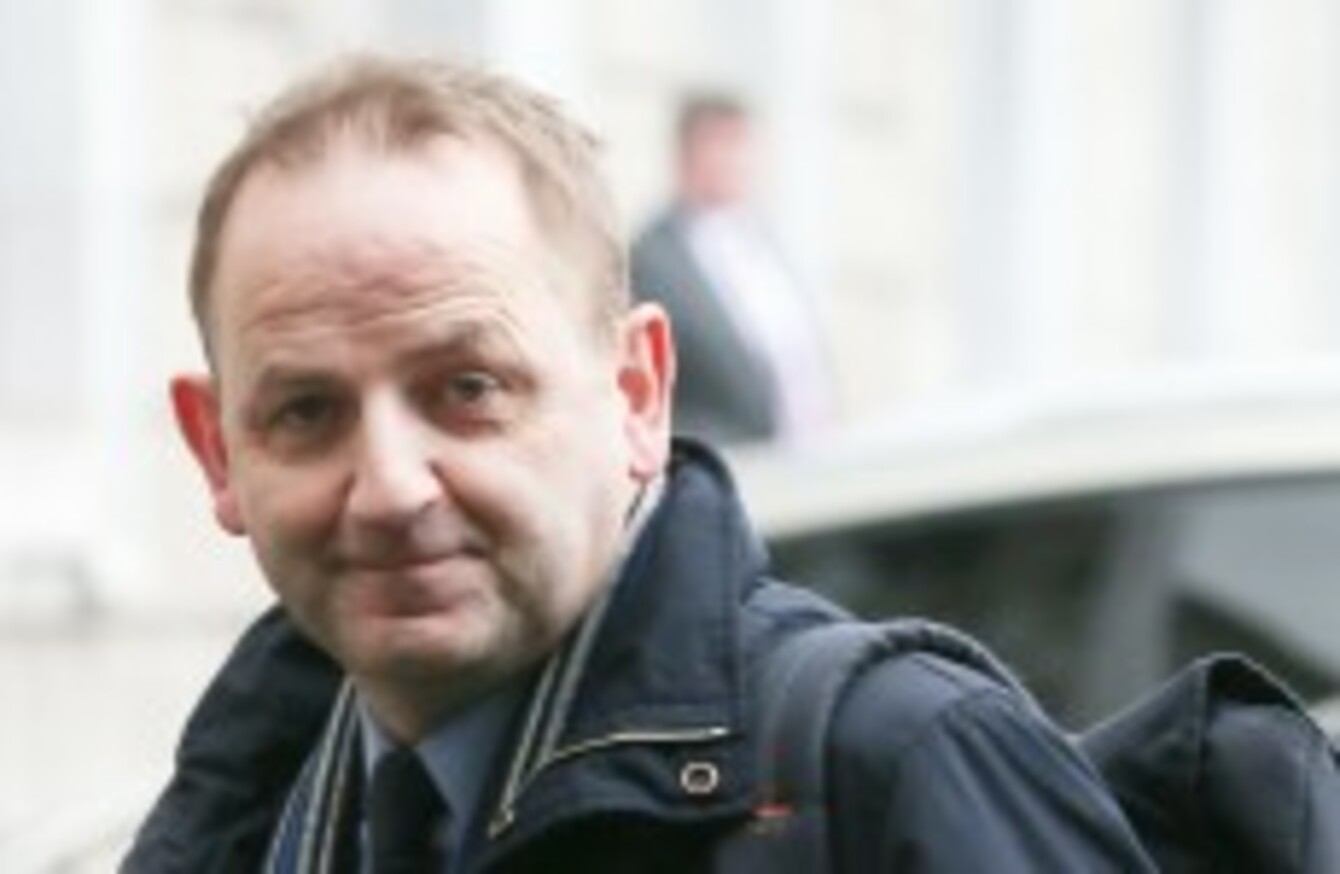 Maurice McCabe arriving at Leinster House today
Image: Laura Hutton/Photocall Ireland
Maurice McCabe arriving at Leinster House today
Image: Laura Hutton/Photocall Ireland
Updated 7.45pm
GARDA SERGEANT MAURICE McCabe gave nearly three hours of evidence to the Public Accounts Committee (PAC) this afternoon with members saying he gave comprehensive and credible account of his allegations in relation to alleged malpractice in the penalty points system.
McCabe wore his full garda uniform and appeared alone before TDs in private session to answer questions and outline his concerns while emphasising that the fixed charge notice system had been improved – as the Garda Commissioner claimed last week – as a result of concerns he had gone public with.
No specific cases were discussed with one member of the PAC saying "it was all in generalities". Another TD said they found him a "very credible witness" who was knowledgable about the fixed charge notice system and was not begrudging towards the gardaí.
"He kept saying he loved the guards," a third TD said, adding that the whistleblower outlined a "frustration with not being listened to".
In a statement issued after today's hearing, PAC chairman John McGuinness said: "No Garda officer was named, third parties who had tickets cancelled were not named, no instance was cited where a member of the force, a member of the public, or any outside body was accused of acting wrongly.
"The evidence of Sargent McCabe focused on his experience as a member of the Garda Siochána and the concerns he had around the penalty point system, which led him to give evidence. In that regard the evidence focused on the systems, practices and procedures of the penalty point system and patterns in the cancellation of points, as referenced in the C&AG report."
Despite the lack of specifics, members reported that McCabe was able to give a comprehensive account of the penalty points system, discussing "clusters of cases" without naming names.
The committee's legal advisor was present throughout the hearing and TDs asking questions were interrupted on a number of occasions for straying into what one member said was "a legal minefield".
McCabe indicated that he was happy to cooperate with and welcomed the Garda Ombudsman investigation – ordered by Justice Minister Alan Shatter this week – and believed it had come about as a result of him going public.
A transcript of proceedings will be made available to McCabe, a garda of nearly 30 years, if he requests it. But that transcript will not be made public unless the committee decides to do so, which is likely only if the whistleblower gives publication his blessing.
Earlier, a dispute between PAC members over the transcript issue became apparent during public session.
The committee was told that though an audio recording of the private hearing will be retained, it will not be made available to TDs. Independent Shane Ross and Sinn Féin's Mary Lou McDonald queried whether it would really make sense to keep an audio recording, but not a transcript.
But Fine Gael TD John Deasy said "we've finally entered the twilight zone" and claimed that "within half an hour" the proceedings of the private session will be with journalists. He described that situation as "absurd, absolutely absurd".
Speaking after hearing from McCabe this afternoon, one TD said it would be "completely unnecessary" if the transcript were to become public.
The committee will now consider the evidence it has heard today and whether to call further witnesses before it eventually writes its own report into the fixed charge notice system to be laid before the Dáil.
In a statement this evening, Transparency International's John Devitt said that McCabe's only motivation has been to see an end "to unlawful and unfair cancellation of penalty points" and "not to point fingers or level baseless accusations at anyone"
Devitt called for Garda Commissioner Martin Callinan to withdraw his "unhelpful comments on the whistleblowers and his previous threat of disciplinary action against Sergeant McCabe".
Last week Callinan did not rule out the possibility of disciplinary action being taken against the serving garda, who is based in Monaghan, and said that the way in which he and fellow whistleblower, former guard John Wilson, had publicised their claims was "quite disgusting".
'Clear and comprehensive'
Sinn Féin's Mary Lou McDonald TD described the evidence given by the Garda McCabe as "clear, comprehensive and helpful to the committee's investigation".
"It is now my strong view that a transcript of this afternoons hearing should be made public in consultation with Sergeant McCabe," said McDonald.
She added: "When investigating matters arising from the Comptroller and Auditor General's reports the committee regularly seeks oral evidence and the case of the Garda whistleblower is no different."
She also called for "no adverse action" to be taken against the garda whistleblower in his place of work.
- Additional reporting by Aoife Barry
- Originally posted 6.53pm