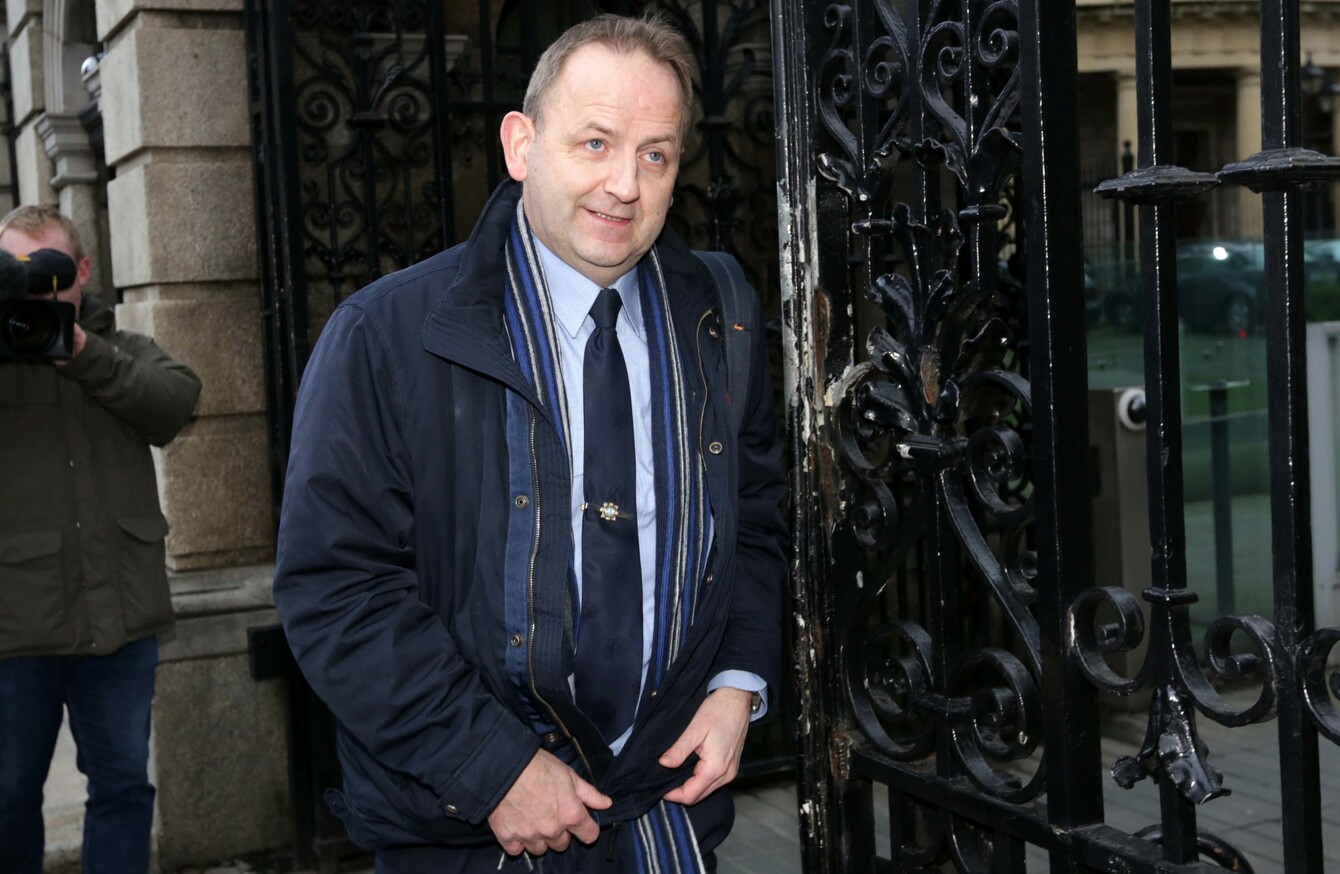 Image: Laura Hutton/RollingNews.ie
Image: Laura Hutton/RollingNews.ie
GARDA WHISTLEBLOWERS ARE back on the agenda today as the government this afternoon published a severely redacted version of a High Court judge's report into the latest whistleblower allegations miring An Garda Síochána.
Based on Iarfhlaith O'Neill's findings and recommendations, the Taoiseach approved a commission of investigation into the same. This will essentially be a more thorough review (however one that is less expensive and lengthy than a tribunal of inquiry of which Ireland is particularly familiar). Led by Supreme Court Justice Peter Charleton, it will have powers to compel witnesses to give evidence, to conduct searches and to take documents.
Since yesterday's announcement following a Cabinet meeting, there have been strong calls for Commissioner Nóirín O'Sullivan to stand aside until the fresh probe has been concluded.
So, what were the allegations and who made them?
The O'Neill report centres on allegations that a smear campaign against whistleblower Maurice McCabe was initiated by senior gardaí.
Former head of the garda press office Superintendent David Taylor made a protected disclosure last year alleging he took part in black propaganda after being ordered to discredit McCabe.
McCabe had himself previously made allegations that senior gardaí had tried to tarnish his reputation.
In October last year, O'Neill was appointed to review the allegations and report back to the minister with any recommendations.
And in an unexpected move today, Labour TD Brendan Howlin made use of his Dáil privilege to make serious allegations about how the Garda Commissioner treated a whistleblower.
What has the Garda Commissioner said about all of this?
Shortly after the announcement in October of O'Neill's probe, An Garda Síochána released a statement which said Nóirín O'Sullivan wanted to make it clear that she was not "privy to nor approved of any action designed to target any garda employee who may have made a protected disclosure and would condemn any such action".
More recently, she told RTÉ's Seán O'Rourke last month that she was "not aware of any campaign to discredit any individual".
I am constrained in what I can say. The whole concept of speaking up is relatively new to everyone. We've learned a lot of lessons. It takes great courage to speak up. It's a responsibility and a right that we all have. Those who have spoken up have done a service to An Garda Síochána.
What does the judge's report say?
Judge O'Neill reported back to the Minister before Christmas, but Frances Fitzgerald referred the findings to the Attorney General for advice.
It was finally presented to Cabinet yesterday where the decision was made to publish only the terms of reference, the conclusion and recommendations. This is because the allegations were made under the Protected Disclosure Act.
These three parts of the report were published by the Department of Justice this afternoon.
The conclusions and recommendations state that the seriousness of the allegations "means that it is imperative in the public interest that an inquiry is established immediately to ascertain the truth of falsity of these allegations".
#Open journalism No news is bad news Support The Journal

Your contributions will help us continue to deliver the stories that are important to you

Support us now
What happens next?
Under the terms of reference,  which set out what the Commission can look into, Supreme Court Justice Peter Charleton will investigate two specific allegations, and exactly what former Commissioner Martin Callinan and Noirín O'Sullivan knew about them:
Firstly, the protected disclosure made by Superintendent David Taylor on 30 September 2016 in which he alleged he was instructed or directed by Callinan and/or Nóirín O'Sullivan (who was Deputy Commissioner at the time) to maliciously brief the media about Sergeant Maurice McCabe and encourage them to write negative stories about him
Secondly, Superintendent Taylor's allegation that he was directed to draw journalists' attention to an allegation of criminal misconduct made against McCabe.
The Commission will investigate any contact that took place between members of the gardaí and the media about these allegations.
The Commission will examine all mobile phone records from David Taylor, Martin Callinan and Noirín O'Sullivan between 1 July 2012 and 31 May 2014 to look for any records relating to the allegations. It will also examine all electronic and paper files relating to Maurice McCabe held by An Garda Síochána.
The inquiry will also examine whether Noirín O'Sullivan leaked a specific negative story about Maurice McCabe to RTE. The terms of reference state that the Commission will:
…investigate whether Commissioner O'Sullivan using briefing material prepared in Garda Headquarters, planned and orchestrated broadcasts on RTE on 9 May 2016, purporting to be a leaked account of the unpublished O'Higgins Commission Report, in which Sergeant McCabe was branded a liar and irresponsible.
Finally, the Commission will look at whether a meeting took place between Martin Callinan when he was Garda Commissioner and TD John Mc Guinness in the carpark of Bewley's Hotel in Newlands Cross in Dublin on 24 January 2014, and if so why that meeting took place and what was discussed at it.
Tánaiste and Minister for Justice Frances Fitzgerald said this afternoon that the government will move to implement O'Neill's recommendations in full.
"It is important to emphasise that it was not in the nature of Mr Justice O'Neill's review to be able to establish the truth or otherwise of what has been alleged; nor could he or did he make findings against anyone," she said.
"Allegations of wrongdoing have to be investigated fairly and fully. That is what is now going to happen."