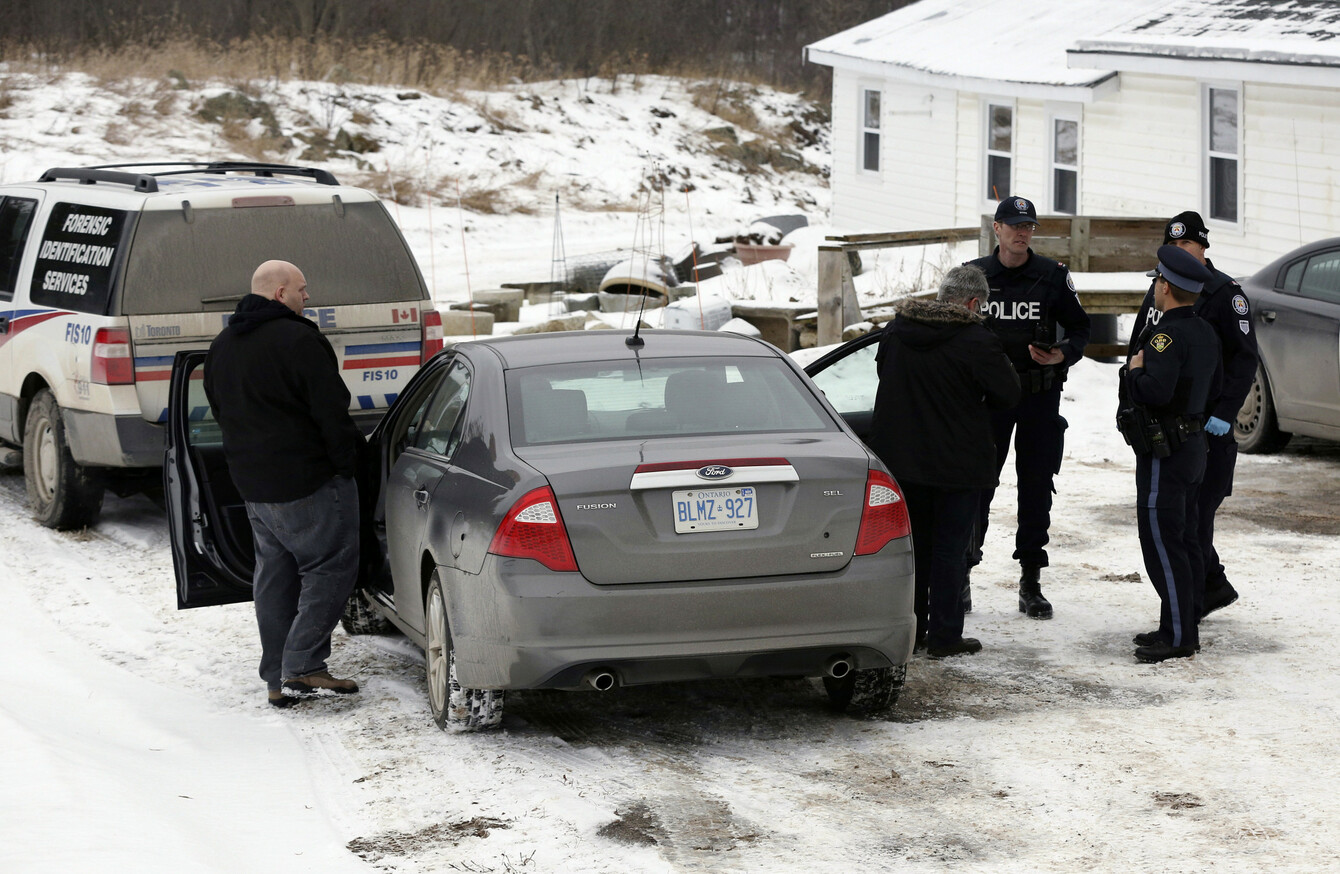 Police are combing through five properties, four in Toronto, one in Madoc, connected to Bruce McArthur
Image: Lars Hagberg via AP
Police are combing through five properties, four in Toronto, one in Madoc, connected to Bruce McArthur
Image: Lars Hagberg via AP
A LANDSCAPER CHARGED over the deaths of two Toronto gay men is a suspected serial killer, police have said, as they linked him to three additional victims and scoured sites around Canada's largest city for more remains.
Bruce McArthur, aged 66, was arrested earlier this month and charged yesterday with three additional premeditated murders after human remains were found "hidden in the bottom of [large] planters" at a property that he used for storage, Toronto police's lead investigator Sergeant Hank Idsinga said.
McArthur is an "alleged serial killer", he told a news conference, adding that authorities were searching some 30 properties in Toronto where McArthur worked.
Police are examining a dozen more planters from various locations across the city, and eyeing two properties for excavation "where people might be buried", Idsinga said.
"We believe there are more remains at some of the properties that we're working to recover," he said.
"We believe there are more [victims] but I have no idea how many more there are going to be."
DNA tests, meanwhile, are being performed on the dismembered skeletal remains found so far "and depending on the identification of the remains and further evidence that we uncover, we'll lay more charges", Idsinga said.
Other victims 
McArthur was arrested following an investigation into the disappearances last April and June of two men - Selim Esen, aged 44, and Andrew Kinsman, aged 49, respectively – from a predominantly LGBT neighbourhood in downtown Toronto.
He was also indicted yesterday in the deaths of Majeed Kayhan, aged 58, who went missing in 2012; Sorousk Mahmudi, aged 50, whose disappearance was reported almost three years ago, and 47-year-old Dean Lisowick, who was homeless and was believed to have been murdered in 2016 or 2017.
Two of the victims did not fit the profile of some of the others - men of Middle Eastern descent known to have frequented Toronto's LGBT village neighbourhood, suggesting the accused's crimes may extend beyond that district.
The investigation "certainly encompasses more than the gay community. It encompasses the city of Toronto", he said.
#Open journalism No news is bad news Support The Journal

Your contributions will help us continue to deliver the stories that are important to you

Support us now
McArthur, however, was known to have had a long-term sexual relationship with Kinsman, police said.
"We know that many in the community are struggling to understand and process these developments," Idsinga said.
Although McArthur had come under suspicion last September in connection with the disappearance of Kinsman, police rejected suggestions in December that a serial killer was prowling Toronto's LGBT neighbourhood.
In 2013, police said they believed Kayhan's disappearance may be connected to two other missing persons cases, those of Abdulbasir Faizi and Skandaraj Navaratnam.
McArthur was not charged in those disappearances, but the investigations remain open.
Authorities are now reviewing missing persons cases dating back to at least 2010, and asking anyone who employed McArthur to do garden work to come forward.