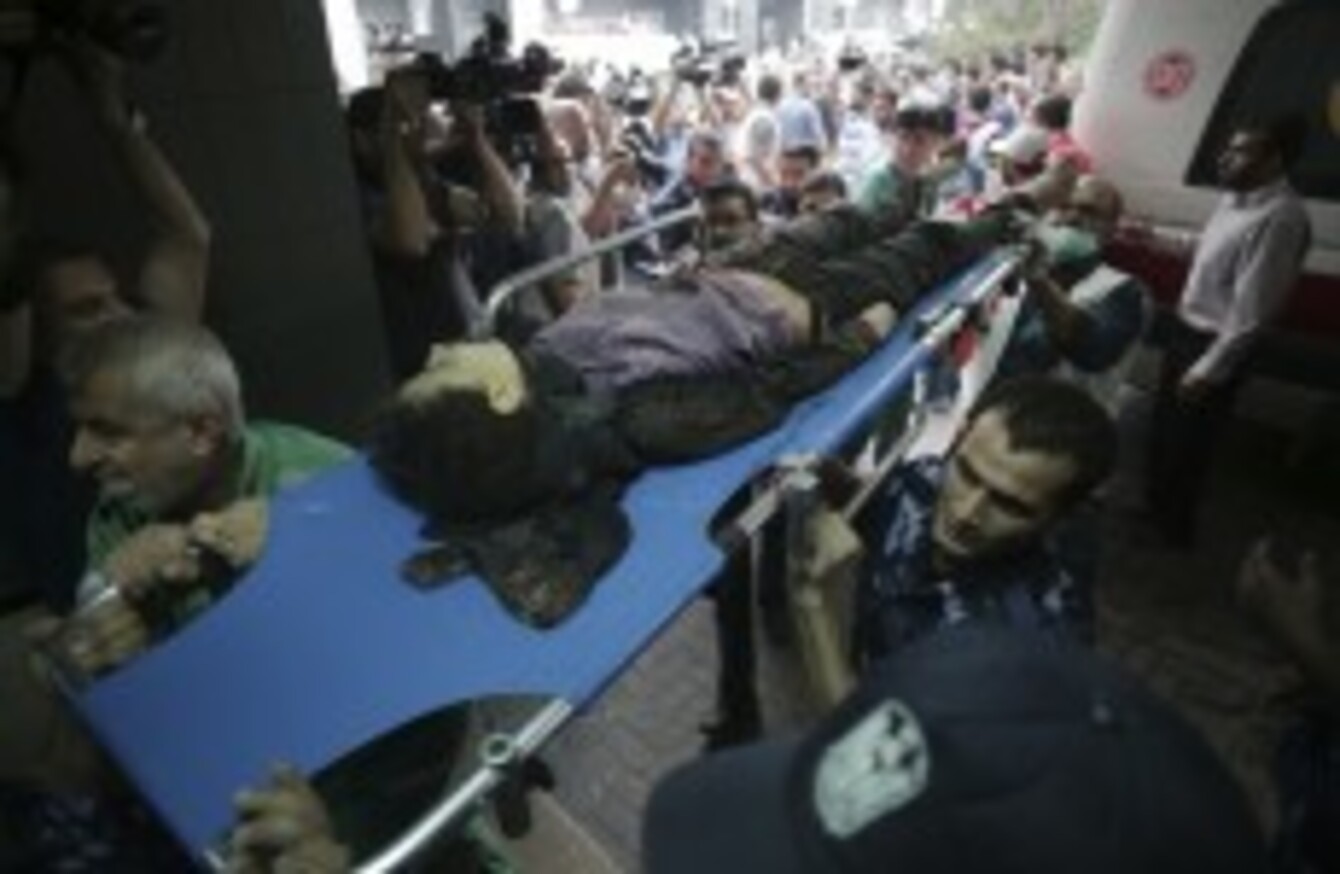 Image: AP/Press Association Images
Image: AP/Press Association Images
Updated 12.45 pm
A SHORT-LIVED humanitarian truce in Gaza's battered Shejaiya neighbourhood appeared to have collapsed this afternoon as the Israeli army accused Hamas militants of violating it and said it had "responded accordingly".
Israel agreed to observe an immediate two-hour humanitarian ceasefire in Gaza's Shejaiya neighbourhood, halting a blistering bombing campaign that killed dozens in the area this morning.
This morning's Israeli bombardments killed at least 50 people in Gaza on Sunday, medics said, as the army intensified a 13-day campaign against the besieged Palestinian territory.
"410 people have been killed since the war started and more than 3,020 people have been injured, most of them civilians," deputy health minister Yussef Abu Rish told reporters at Shifa hospital in Gaza City.
The vast majority of Sunday's dead were in the Shejaiya neighbourhood between Gaza City and the Israeli border, where more than 50 people were killed in a blistering bombardment which began overnight, medics said.
Heavy artillery shelling east of Gaza City early in the morning killed at least six people, emergency spokesman Ashraf al-Qudra said.
In one artillery hit in Shejaiya east of Gaza City, a woman, two children and the son of senior Hamas official Khalil al-Hayya were killed, Qudra told AFP.
Thousands of people fled the Shejaiya district early this morning, many of them on foot, after heavy shelling left casualties lying in the streets.
Ambulances were unable to reach much of the area along the border because of heavy fire, and emergency services told AFP there were reports of dead and wounded trapped by the bombardment.
Earlier, tank fire killed 56-year-old Hosni al-Absi in the southern city of Rafah.
An air strike in Rafah killed three young men, all brothers, and wounded 10 more people, Qudra said. Hours later, another strike in Rafah killed three people.
Shortly after that, a strike in the central Strip killed a 29-year-old man.
During Israel's operation to stamp out rocket fire from the besieged territory, some 1,333 rockets have hit Israel, with 360 intercepted by its Iron Dome defence system.
Israel's military has hit thousands of targets in the besieged coastal territory.
Five Israeli soldiers have been killed since the operation was launched on the army said.
Two Israeli civilians, including a Bedouin man, have died in cross-border fire.
Nearly 2,400 Palestinians have been wounded in the biggest confrontation in and around Gaza since Operation Cast Lead, a bloody 22-day offensive which ended in January 2009.
Gaza's health ministry said in a statement early Sunday that the Israeli artillery attack on Shejaiya had targeted ambulances trying to evacuate the wounded.