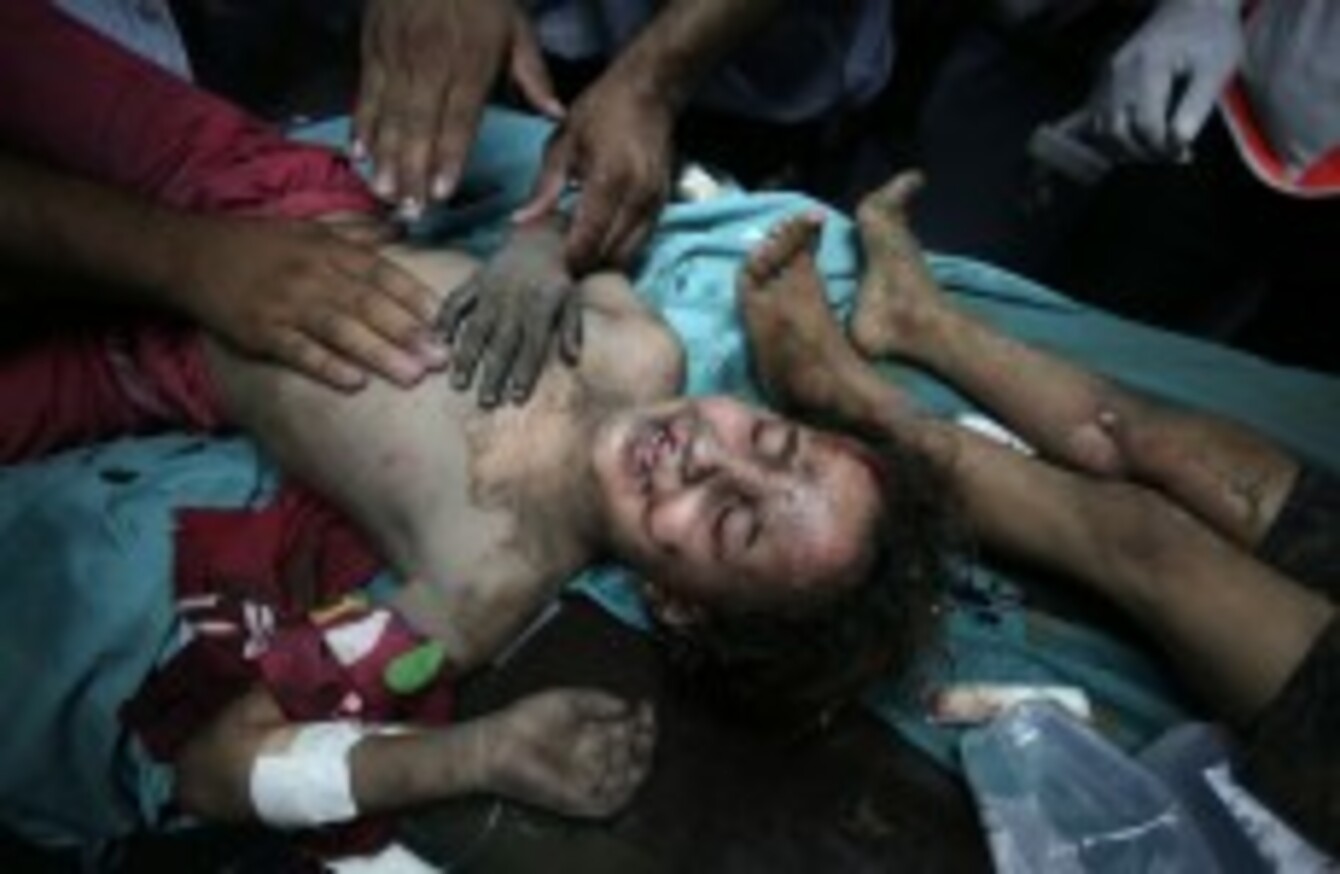 Palestinian medics comfort an injured girl at the Shifa hospital after an Israeli missile strike in Gaza City.
Image: AP/Press Association Images
Palestinian medics comfort an injured girl at the Shifa hospital after an Israeli missile strike in Gaza City.
Image: AP/Press Association Images
MINISTER FOR FOREIGN Affairs Eamon Gilmore says that he is "gravely concerned" by the escalating violence in the Middle-East and has warned Irish citizens in the region.
The outgoing minister says that he 'equally condemns' both rocket attacks from Gaza towards Israel and air strikes by the Israeli military, adding that "Irish citizens in Israel or the Occupied Territories should exercise extreme caution":
I am gravely concerned at the escalating violence and civilian casualties which we are now witnessing on the ground in Gaza and Israel, following Israel's launch of a major air offensive against Hamas targets in Gaza in response to continued large-scale firing of rockets by Hamas and other Islamic militants against Israel.
"I condemn unreservedly the indiscriminate firing of rockets into Israel which pose such a grave threat to the population. I equally condemn the mounting civilian casualties, including reportedly women and children, resulting from Israeli air strikes against Gaza."
The Department of Foreign affairs say that they are working with their missions in Tel Aviv and Ramallah and are recommending any Irish citizens in the region to register with them.
Gilmore said that he understands that the Egyptian Government has begun mediation between the two sides and has pledged his support to these efforts.
This afternoon, however, Egypt has sought to play down it's tentative steps towards mediation.
Egypt, which has a 1979 peace treaty with Israel, played a key role in mediating ceasefires in past wars between Hamas and the Jewish state.
But it has signalled a more hands-off approach in the latest conflict, which comes at a time of mounting tensions between the new government in Cairo and Hamas.
"There is no mediation, in the common sense of the word," said Egyptian foreign ministry spokesman Badr Abdelatty."Egyptian diplomatic efforts are aimed at immediately stopping Israeli aggression and ending all mutual violence. (Egyptian) contacts have not yet achieved a result."
A senior Hamas official pledged that militants would not "surrender" in the face of the latest air strikes.
"There are no ceasefire talks, in the conventional sense. There are ongoing contacts. The Israelis are not interested in mediation, they are looking for surrender," said Osama Hamdan, who is based in Beirut.
"The situation will clear up in the coming hours. We will respond to this escalation, and Israel might be convinced that the escalation does not help them."
The death toll in Gaza after two days of Israeli air strikes climbed to more than 40 on Wednesday, emergency services said.
Israel says its air strikes are in retaliation for more than 100 rockets fired into the country by Hamas and other Islamist militants based in the coastal enclave.
Additional reporting by © – AFP 2014