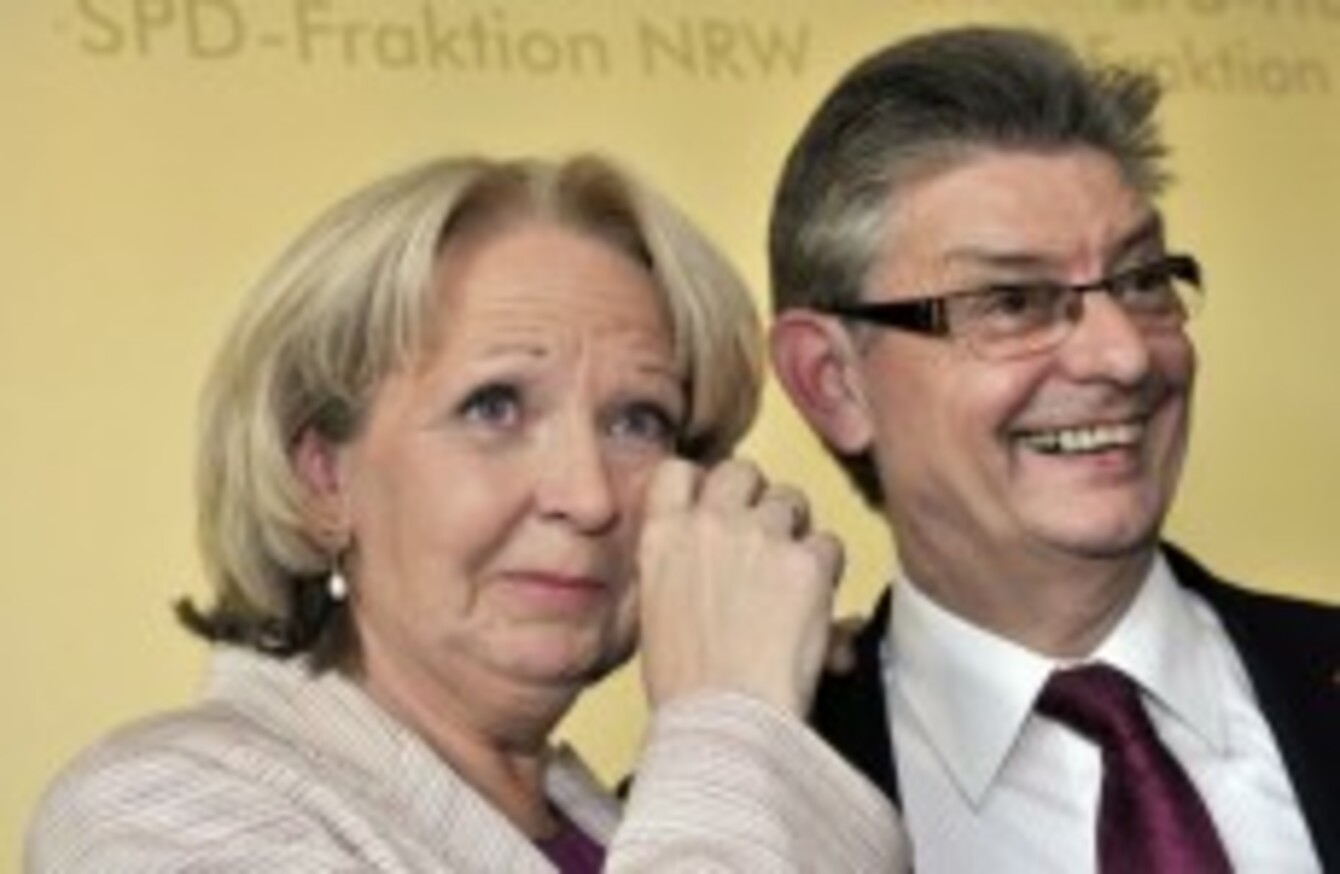 The anti-Merkel? NRW Governor Hannelore Kraft after winning the election in NRW
Image: Martin Meissner/AP/Press Association Images
The anti-Merkel? NRW Governor Hannelore Kraft after winning the election in NRW
Image: Martin Meissner/AP/Press Association Images
CHANCELLOR ANGELA MERKEL'S party suffered an embarrassing defeat in an election in Germany's largest (by population) state yesterday.
The win for the opposition party, the Social Democrats (SPD), in North Rhine-Westphalia will likely bolster its status at home as austerity measures continue to infuriate people across Europe.
Seen as the leader of the austerity charge, Merkel's conservative party now heads towards national elections next year with a floundering support base. Deutsche Welle has said that the leader of the SPD, Hannelore Kraft, is now "an obvious rival" to Merkel.
Support for Merkel's party plunged to 26.3 per cent from 34.6 per cent in 2010, its worst showing in the state since World War II. Kraft beat the Christian Democrat leader in the state Norbert Roettgen. He is also the federal environment minister.
"The defeat is bitter, it is clear and it really hurts," Roettgen said minutes after polls closed, announcing that he would give up the leadership of the Christian Democrats' local branch. "This is, above all, my personal defeat."
Meanwhile, the opposition party's general secretary, Andrea Nahles, proclaimed on ARD television: "The likelihood has become significantly greater that the next chancellor will be a Social Democrat."
However, Merkel's minority partners in government, Free Democrats, performed well with 8.6 per cent.
Although Roettgen had placed more importance on Sunday's elections in terms of Germany's national and Europe-wide pro-austerity measures, Merkel had dismissed suggestions that it weakened her course in Europe.
It is an important state election – "no more and no less" – she said.
Sunday's election was the third state-level vote this year. It came a week after a regional coalition of Merkel's conservative Christian Democrats and the pro-market Free Democrats — the parties that make up the national government — lost power in the northern state of Schleswig-Holstein.
It also follows setbacks for Merkel's austerity-led response to the eurozone debt crisis in French and Greek elections.
However, Merkel's own popularity ratings remain high and current national polls show her conservatives as the biggest party. However, they forecast a parliamentary majority neither for her centre-right coalition nor for the Social Democrats and Greens, who ran Germany from 1998 to 2005.
That suggests that Merkel can hope to hold on to power when the national election comes, though perhaps with a new coalition partner.
-Additional reporting by AP