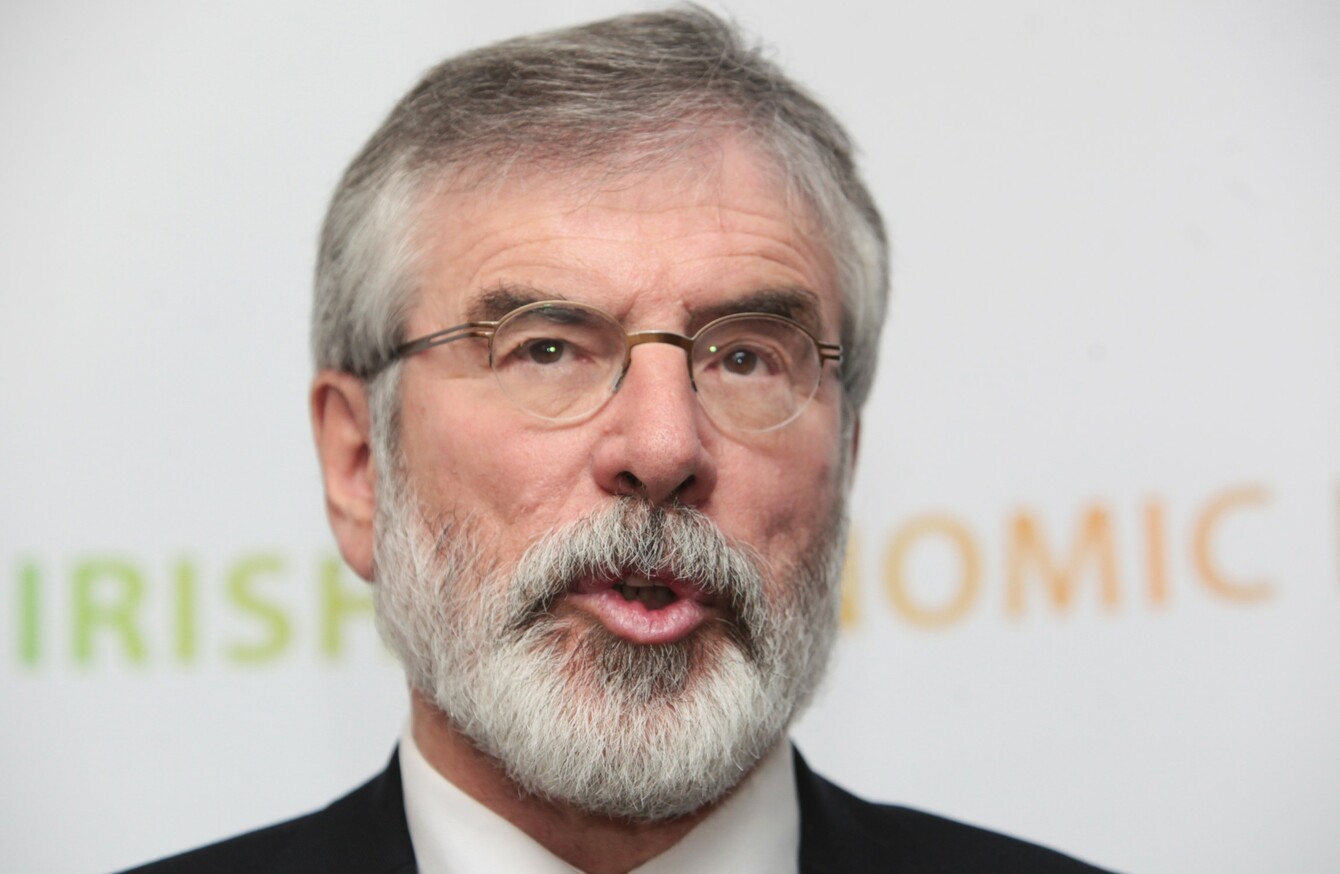 Updated 1.45pm 
GERRY ADAMS IS standing by his comments about Thomas 'Slab' Murphy and has accused one of his critics of being "hysterical".
In media interviews today, Adams has again criticised the use of the jury-less Special Criminal Court to convict Murphy, a prominent republican.
Murphy (66), of Ballybinaby, Hackballscross, Co Louth was found guilty of not paying income tax for nine years. He is due to be sentenced in February.
Adams said that Murphy remained a "good republican" and that he was "denied the right to be tried before a jury of his peers".
His comments led to both Micheál Martin and Alan Shatter claiming that Sinn Féin were 'unfit for government' with the latter claiming that the party wanted to give "impunity to terrorists". This morning, Adams said he doesn't take Martin or Shatter seriously.
Speaking this morning on the Michael Reade show on LMFM, the Sinn Féin leader described Martin as "a merchant of negative spin" and accused rival political parties of being "jealous of Sinn Féin's position".
'No credibility' 
But Adams says that he gives no credibility to Shatter on the issue:
This is the Minister for Justice who had to resign. He resigned at the same time as the garda commissioner, he resigned at the same time the special investigator had to resign. I don't take him seriously on this issue whatsoever.
"He, as a lawyer, should know that the basis of any law in a democratic society is a citizen's right to be heard by a jury of his or her peers."
Adams had similarly dismissive words for Martin, describing him as "a merchant of negative spin" whose attacks are politically motivated.
#Open journalism No news is bad news Support The Journal

Your contributions will help us continue to deliver the stories that are important to you

Support us now
"I don't believe that he actually believes most of what he says about me and Sinn Féin," Adams said.
Speaking later to Aine Lawlor on the RTÉ's News at One, Adams accused Martin of being "hysterical" in his response. He added:
Look at all the people from Fianna Fáil and from Fine Gael who have been arrested and charged with tax offences, they were given their rights. They, as they went to trial, were able to go before their peers.
'Jealous'
Adams also told LMFM that Fine Gael and Fianna Fáil are jealous of Sinn Féin's organisation across the 32 counties:
They're jealous of Sinn Féin's successes, in the one hand in the north and the consistency of our position in arguing for a united Ireland. And also arguing for a new republic and standing opposed to the terrible anti-citizen stance of Fianna Fáil, Fine Gael and Labour.
The Sinn Féin leader was also asked about his stance on the Special Criminal Court, saying that it is right that systems are questioned by politicians:
"One can be, and should be, critical of many aspects of any system because that's how you get the most vigorous, ongoing and transparent centred democracy that you can get. Do I have to swallow the entire baggage of the State, which is dependant on draconian legislation like the Offences Against the State Act?"
Speaking to RTÉ's News at One, Labour party minister Alex White said Sinn Féin has a "persecution complex". He said the party is in favour of the rule of law "but when a case like this comes along it's a different story".
It's no use a politician, and somebody who aspires to office in this state, stating because somebody is one of their own and a friend, and a good republican, that for that reason he claims he's been treated unfairly.
- additional reporting from Hugh O'Connell