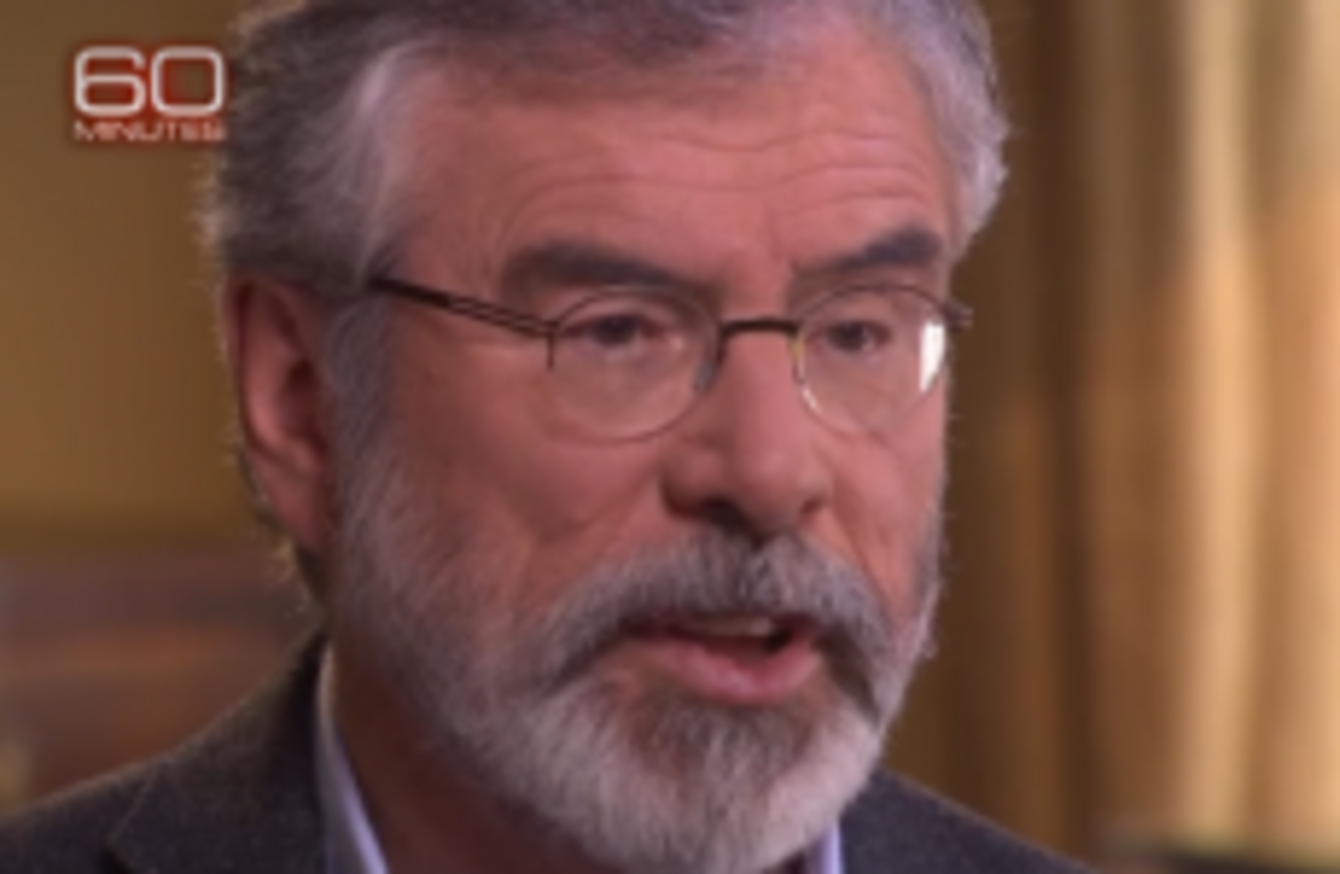 SINN FÉIN PRESIDENT Gerry Adams has told American television station CBS that he never pulled a trigger, ordered a murder or set off a bomb during The Troubles.
In a preview for Sunday's 60 Minutes programme, Adams discusses accusations that he was involved in the kidnap, murder and disappearance of mother-of-10 Jean McConville.
He tells presenter Scott Pelley about his recent arrest and four-day detention over the matter following the release of the Boston College tapes to the PSNI.
"To be quite honest I was sick, sore and tired of a tsunami of stories based on these tapes linking me to Mrs McConville's death," he says.
"So I contacted the police and said, 'Look you want to talk to me, I'm here to talk.'
"They said that I was a senior member of the IRA at managerial level so I'm bound to have know."
"And you told them what?" returns Pelley.
I told them I didn't.
"The disappearance of Jean McConville was a surprise to you?" the presenter then asks.
"I didn't know. Yes, absolutely.
"And you're saying you didn't know?"
Yes.
Then a kicker from Pelley: "How do you orphan 10 children? What kind of depravity is that?"
That's what happens in war, Scott. That's not to minimise it. That's what American soldiers do, British soldiers do, Irish Republican soldiers do. That's what happens in every single conflict.
The interview is set to broadcast on Sunday evening.
In its preview, CBS notes that Adams "could be the Republic of Ireland's prime minister some day" so is careful in his answers to questions about IRA affiliation.
He tells Pelley he never pulled a trigger, ordered a murder or set off a bomb during the decades-long war in Northern Ireland "that he helped to stop in 1998″.
"I don't disassociate myself from the IRA," says Adams during the interview. "I think the IRA was a legitimate response to what was happening here. I never will [disassociate himself from the IRA]. But I was not a member of the IRA."
Fame in the US
Adams is a well-known face in the US and has been receiving some attention of late.
Last month, AFP reported that some people questioned Hillary Clinton's appearance with him given recent abuse claims within the Republican movement and a New Yorker profile on his alleged connection with the IRA.
That piece, entitled 'Where the bodies are buried', began with the story of Jean McConville which it described as "one of the worst atrocities that occurred during the long conflict".