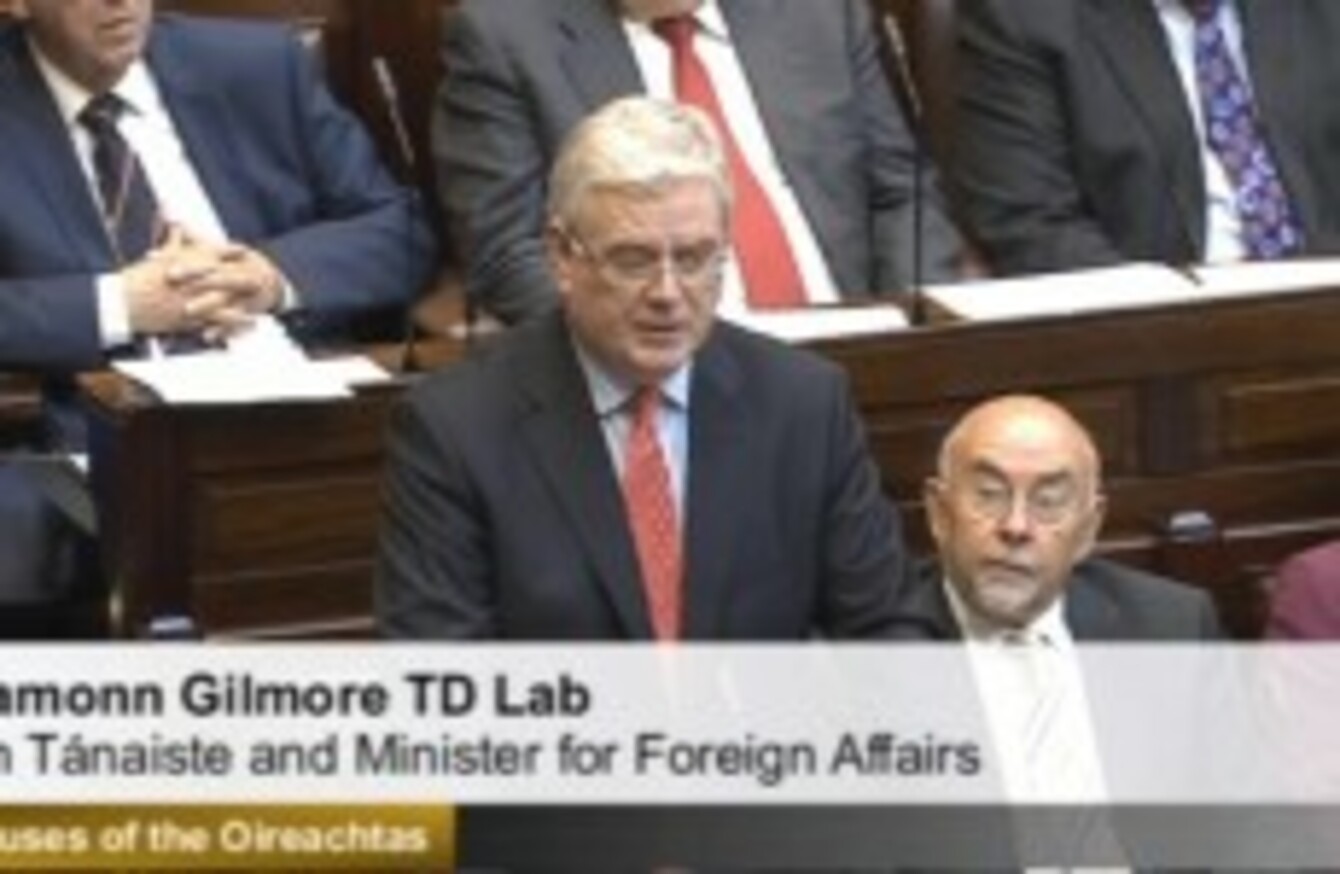 Tánaiste Eamon Gilmore speaking in the Dáil this morning
Image: Screengrab
Tánaiste Eamon Gilmore speaking in the Dáil this morning
Image: Screengrab
TÁNAISTE EAMON GILMORE has insisted that nobody will be excluded from the new insolvency process.
Speaking in the Dáil this morning, Gilmore said "exorbitant fees or attitudes by banks or professionals" will not bar anyone from taking part in the process.
The new Insolvency Service of Ireland opened last week but concerns have been raised about fees charged by Personal Insolvency Practitioners (PIPs) and that some in mortgage distress will not qualify for the process.
The issue was raised by the Sinn Féin TD Mary Lou McDonald who asked that Gilmore guarantee that no family will be denied access to a PIP because of inability to pay upfront fees of between €5,000 and €7,000.
Gilmore insisted: "The reason that we introduced the legislation, the reason we established the Personal Insolvency Service, the reason we put in place the various methods for non-judicial debt settlement is so that mortgage problems and arrears problems will be resolved."
He insisted that nobody is going to be barred from the process which he said has to be done an individual, case-by-case basis.
"We don't want any issue of arrogance, we want this problem resolved," he said.
SNAs and medical cards
Gilmore also said that the process of resolving the Priory Hall debacle has got under way this morning and said he hoped "there will be a resolution within a short period of time".
Earlier Fianna Fáil leader Micheál Martin asked Gilmore about the need for advocacy for children in the process of obtaining Special Needs Assistants, highlighting the case of five-year-old Kate Crowley, a severely disabled child, who was denied an SNA.
Gilmore said that the Minister for Education Ruairí Quinn was not aware of the issue but would examine the case and will respond to it. Martin said he was surprised that Quinn is not aware of it given he had written to the Department of Education.
The Tánaiste also denied that there was a targeting of medical card holders after independent TD Seamus Healy asked: "When will you government stop terrorising elderly people and sick across the country?"
Healy said that the HSE was "punishing and hounding elderly people" by carrying out the review of the medical card statuses.
Gilmore insisted: "There are more people today with medical cards than at anytime in the history of the State."
He accused Healy of raising the issue to "make a political point and a political charge against the government".