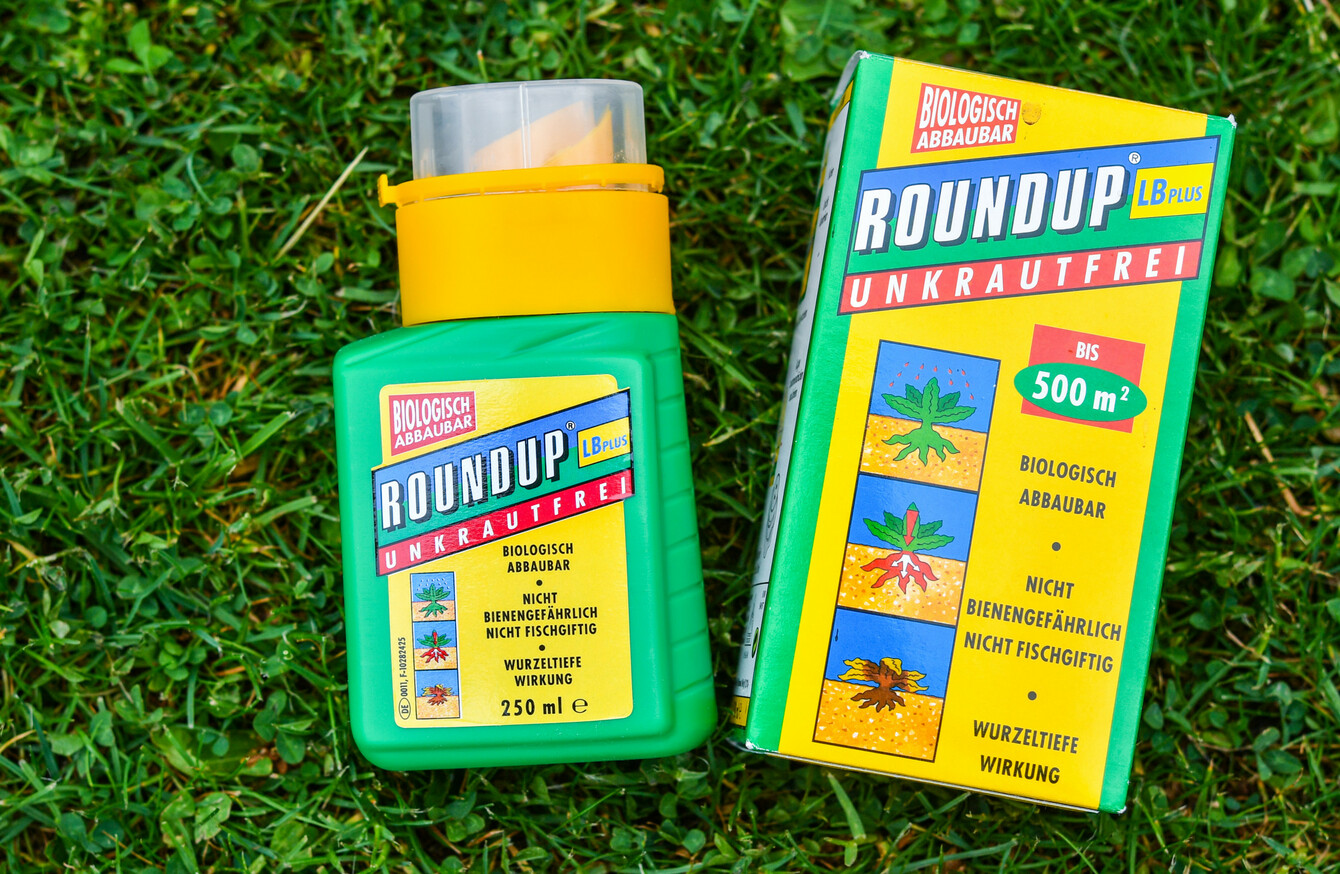 Image: DPA/PA Images
Image: DPA/PA Images
A LEADING ENVIRONMENTAL scientist has challenged the manufacturers of a pesticide to prove its safety.
The row over the renewal of the licence for glyphosate, sold commonly as Roundup, hit a major deadlock in Europe last week amid concerns over its safety.
On Thursday, the European Commission fell short of the majority needed to renew the licence for five years when it expires on 15 December, as only half of the 28 member states voted for its proposal. Ireland was one of those who voted in favour of renewal.
The weedkiller deadlock in the EU has dragged on since June 2016, when its previous 15-year licence expired, and an 18-month extension was granted.
Thursday's vote failed to pass when experts from nine countries, including France, Belgium and Italy opposed renewal and experts from another five countries abstained.
Fourteen states voted for the proposal, including Ireland, Denmark, Britain and the Netherlands.
Irish farmers argue that the weedkiller is the only thing that makes the growing of winter cereals viable and has been used since 1973 without incident.
Activists point to a 2015 study by the World Health Organisation's (WHO) International Agency for Research on Cancer that concluded it was "probably carcinogenic".
But the European Food Safety Authority and the European Chemicals Agency both say glyphosate is unlikely to cause cancer in humans, in line with a 2016 review carried out by WHO experts and the UN Food and Agriculture Organisation.
Manufacturer Monsanto has always insisted glyphosate meets the standards required to renew its European licence.

Prove it
However, Dr Cara Augustenborg of Friends of the Earth says that if the product is safe, its manufacturer should show that it is.
She told TheJournal.ie that the concerns raised over the product mean that it should be pulled from shelves.
She pointed to studies which show its prevalence in bread and other foods and said that if there is a question over its safety, the product should not be used in the foodchain. She also points out that its use has been linked to a major decline in bee populations.
"What we do know is that it kills pretty much any plant it comes in contact with. It kills the food for very important animals in the food chain.
"A UK study said that it was in 60% of bread over there and it's probably the same in Ireland.
"This is a troubling finding. We're not sure if it's safe.
The rule is prove to us that it's safe – and that hasn't been done.
I understand that farmers started using it thinking it's safe, but we now have a massive problem with it.
The chairperson of the Irish Farmers Association's National Grain Committee, Liam Dunne, said that farmers feel much of the criticism comes down to Monsanto itself.
The giant agricultural company has long been viewed with suspicion by environmentalists.
Earlier this year a US firm urge the EU to examine claims Monsanto had hidden the dangers of its weedkiller.
#Open journalism No news is bad news Support The Journal

Your contributions will help us continue to deliver the stories that are important to you

Support us now
The letter charged that Monsanto has been "ghostwriting scientific literature designed to make glyphosate look safe, bullying scientists that publish anything negative about their billion-dollar product, and colluding with regulators to ensure 'positive' assessments".
This is a charge echoed by Augustenborg.
Dunne, however, says that while Irish farmers have had problems with its manufacturer, glyphosate remains an important product.
The logic we see is that people are looking to hit Monsanto in another way (after battles over genetically modified crops).
"But there is no replacement for glyphosate. It knocks grassweeds on the head very seriously and, without it, winter cereals in Ireland would be off the agenda."
Dunne said that while a certain formulation of Roundup had carcinogen concerns, it is not the type used by farmers. He said that farmers are not ignoring concerns over the product, but said that
If there's a problem, we want to know, but if not this thing is too important to us not to use it.
"Some politicians want to use a precautionary principle, but that's a recipe for not getting up in the morning."
The Department of Agriculture has not responded to a request for comment on glyphosate.
The Department was asked:
Why Ireland backed a proposal to renew the licence?
Is the Department satisfied the product is safe?
Has the Department received any representation on the issue from Monsanto?
A spokesperson for Monsanto did not respond to a request for comment.