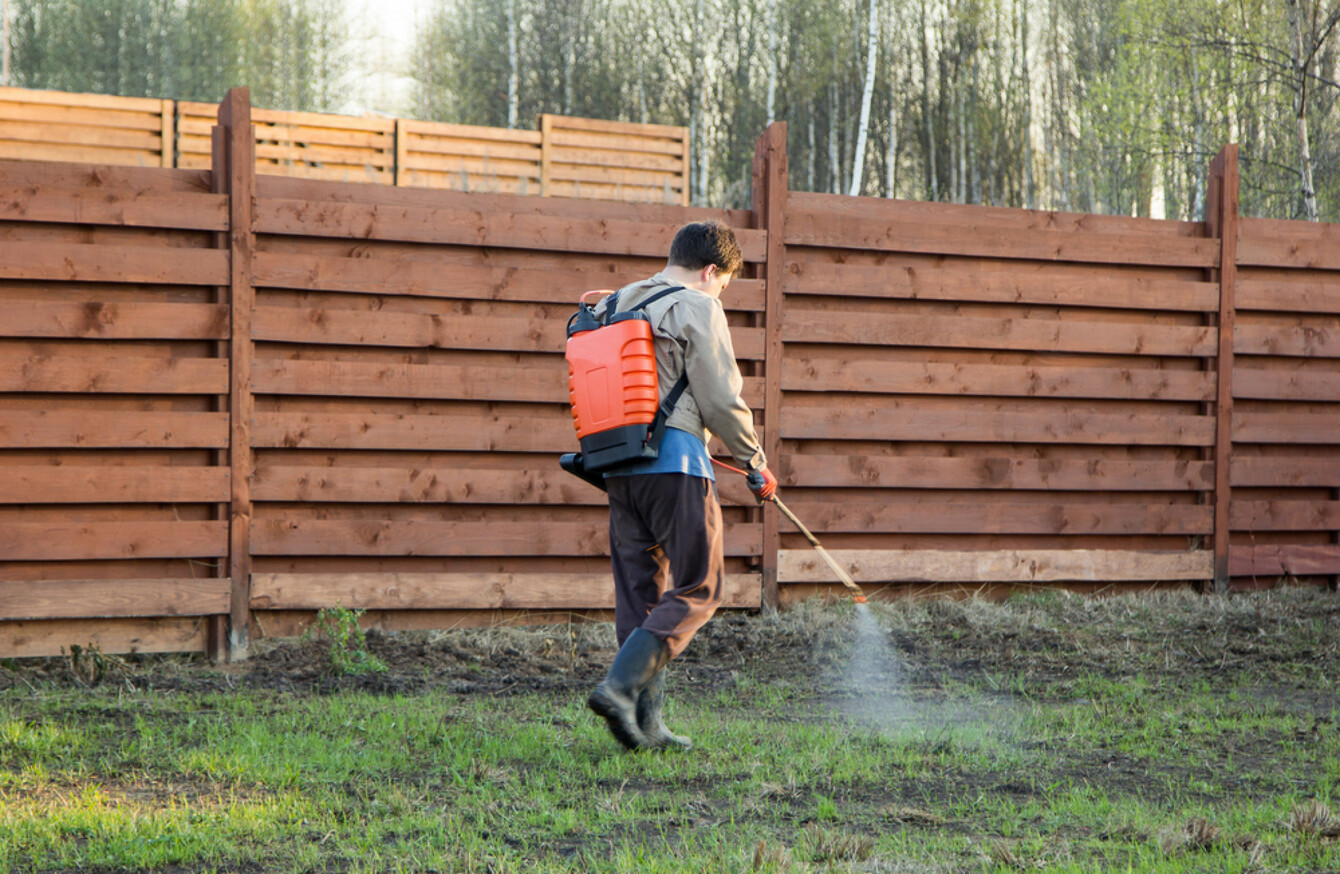 Dublin City Council and its agents use several different herbicide products which contain glyphosate.
Dublin City Council and its agents use several different herbicide products which contain glyphosate.
DUBLIN CITY COUNCIL has announced it will trial alternatives to the use of glyphosate as a weedkiller on streets and in parks in Dublin.
A 2015 study by the World Health Organisation's (WHO) International Agency for Research on Cancer found that the herbicide glyphosate was classified as probably carcinogenic to humans, with a Group 2A classification.
Group 2A means that the agent probably has the potential to cause cancer in humans.
This category is used when there is limited evidence of carcinogenicity in humans and sufficient evidence of carcinogenicity in experimental animals.
You can have a read of the full 2015 report here. 
Information supplied by DCC to the Green Party says that three alternatives will be trialled this year in selected areas.
The alternative methods include; mechanical weed control using spades and shovels,  a hot foam known as 'Foamstream' with no chemicals that kills the weed and a method known as 'New way' spray which uses vinegar.
Greentown Environmental Ltd will carry out the tests.
Green Party Councillor, Ciaran Cuffe has welcomed the move away from the herbicide, Roundup, introduced in 1974 by US agro-giant Monsanto.
I am pleased that Dublin City Council's Parks Department is moving forward to trialling new methods of weed control. Parents don't want to see Roundup used in proximity to where their children play, and I hope that these trials will allow us to choose an alternative method of weed control."
Queries from Cllr Cuffe in 2015 found that DCC and its agents use several different herbicide products which contain glyphosate.
These include Round-Up, Nomix Dual, Nomix Hilite, Glyfos, Pistol, Rifle, and Destrol Amenity.
In 2014 DCC used a total of 3458 litres of glyphosate herbicides.
Housing and Residential services recorded a use of 1,125 litres while the Recreation and Amenity Department used 1,933 litres.
#Open journalism No news is bad news Support The Journal

Your contributions will help us continue to deliver the stories that are important to you

Support us now
 Five-year licence extension from the EU
In November 2017, EU states renewed the licence for the controversial weedkiller for another five years.
When its previous 15-year licence expired, an 18-month extension was granted while a deadlock in the EU dragged from June 2016, until Germany dropped its opposition to the pesticide.
Manufacturer Monsanto has always insisted glyphosate meets the standards required to renew its European licence.
But many environmentalists have said the manufacturer has never proven the pesticide's safety. 
Irish farmers argue that the weedkiller is the only thing that makes the growing of winter cereals viable and has been used since 1973 without incident.
When the decision to renew the licence was announced the President of the Irish Farmers Association Joe Healy said that it was an important reality check for science.
Glyphosate is an integral part of the modern farming practice in both tillage and grassland production. It is a key arable crop management tool that allows farmers to produce an abundance of safe, affordable, quality food. Its judicious use allows us to adopt minimum tillage practices, thus preventing soil erosion and reducing greenhouse gas emissions from the sector".
The European Food Safety Authority and the European Chemicals Agency both say glyphosate is unlikely to cause cancer in humans, in line with a 2016 review carried out by WHO experts and the UN Food and Agriculture Organisation.