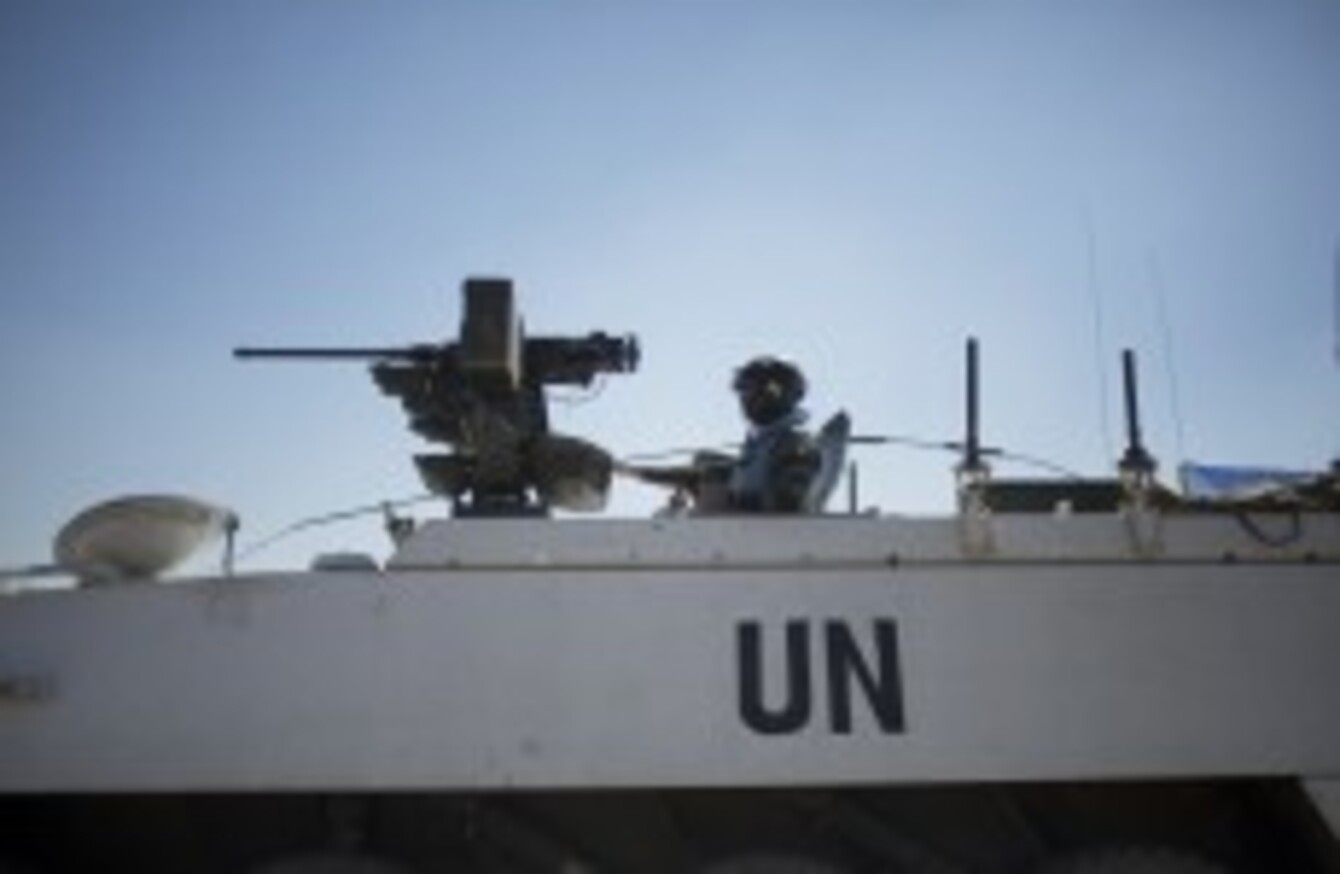 Armored vehicles from UNDOF in the Golan Heights this week.
Image: AP/Press Association Images - File photo
Armored vehicles from UNDOF in the Golan Heights this week.
Image: AP/Press Association Images - File photo
UN PEACEKEEPERS CAUGHT up in heavy fighting on the Golan Heights were evacuated today by Irish troops, as the fate of more than 110 of their colleagues captured by Syrian rebels remained uncertain.
An AFP photographer heard intense small arms and missile fire in the buffer zone separating the Israeli-occupied part of the strategic plateau and the Syrian part, where soldiers with the UN Disengagement Observer Force (UNDOF) are being held.
Irish soldiers with UNDOF, which is responsible for ensuring the maintenance of the armistice line between Israel and Syria, took part in an evacuation of UN troops during today's fighting, the Defence Forces said in a statement.
"In the early hours of Saturday 30 August members of the Irish 44th Infantry Group successfully conducted an operation to extract United Nations Disengagement Observation Force (UNDOF) troops from a UN Position that was compromised by Armed Elements in the Zone of Separation," the statement said.
Irish personnel "deployed to the position, secured a withdrawal route, and escorted the troops to a reinforced UN position".
"In light of ongoing operations the 44th Infantry Group remain on high alert, prepared for further taskings from the Force Commander," the statement continued.
All Defence Forces personnel and equipment remain safe and accounted for.
Metal boards in the shape of gunmen sit on an old bunker at an observation point on Mt. Bental in the Israeli controlled Golan Heights
The Israeli military has cordoned off the area and reinforced its troops, an AFP photographer said.
Several peacekeepers, whose nationality was not clear, were seen hurriedly leaving the area where the fighting is taking place via an Israeli-controlled crossing south of Quneitra.
Speaking on condition of anonymity, UN soldiers said part of the encircled Filipino contingent had been brought out and that others were no longer in rebel hands but awaiting better security conditions so they could enter the Israeli-controlled part of the plateau.
In Manila, Philippines Defence Minister Voltaire Gazmin said earlier today that UN peacekeepers had clashed with Syrian rebels.
Gazmin said in an texted statement to reporters that the Filipino troops had been "extricated" from one of their two positions but added that another group of Filipino soldiers "is now under attack".
The peacekeepers numbering 72 were besieged by rebels on Thursday but defied demands that they give up their weapons.
Rebels, including some linked to Al-Qaeda's Syria affiliate, Al-Nusra Front, also took hostage 44 Fijian peacekeepers, the UN has said.
A UN statement yesterday said the world body "has received assurances from credible sources" that the Fijians "are safe and in good health" although their mission has had no contact with them.
But a senior Fijian military official told reporters in Suva today that their location was unknown.
"Their whereabouts at this stage, unfortunately, I cannot confirm," Brigadier Mosese Tikoitoga said after speaking to the head of the UN team negotiating for their release.
"They confirmed that our men are safe and they are all well. (But) they have been moved to a location out of the bombardment range of any security forces or the Syrian security forces.
"It is out of the UN territory. But again it's the word of the group. We've got no verification whatsoever, no communication but we're only relaying the message that was delivered to us by the negotiators."
A member of the Defence Forces 44th Infantry Group during a training exercise in the Glen of Imaal, Wicklow, ahead of being deployed to the Golan Heights, back in February.
There are currently 1,200 peacekeepers serving in UNDOF from the Philippines, Fiji, India, Ireland, Nepal and the Netherlands.
UNDOF has been tasked with monitoring a ceasefire between Syria and Israel since 1974.
- © AFP, 2014 with reporting by Daragh Brophy. First posted at 7.30pm.