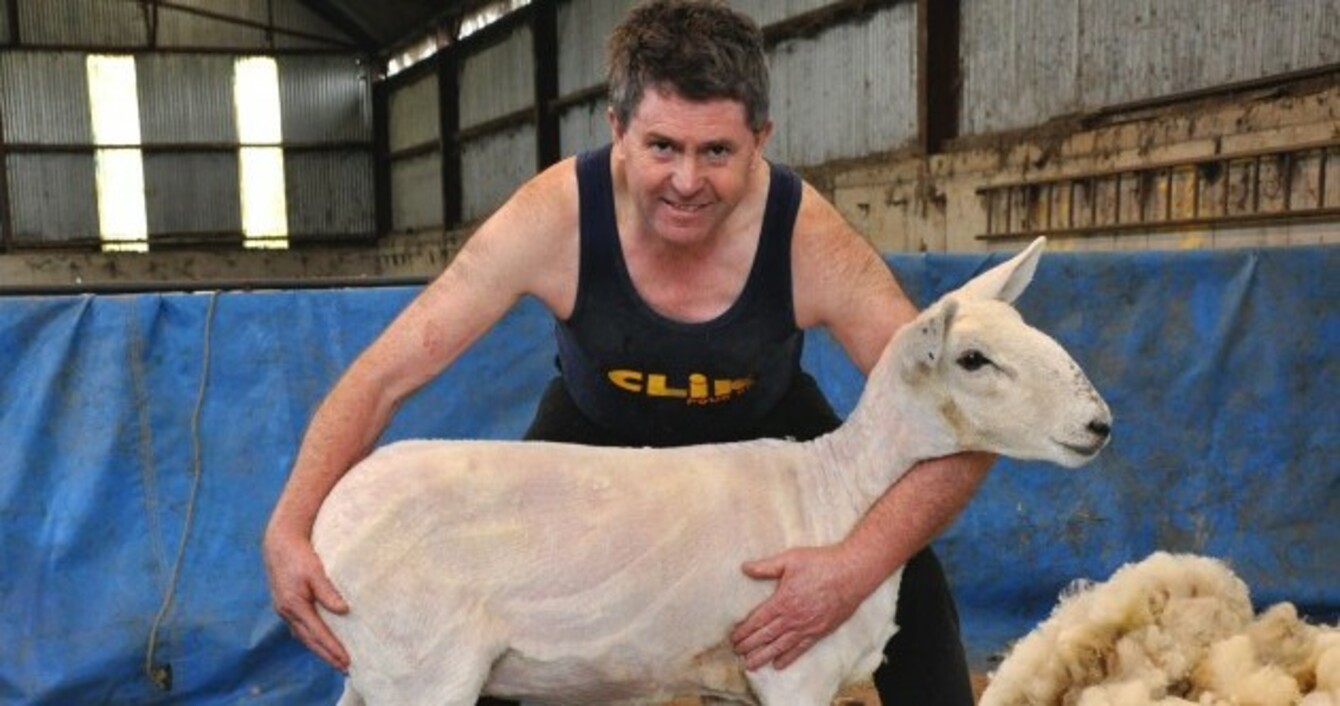 George Graham of the 'Golden Shears'
Image: Jenny Russell
George Graham of the 'Golden Shears'
Image: Jenny Russell
ORGANISERS OF THE Golden Shears 16th World Sheep Shearing Championships are expecting some ten thousand international visitors over the next few days in Gorey, Co Wexford.
Thousands of Irish spectators will be heading to the area too, for what's being billed as "the Olympics of Sheep Shearing".
The international event, which also takes in wool handling and sheepdog trials, will be the first to have been held in Ireland since 1998, and the nations' competitive shearers have (apparently) been honing their skills in recent weeks ahead of the off.
The six-strong Team Ireland will be headed up by Donegal man Ivan Scott, who claimed the world record two years ago (744 lambs in eight hours, since you ask). He'll be joined in the machine shearing class by Galwegian Tom Kennedy.
Elsehwere, Seamus Joyce and Peter Heraty, both from Mayo, will be flying the tricolour in the 'blade shearing' class. Father-and-son team George and Brendan Graham of Wexford compete in the wool handling contests.
If you've never seen a sheep shorn in anger, check out this video of the elder Graham in action…
Source: Video TheJournal.ie/YouTube
Global gathering
In total, competitors from 27 countries are in Gorey to take part this weekend — including shearers from China and Japan, who arrived at the site yesterday. The youngest participant is 15-year-old Australian Ethan Harder, who's taking part in his first northern hemisphere competition.
Away from the woolly goings on — you might fancy heading to a Good Food Ireland village featuring live cooking demonstrations from the likes of Darina Allen and Derry Clarke. There's also fashion shows, tugs of war, heritage exhibitions and musical performances — as well as something called the "Queen of the Wool" which takes place on Saturday night.
This being the day before the election, you can expect to see quite a few familiar political faces too. From Fine Gael, Agriculture Minister Simon Coveney and his Cabinet colleague Leo Varadkar will be along later, supporting Simon Harris in his bid to secure the fourth seat in Ireland South. Other candidates and their canvassers are also expected to drop by to shore up votes, before the European and local election polls open at 7am tomorrow.
If you are thinking of heading down, there's contests going on from 7.30am each day between now and Sunday. One child goes free for every adult paying the €10 entry fee.
You never know, you might even get to see Simon Coveney tackle some livestock…
Source: Video TheJournal.ie/YouTube