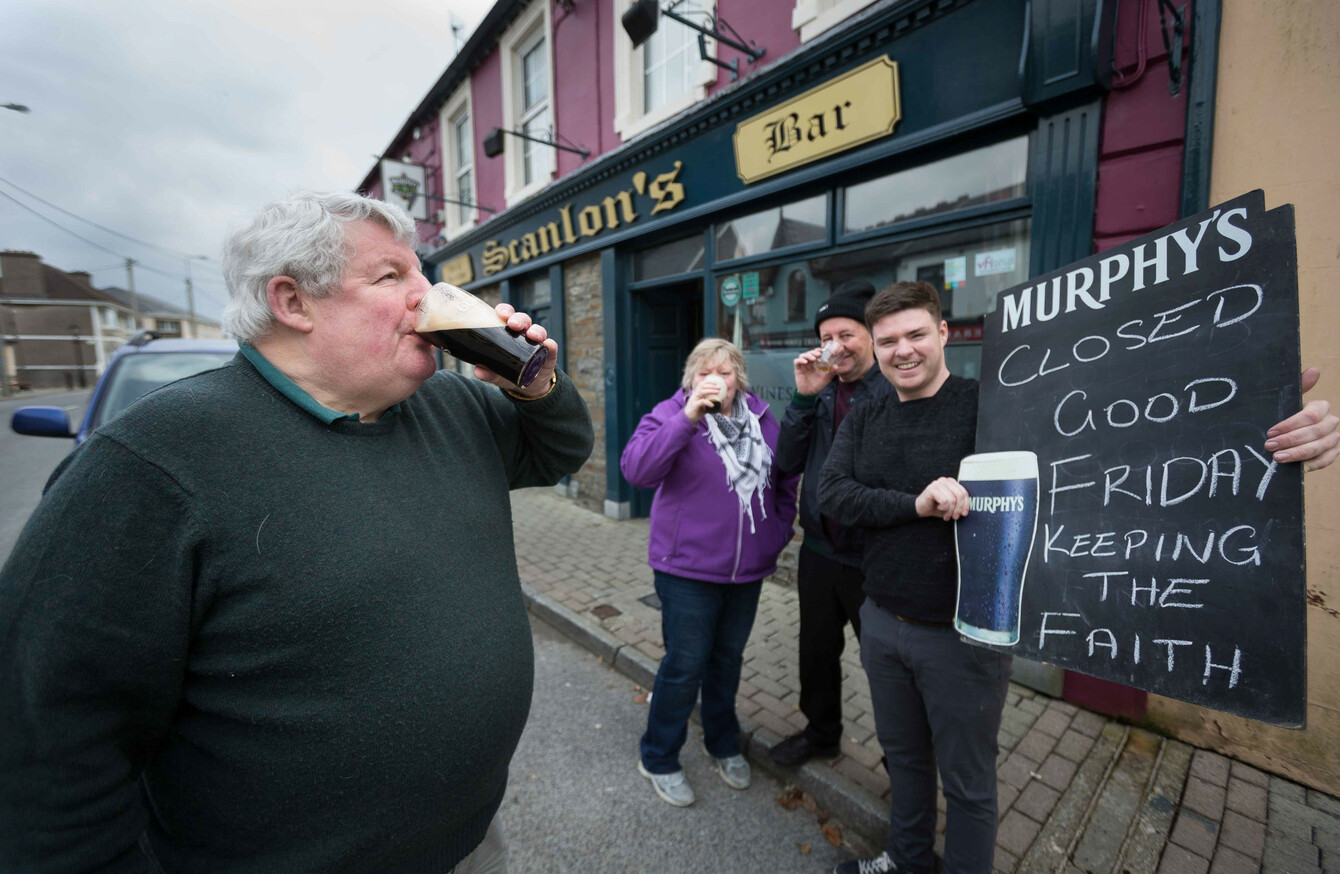 Scanlon's bar are happy to be closed on Good Friday.
Image: Eamon Ward
Scanlon's bar are happy to be closed on Good Friday.
Image: Eamon Ward
ALL OF THE publicans in one rural town are going keep their doors shut and remain closed for business this coming Good Friday.
This follows the six publicans based in the north Cork town of Newmarket coming together and deciding collectively that they will not open their doors in spite of the state lifting the 91-year-old ban on pubs serving alcohol on Good Friday.
John Scanlon of Scanlon's Bar on Church Street, the publican who first proposed the move in an initial chat with a colleague said: "We have only two days off each year, Christmas Day and Good Friday and we want to hold onto that. It is a day publicans want to spend with their families."
According to the most recent census, Newmarket has a population of 976 and the move has received an overwhelmingly positive response from pub customers in the town.
Publican Joan Hourigan has been serving pints from the behind the counter at Hourigan's Bar on Newmarket's New Street for the past 50 years.
A mother of nine, five of her children are involved in the business and Hourigan said that she has always enjoyed a day out or decorating their shut pub on Good Friday "and I don't want to give that up".
Hourigan said that the day off on Good Friday "is something that I cherish and a tradition I want to maintain".
She said that religion is playing only "a small part" in her decision to remain closed.
"A lot of our customers would be older farmers and I wouldn't think we would be particularly busy on Good Friday anyway. They have grown up with the tradition and I think they will see it out."
Closed
Mick Hourigan, another publican in the village, announced the move to his customers on his pub's Facebook page and the response from customers has been universally positive.
Hourgian operates a bar and a nightclub in the village employing more than 20 people.
"There are 363 days a year when the pub is open and I think that is plenty. Soon they will want us to open on Christmas Day," said Hourigan. "I wouldn't ask my staff to work on Good Friday. What is around on a Friday is not a lot."
Scanlon admitted that the decision to close can only work when all publicans in the area decide to close.
"It would be different for city publicans who would be giving up a lot of revenues by staying shut on a Friday night, but I don't think there would be a lot around here on Good Friday."
Scanlon said that there has been no negative feedback from customers and the response has been positive.
"It is going against the grain – but who knows? Other pubs around the country may follow."
On the Facebook page of Mick Hourigan's pub, one customer wrote: "It is great to see that old traditions matter to our country … well done to you and hopefully more will follow."
Another wrote "well done Newmarket, keep up our traditions" while one woman posted: "Well done to ye guys. Fair play. Our country needs to stand up for its traditions. Very proud that it is Newmarket leading the way – 'we lead where others follow'".
Policy
Earlier this year, President Michael D Higgins signed into law the amendment to the Intoxicating Liquor Act that lifted the Good Friday pub ban that had been in place since 1927.
Independent Senator Gerald Craughwell was a co-sponsor of the bill that has resulted in the lifting of the ban.
"The bill was all about choice, especially for publicans and I fully respect the decision by the publicans of Newmarket to stay closed on Good Friday. It is very interesting that they have come together to do this," said Craughwell.
Craughwell said that he wasn't approached by any vintners while the bill went through the Oireachtas.
A spokesman for the Vintners Federation of Ireland (VFI) said today: "Like all other days of the year – except Christmas Day – publicans can choose to open or remain closed on Good Friday. The decision is entirely their own to make.
"The removal of the ban on serving alcohol in licensed premises on Good Friday has received broad support from the pub sector particularly as many tourists visit Ireland during the Easter period."
Sign up to our newsletter to receive a regular digest of Fora's top articles delivered to your inbox.
Written by Gordon Deegan and posted on Fora.ie