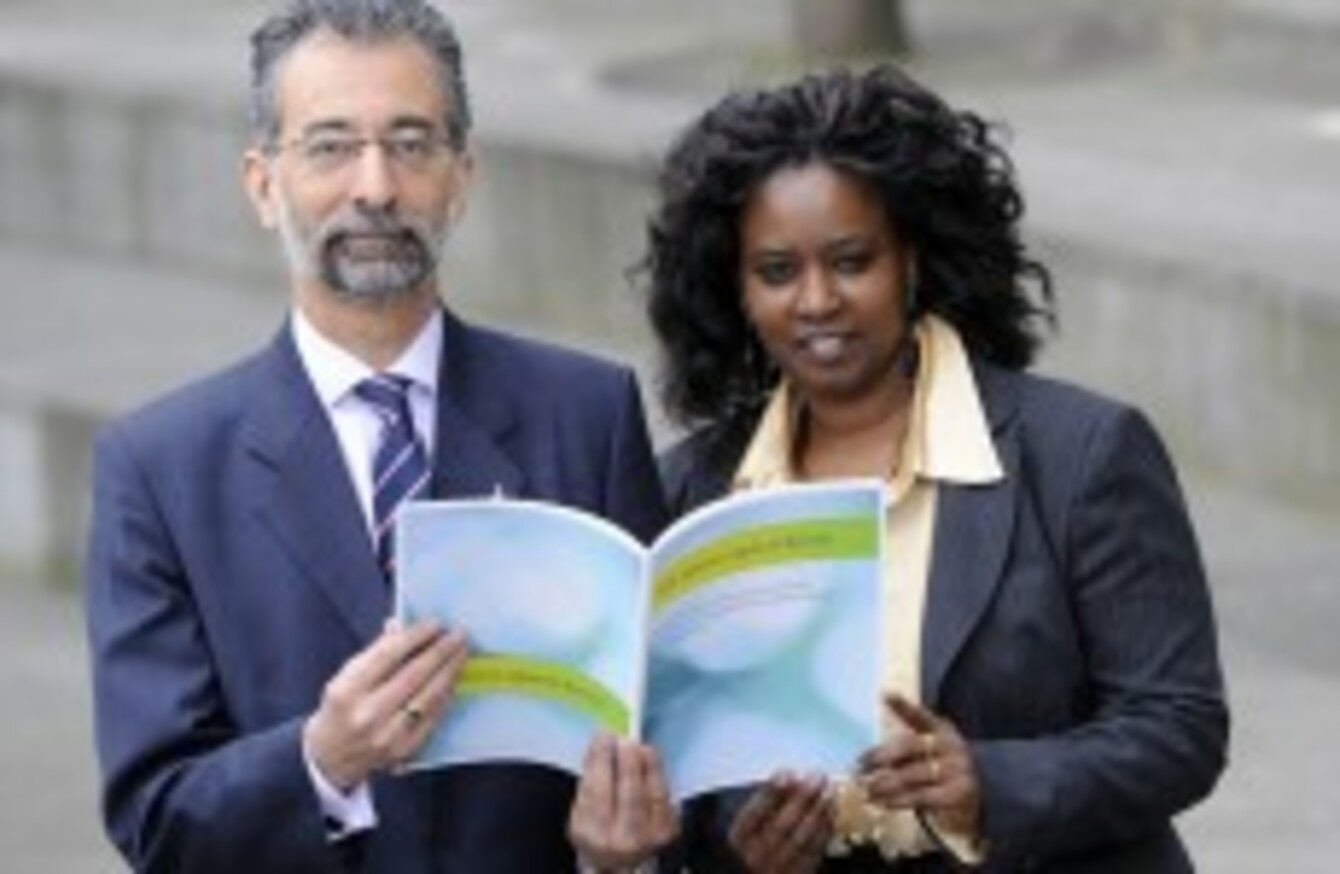 Imran Khan and Salome Mbugua launch the conference on racism in Dublin yesterday.
Imran Khan and Salome Mbugua launch the conference on racism in Dublin yesterday.
SOME STATE INSTITUTIONS have been heavily criticised and the government has been accused of not doing enough to act on racism in Irish society at a conference in Dublin.
At a conference organised by the NGO Alliance Against Racism (NAAR) entitled Institutional Racism: Is Ireland Responding? a number of organisations and speakers criticised the government yesterday.
Among them were the leading human rights lawyer Imran Khan who gave a keynote address in which he said the Irish government's response to recognising and dealing with racism was "very weak".
Renowned for his work on the Stephen Lawrence case in the UK, Khan said that Ireland's response to a multi-ethnic society reminded him of England in 1993 when Lawrence was murdered in a racially motivated attack.
"Ireland appears an outward and forward-looking country, but when it comes to recognising and dealing with racism, it is very weak," he told the conference.
"There has been a shocking lack of progress in terms of preventing racism and there seems to be an inability – at Government level – to acknowledge that racism is an issue."
He said that institutionalised racism allowed racism "to flourish in a society" and said that only when the problem was recognised would it be possible to introduce reforms through "positive action" and legislation.
"In addressing racism, it's not just enough to aim for equality in society," he said. "To genuinely tackle racism, people need to be treated according to their needs.  Migrants have very particular needs."
'Comprehensive reforms'
In the programme for government, the coalition promised "comprehensive reforms" of the immigration, residency and asylum systems which would provide "for efficient processing and determination of citizenship applications within a reasonable time."
Salome Mbugua, Director of the migrant women's organisation AkiDwAm, accused some State institutions of being responsible for promoting racism.
"State institutions that isolate migrants and treat them in unacceptable ways are guilty of promoting racism, even if the individuals delivering those systems are not overtly racist," she said.
Mbugua said that the system of direct provision, whereby asylum seekers are housed in residential institutions, was in some cases having an "appalling impact" on individuals over the past 15 years.
"By treating asylum-seekers in a grossly unacceptable manner, the State is negatively shaping public attitudes to asylum-seekers," she said.
She went on to call on the government and the Oireachtas to more seriously discuss the State's response to migrants: "There is no doubt that there are very many politicians who are genuinely concerned about racism.
"But there seems to be a lack of impetus to help them turn that concern into a persistent and active expression in their parliamentary work," she added.
Also at the event was Dublin's Lord Mayor Andrew Montague who welcomed the discussion and said that "institutional racism is divisive and isolating".
Meanwhile, TDs and senators including Labour's Aodhan Ó Riordán, Sinn Fein's Aengus Ó Snodaigh TD, and United Left Alliance's Richard Boyd Barrett will take part in a five-a-side football game with staff from the US, Ukrainian, Polish and Lithuanian embassies to mark United Nations Anti Racism Day later today in Dublin.