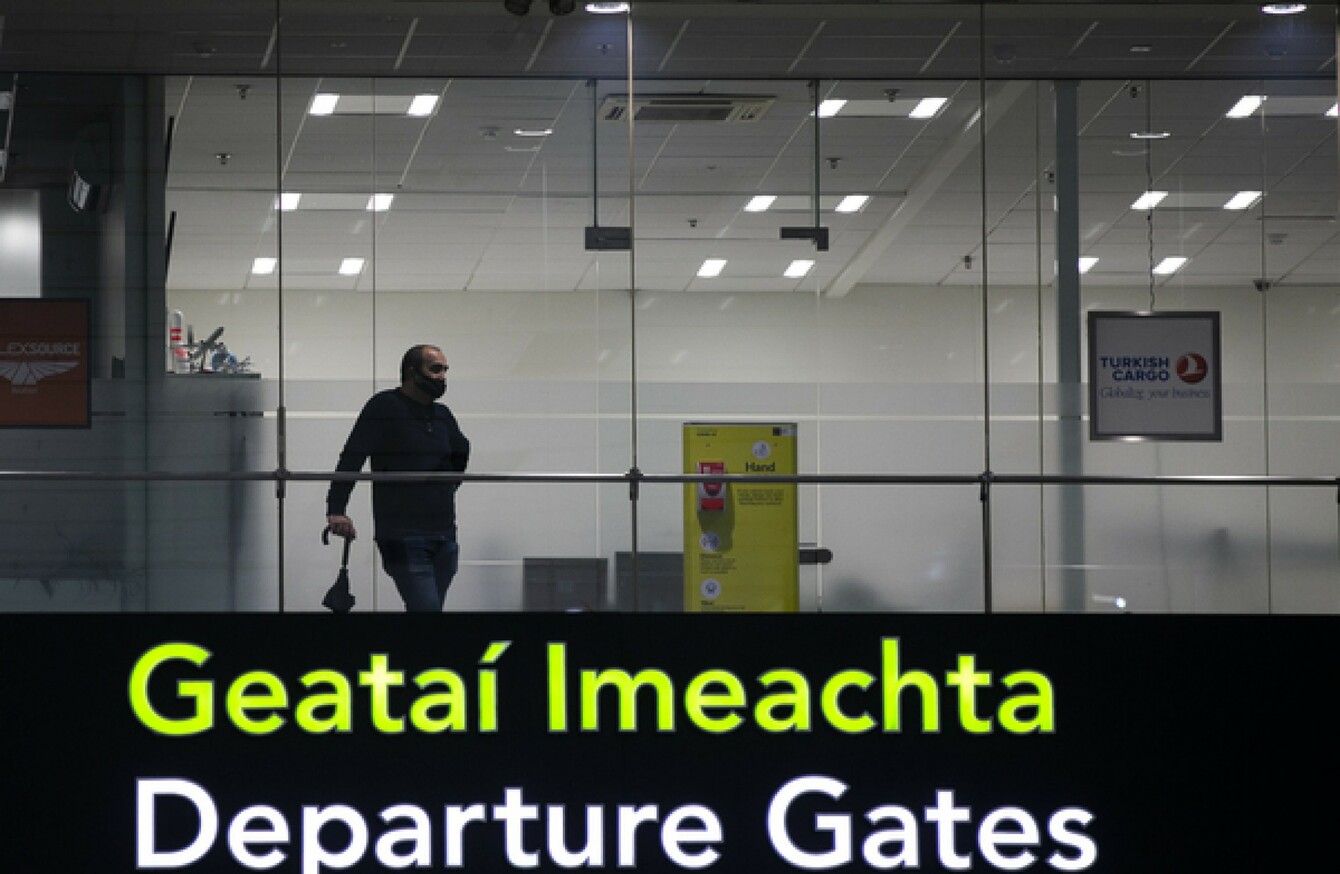 Image: Sam Boal/RollingNews.ie
Image: Sam Boal/RollingNews.ie
Updated Jul 6th 2020, 12:00 PM
ANYONE ARRIVING INTO Ireland from a country with a high incidence of Covid-19 should be subject to mandatory quarantine, according to Chief Clinical Officer of the HSE Dr Colm Henry.
Speaking on RTÉ's Today with Sarah McInerney he said people should not travel abroad unless "absolutely essential, and that does not include holidays".
His comments come as international travel will today be top of the agenda when Cabinet meets, with restrictions expected to be extended until 20 July. 
It is understood the 'green list' of countries to which it is safe to travel will not be published this week as the Government considers Ireland's ongoing response to Covid-19. 
The list was due to be published on 9 July and would outline countries and areas where Irish holidaymakers could travel to without having to undergo quarantine restrictions upon return to Ireland. 
It's understood that the government's quarantine measures for visitors into Ireland will remain in place until the 'green list' is published. Quarantine measures will remain for countries not on the list.
Speaking on 96FM Opinion Line today, Taoiseach Micheál Martin said the Cabinet will make a formal decision on international travel today. 
He said the government is currently developing a "methodology" around the development of a 'green list'.
Given the "international volatility" there are concerns about reopening the country to international travel, he said, stating that countries that would have made it onto the green list last week wouldn't make it on the list today. 
Martin said there are concerns that the virus could "reignite" if travel resumes as normal.
In his considerations of the matter, the Taoiseach said he has two main priorities: ensuring that schools can reopen at the end of August and resuming non-Covid care in the health service.
"We have to put public health first, that is the overarching issue," he said.
"We will only get the economy back if we keep the virus down," Martin added, stating that a second wave would be a "disaster" for the country.
Under the current rules, passengers arriving into the country are legally obliged to fill out a passenger locator form about where they will be staying. Passengers are advised to self-isolate for 14 days, though there is no legal footing to underpin this.
Last week, Tánaiste and the Minister for Enterprise, Trade and Employment Leo Varadkar said Ireland does not have a sufficient number of hotels or security staff to make quarantine legally mandatory.
The issue of mandatory quarantine was a flashpoint around the last Cabinet table, with a number of ministers stating that it would be a "step too far" for Ireland to go down that route.
Varadkar told TheJournal.ie on Thursday that a new government is in place now, and the National Public Health Emergency Team (NPHET) has not yet given any advice to this government on any change of policy.
He said it was the view of the last government that mandatory quarantine would "not be workable".
"We don't have the adequate number of airport hotels" or security staff to detain such a large amount of people that travel to Ireland on a daily basis, he said.
He added that before the pandemic, "tens of thousand of people" travelled to this country every week, Varadkar said 
"If you think we've a problem with Direct Provision it is more than that every day," he said.
Health Minister Stephen Donnelly has said the debate is ongoing within government in relation to mandatory quarantine, stating that legislation would probably be needed.
The Chief Medical Officer Tony Holohan previously recommended that designated facilities be used for the 14-day period. Ministers of the last government were of the view that it was something that if given the green light could have caused a major split around the Cabinet table, with some stating it is a "step too far".
The former Health Minister Simon Harris said last month that he was satisfied with the guidance on the 14-day quarantine period, rather than mandatory detention.
The Irish Council of Civil Liberties have raised serious concerns about the roll out of more draconian legislation that would impede on peoples' human rights.
Meanwhile, infectious disease expert Professor Gerry Killeen has appealed for sustained and enhanced measures to completely eliminate Covid-19. 
"The quiet tail of a fading epidemic may be just as dangerous as the silent onset," Professor Killeen warned, adding that Ireland should look to countries with ambitious national strategies to crush the curve of their epidemics, such as China, Korea, Japan and Australia.
"With their approaches to eliminating the virus with sustained and uninterrupted restrictions, their timelines to that exit point are about 3 months and New Zealand is already there," he said. 
"Countries like Ireland, France, Spain, Italy and the United Kingdom, where daily incidence rates have been slowly falling, may well have achieved 80% suppression of transmission," said Killeen, adding that Ireland should push forward with stringent restrictions moving ahead. 
Complete elimination of the virus can only be sustained by preventing reintroduction from outside of the country, Professor Killeen said. 
"[This] means isolation of all incoming travellers, except those coming from countries that may be certified as free of local transmission by WHO in the future," he said. "Otherwise the implications of such an uncontained rebound scenario are essentially identical to doing nothing in the first place."
#Open journalism No news is bad news Support The Journal

Your contributions will help us continue to deliver the stories that are important to you

Support us now
Ministers will also meet this morning to discuss whether public health guidance is being breached in pubs one week after they reopened. 
Images of people congregating outside in Dublin city on Saturday night drew criticism  amid fears that a lack of adherence to social distancing and other guidelines could lead to a resurgence of Covid-19 in the community. 
Cabinet will today review a report on compliance from the relevant state authorities, including An Garda Síochána.
Strong enforcement measures will be taken against premises that are not operating in accordance with public health guidelines, it said in a statement. 
The Department of Health yesterday reported no new deaths and 18 new cases of Covid-19 in Ireland, bringing the total number of cases here to 25,527. 
The death toll from Covid-19 in Ireland is 1,741.
The latest figures follow on from consistently low numbers of new cases in recent weeks.
These numbers have allowed health authorities to recommend opening up the country again and last Monday saw the re-opening of restaurants and hairdressers, among others, in an accelerated Phase Three.