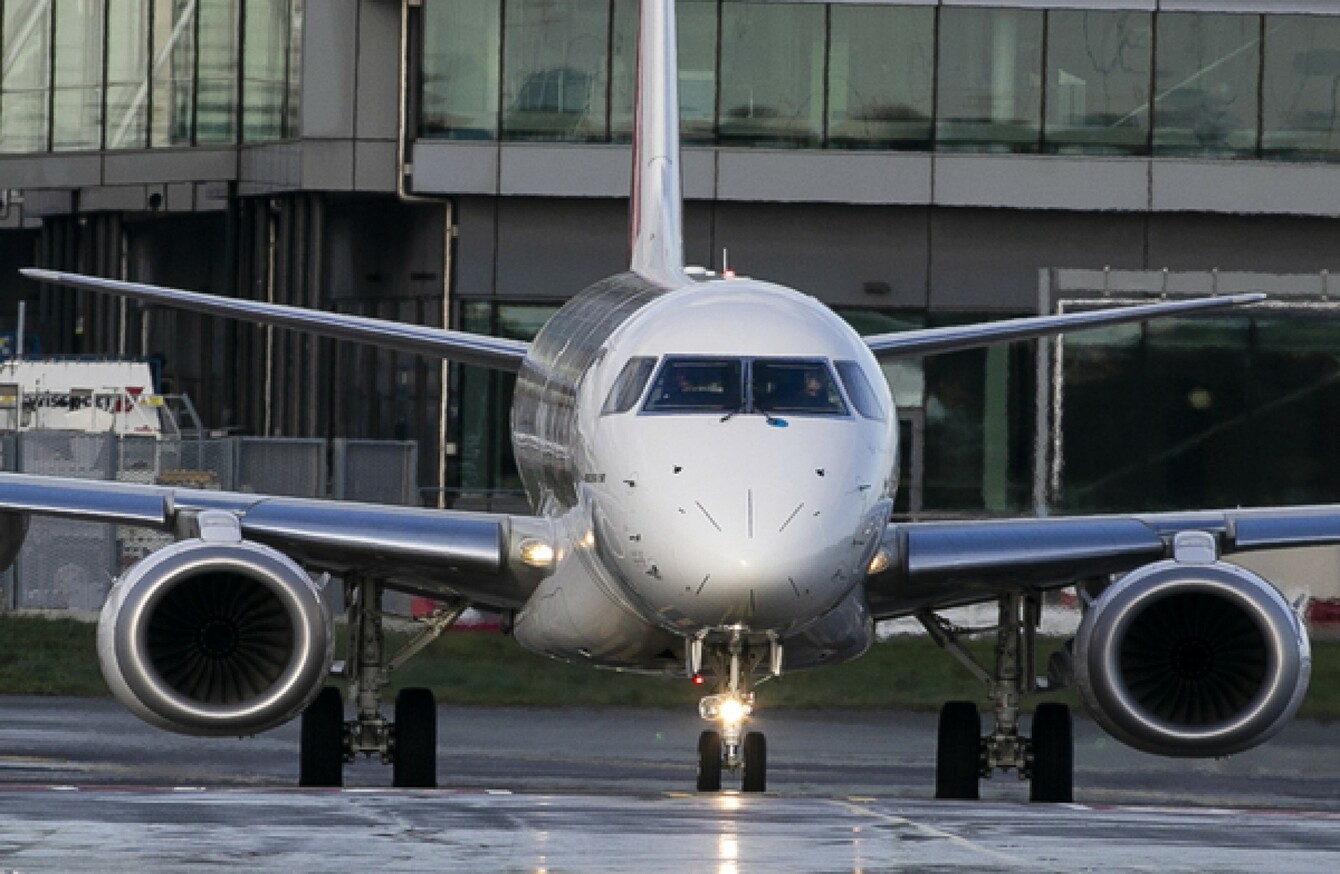 File image of an aircraft at Dublin Airport earlier this year.
Image: Sam Boal
File image of an aircraft at Dublin Airport earlier this year.
Image: Sam Boal
Updated Jul 2nd 2020, 12:00 PM
IRELAND DOES NOT have a sufficient number of hotels or security staff to make quarantine legally mandatory, Tánaiste Leo Varadkar said today.
The Minister for Enterprise, Trade and Employment said he would like to see a return to international travel as soon as soon is it safe to do so.
A Cabinet sub-committee meeting on the situation will be held in the next couple of days, where a decision will be taken and more certainty will be provided to the public, he said.
Varadkar was clear that the government advice on travel overseas has not changed. Non-essential travel should be avoided, he added.
The Tánaiste also confirmed today that the 'green' list of countries that Ireland could possibly strike 'air bridge' deals with will be published by 9 July. This list of countries are areas where Irish holidaymakers can travel to without having to quarantine for 14 days. 
On the issue of quarantine and whether it should have a legal footing, Varadkar said he hopes quarantine will not be a long term requirement.
The issue of mandatory quarantine was a flashpoint around the last Cabinet table, with a number of ministers stating that it would be a "step too far" for Ireland to go down that route.
Varadkar told TheJournal.ie today that a new government is in place now, and the National Public Health Emergency Team (NPHET) has not yet given any advice to this government on any change of policy.
He said it was the view of the last government that mandatory quarantine would "not be workable".
Other countries have tried to roll it out and failed, he said, pointing out that the New Zealand Health Minister has had to resign.
"We don't have the adequate number of airport hotels" or security staff to detain such a large amount of people that travel to Ireland on a daily basis, he said.
He added that before the pandemic, "tens of thousand of people" travelled to this country every week, Varadkar said 
"If you think we've a problem with Direct Provision it is more than that every day," he said.
Speaking in the Dáil for the first time as Minister for Health this week, Fianna Fáil's Stephen Donnelly said a debate is currently ongoing in government about whether legislation is needed to make quarantine for 14 days mandatory for people arriving in Ireland.
Social Democrats co-leader Róisín Shortall said the Chief Medical Officer has been "ringing alarm bells" over the last week about international travel.
Shortall asked the minister today if legally-based supervised quarantine is introduced, would legislation be required. She also asked if the new government would introduce such a measure. 
Donnelly told the Dáil there is the debate is ongoing "in relation to that question right now". 
The Chief Medical Officer has recommended designated facilities might be used for the 14-day period. Ministers of the last government were of the view that it was something that if given the green light could have caused a major split around the Cabinet table.
In what was seen as u-turn on the issue, the former Health Minister Simon Harris this month that "at the moment, I am satisfied with where we are" with the guidance on the 14-day quarantine period.
Others such as Irish Council of Civil Liberties have raised serious concerns about the roll out of more draconian legislation that would impede on peoples' human rights.
Speaking about the 'green list' of countries, Varadkar said today that the list could be published but the day in which it takes effect could be pushed out beyond July.
"What I do appreciate is that there is uncertainty," he said, speaking to members of the media.
"I know for a lot of people who want to travel abroad to see friends and family maybe they haven't seen for months or for people who want to travel abroad for other purposes, what they would like is clarity and certainty from government and I appreciate that hasn't been forthcoming in the past week or two." 
He said there is now a "new normal", but that could all change if the virus returns. 
The Minister for Health, Stephen Donnelly, said the government still intends to publish the list on 9 July but that the current advice is still against all non-essential overseas travel. 
"There may be a recommendation to Cabinet that that might change, but as of right now that is the government position," he said on RTÉ radio's Morning Ireland. 
"However, remember that the government decision was to publish the so called 'green list' of these air bridges, but it didn't say anything about when they would be activated." 
Stephen Donnelly met with Taoiseach Micheál Martin, Chief Medical Officer Dr Tony Holohan and other health officials to discuss the air bridges earlier this week.
The National Public Health Emergency Team is meeting today to discuss the issue and it will be discussed at a Cabinet sub-committee meeting tomorrow. 
A recommendation on the issue will be brought to the Cabinet this coming Monday. 
#Open journalism No news is bad news Support The Journal

Your contributions will help us continue to deliver the stories that are important to you

Support us now
Donnelly said he is aware foreign travel is a "pressing issue for an awful lot of people". 
"They may have bought holidays, long ago last year and are potentially looking at losing money on them," Donnelly said. 
We know that this is a really serious issue for a lot of people and indeed for an awful lot of businesses. We are taking this very seriously and we are looking at it very closely.
Advice against non-essential travel 
Donnelly repeated the government's advice against non-essential travel overseas. 
"The Chief Medical Officer, as everyone will know, has expressed very serious concerns on an ongoing basis and he reiterated them that week," he said.
Dr Tony Holohan said last week to avoid travelling abroad and to plan domestic holidays this summer instead.
"There is a real concern that the public health experts have about a second wave if we see a big increase in foreign travel," Donnelly said. 
"What they're saying is that the international situation was always quite volatile, but has become increasingly volatile in the last few weeks."
Professor Philip Nolan, who chairs the epidemiological modelling advisory group at the National Public Health Emergency Team, recently urged the public to consider whether travelling abroad is a "luxury or necessity" as the number of Covid-19 cases in Ireland related to travel has increased.