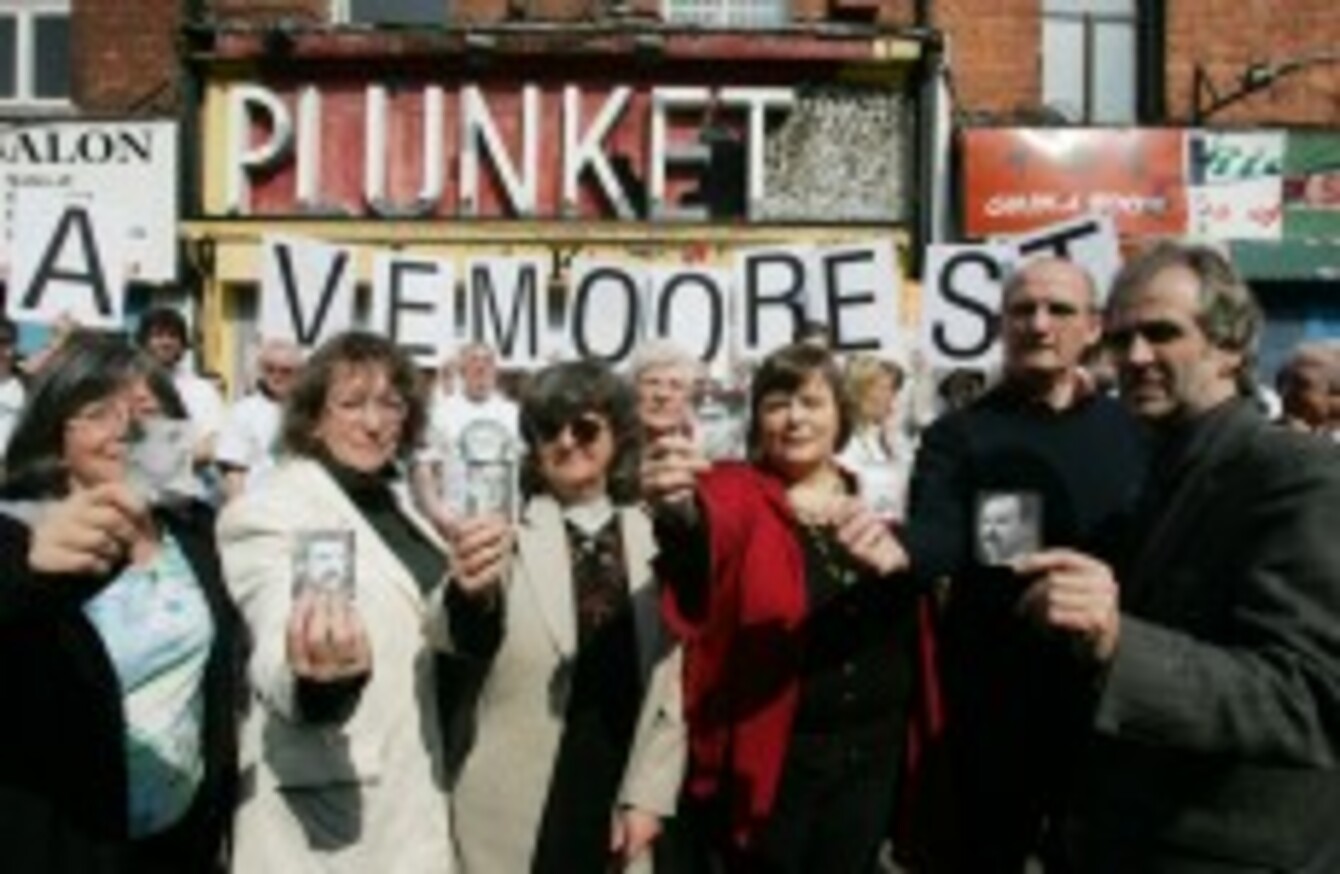 Families of 1916 leaders outside the
Families of 1916 leaders outside the
THE DEPARTMENT OF Arts, Culture and Heritage says that number 16 Moore Street is a site of national importance, despite claims that it is not as important as once thought.
In an interview in yesterday's Sunday Independent, historian Ann Matthews suggested that testimony from nurse Elizabeth O'Farrell didn't conclusively point to Plunkett's butchers shop as a rallying point for 1916 Rising rebels.
Matthews suggests that O'Farrell's placing of rebels in the building is contradicted by testimony by volunteers Oscar Traynor and Liam Tannam.
However, the Department told TheJournal.ie that they believe that the spot was the final headquarters of the provisional government on Easter Monday 1916.
"The records of Oscar Traynor's and Liam Tannam's statements were part of the deliberative process when the Preservation Order was placed on Nos. 14 to 17 Moore Street in 2007.
The Preservation Order was made on the grounds that the preservation of No.16 is of national importance by reason of its historical significance in the context of the 1916 Rising. Nos.14, 15 and 17 were also included in the Preservation Order.
"Collectively, Nos. 14 to 17 represent the most significant, original, complete, discrete and continuous section of substantially intact pre-1916 buildings on the street.
"Today all of these houses retain significant 18th-century elements, including staircases, internal walls, doors, partitions, floors, fittings and plasterwork. More importantly, the 18th-century building form and profiles also survive."
Traynor and Tannam's testimony says that they were in Hanlon's fish shop, which would have been at either 20/21 or 24/25 Moore Street.
However, a Department spokesperson says that can be explained by a dual purpose shop.
"It may be of interest to note with regard to the usage of No. 16 at the time of the Rising that, while listed in Thoms Directory in 1915 as Poulterer, it is described by Seamus Scully (a lifelong resident of Moore Street and partial witness to the events of the Rising) as a fish and poultry shop."